Emerson Electric Sees Growth Ahead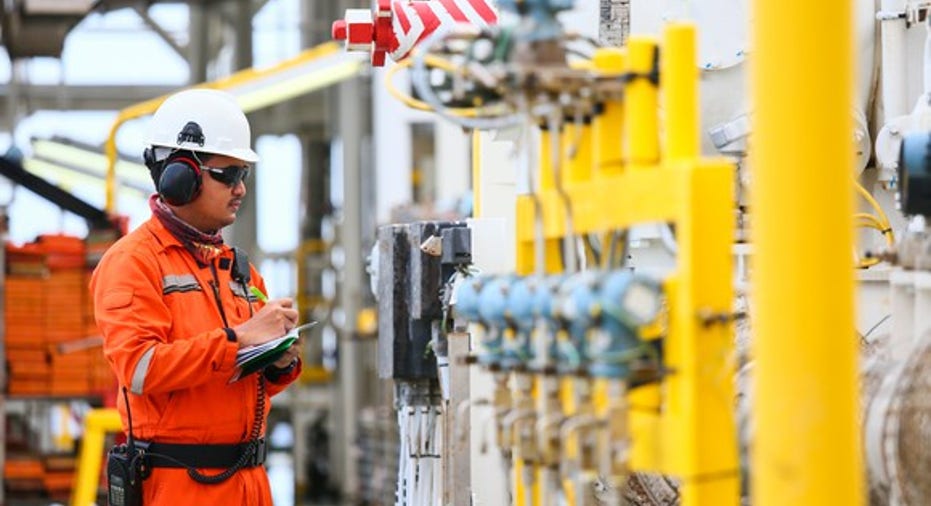 After a series of difficult earnings reports,Emerson Electric Co.'s (NYSE: EMR) first-quarter results and guidance finally suggested the company is getting over the worst. In common with its peer in industrial automation Rockwell Automation (NYSE: ROK), Emerson Electric is seeing improving conditions in the automation market. Meanwhile, Emerson's other segment -- commercial and residential solutions -- gave upbeat guidance for 2017, much likeIngersoll-Rand PLC's (NYSE: IR) outlook. In short, it was a good quarter for Emerson Electric, so let's look at the key details.
Emerson Electric's first quarter: The raw numbers
Sales continued to decline, but CEO David Farr has done an excellent job in cutting out structural costs in order to hold margins up in a difficult environment, so underlying earnings and cash flow improved on a year-over-year basis. Indeed, earnings exceeded management's expectations.
Net sales of $3.2 billion declined 4%, but were only down 3% on am underlying basis
Earnings from continuing operations before income taxes (Emerson has undergone major restructuring in the last year) increased 7% to $464 million.
Operating cash flow from continuing operations increased 6% to $410 million.
Moreover, the full-year 2017 outlook improved from the one given three months ago:
Total net sales are still expected to be down 1% to 3%, but underlying sales are now expected to be flat to down 2% compared with a previous outlook for a 1% to 3% decline.
EPS from continuing operations is expected to be in the range of $2.47-$2.62 (or $2.40-$2.55 if you exclude the $0.07 tax benefit in the first quarter), compared to a previous estimate for $2.35-$2.50.
In short, Emerson strengthened its outlook based on a good first quarter and underlying momentum in its two segments. For reference, the outlook doesn't include any contribution from the intended acquisition of the valves and controls unit of Pentair plc, a deal Emerson expects to complete by the end of March.
Image source: Getty Images.
Segment breakdown
It's useful to examine earnings and guidance by segment in order to see where the improvement came from. The good news is that both segments saw underlying improvements in guidance.
Automation solutions net sales are expected to decline 5%-7%, an outlook worse than the previously expected 4%-7% decline, but on an underlying basis the current guidance for a 3%-5% decline is significantly better than the previously expected 4%-7% decline.
Commercial and residential solutions net and underlying sales are now expected to increase 3%-5% compared to a previous estimate of 2%-4% growth for both.
Moreover, investors can gain confidence in the guidance because it mirrors what peers are saying. For example, following its strong first quarter, Rockwell Automation recently increased its full-year organic sales outlook by one point to 1%-5% growth. Meanwhile, Ingersoll-Rand's recent guidance for 2017 calls for commercial and residential heating, ventilation, and air conditioning (HVAC) organic revenue to increase in mid-single-digits in 2017, which is a good sign for Emerson's HVAC solutions.
Moreover, the company appears to have begun turning the corner with regard to future growth, becausetrailing-three-month orders have now turned positive.
As you can see below, the big improvement is in automation solutions, an areawhere Emerson hadseen slumping oil and gas spending hurt its process and automation sales. Commercial and residential solutions orders slowed in January, but as Farr pointed out on the earnings call, it's "not unusual month-to-month in that business, as some of the orders are sometimes lumpy versus the prior year." Also, recall that full-year sales guidance was improved.
Emerson's trailing-three-month orders
| Segment | November | December | January (estimated) |
| --- | --- | --- | --- |
| Automation solutions | (15%) to (10%) | (10%) to (5%) | 0% |
| Commercial and residential solutions | 5% to 10% | 5% to 10% | 0% to 5% |
| Total | (10%) to (5%) | (5%) to 0% | 0% to 5% |
Data source: Emerson Electric presentations.
The stronger-than-expected first-quarter and order improvement encouraged Farr to the extent that when asked by Cowen and Co. analyst Gautum Khanna as to when organic growth would turn positive, he replied, "Based on the trend lines right now, Gautam, I'd say Q3."
Looking ahead
All told, it was a good quarter for Emerson Electric, and its improved outlook confirms what many others are saying about the industrial sector and in particular, the oil and gas industry. It's been a long time coming, but Emerson looks set to start growing sales again in 2017, and investors should look forward to the investor conference next week with renewed optimism.
10 stocks we like better than Emerson ElectricWhen investing geniuses David and Tom Gardner have a stock tip, it can pay to listen. After all, the newsletter they have run for over a decade, Motley Fool Stock Advisor, has tripled the market.*
David and Tom just revealed what they believe are the 10 best stocks for investors to buy right now... and Emerson Electric wasn't one of them! That's right -- they think these 10 stocks are even better buys.
Click here to learn about these picks!
*Stock Advisor returns as of February 6, 2017
Lee Samaha has no position in any stocks mentioned. The Motley Fool recommends Emerson Electric. The Motley Fool has a disclosure policy.