Embraer Hits Another Delivery Milestone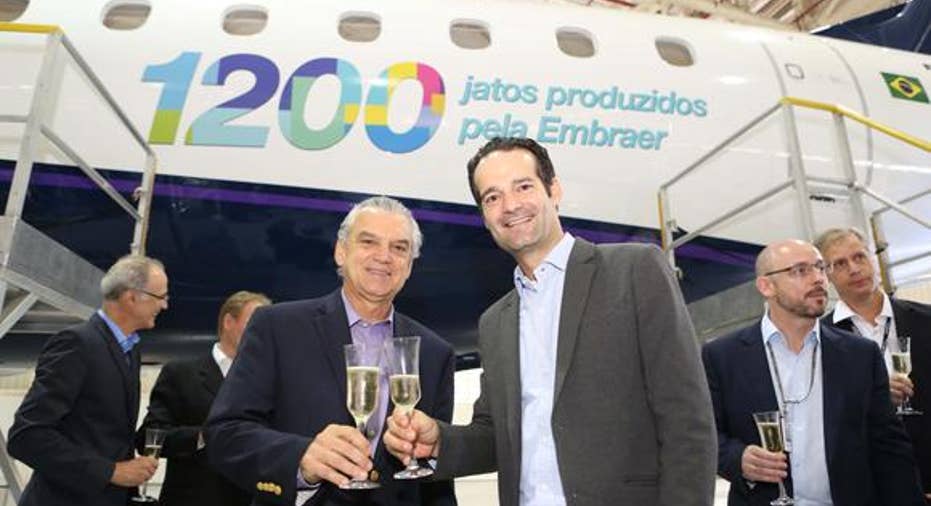 A few years ago, Embraer -- the world's third-largest aircraft manufacturer -- faced declining sales of its flagship E-Jets aircraft family and had to severely cut production. However, sales are finally bouncing back. This is allowing Embraer to start cautiously increasing production again.
Embraer just delivered the 1,200th E-Jet it has produced. Photo: Embraer
This week, Embraer reached another milestone, delivering its 1,200th E-Jet. While this is largely a symbolic accomplishment, the delivery announcement also pointed to some favorable trends that bode well for Embraer's earnings in the current quarter and beyond.
A steady stream of ordersEmbraer has received a steady stream of orders since early 2013, consisting of both current-generation E-Jets and next-generation E-Jets E2-series aircraft. The latter will become available beginning in 2018.
Most of the recent order activity for current-generation E-Jets has centered around the E175. This regional jet has become extremely popular with the U.S. legacy carriers -- and therefore with U.S. regional airlines.
Indeed, top regional airline SkyWest by itself has accounted for nearly half of all current-generation E-Jet orders this year. In June, it ordered eight E175s to be operated for Alaska Air. SkyWest followed that up in September with an order for 18 E175s, this time to be operated on behalf of United Continental. SkyWest placed a third firm order in October, this time for 19 E175s to be operated for Delta Air Lines.
The E175 has been Embraer's best-selling model recently. Photo: Embraer
The fact that three of SkyWest's airline partners want more E175s for their regional operations shows just how much airlines prefer the E175 over competing regional jets. However, the E175 isn't as profitable for Embraer as its larger siblings: the E190 and E195. The sharp shift in Embraer's sales mix toward the E175 has held back its profit margin lately.
Another round numberEmbraer delivered its 1,200th E-Jet on Monday. The plane was not one of the popular E175s, though. Instead, it was an E195: Embraer's largest plane -- and probably its most profitable. Fittingly, it went to Azul Brazilian Airlines: by far the No. 1 operator of E195s in the world.
This announcement came less than a year after Embraer delivered its 1,100th E-Jet. It reached that milestone on Dec. 10, 2014. This implies that Embraer is up to a production rate of at least 100 E-Jets per year after delivering only 92 last year.
This would put the company at the high end of its guidance range for 2015. With demand remaining solid, Embraer may look to increase production even further in the 2016-2017 period.
Increasing the mix of larger planesBeyond the rising sales pace, Embraer may benefit from an improving mix of larger planes this quarter. The aircraft handed over on Monday was Azul's 88th E-Jet. That's the final current-generation model it has ordered.
At the beginning of the quarter, Azul still had four E195s on order. That means Embraer has delivered more E195s so far in Q4 than it did in the first three quarters of the year combined.
Embraer is also scheduled to deliver two E190s to KLM this quarter. Finally, it inked firm orders with two Chinese airlines earlier this year, both calling for deliveries of E190s and E195s to begin during 2015.
In total, this implies that Embraer will deliver at least eight of the larger E-Jets this quarter (four to Azul, two to KLM, and at least one each to Tianjin Airlines and Colorful Guizhou). That would be more than the six E190s and E195s it has delivered year-to-date and at least in line with the eight E190s and E195s it delivered in Q4 2014.
A recipe for earnings growthRising sales of Embraer's E-Jets and an improving mix of E190s and E195s are two factors that will support earnings in Q4 and beyond. Embraer will also derive an increasing benefit from the weak Brazilian real in the next few quarters, as most of its revenue comes in dollars.
This is a recipe for strong earnings growth at Embraer. The company's fresh product lineup in the executive jet market will also contribute to higher sales and earnings, offsetting the negative impact of weak Brazilian defense spending. As this earnings growth accelerates, Embraer's stock price is likely to follow.
The article Embraer Hits Another Delivery Milestone originally appeared on Fool.com.
Adam Levine-Weinberg owns shares of Embraer-Empresa Brasileira and United Continental Holdings, and is long January 2016 $30 calls on Embraer-Empresa Brasileira and long January 2017 $40 calls on Delta Air Lines, The Motley Fool recommends Embraer-Empresa Brasileira. Try any of our Foolish newsletter services free for 30 days. We Fools may not all hold the same opinions, but we all believe that considering a diverse range of insights makes us better investors. The Motley Fool has a disclosure policy.
Copyright 1995 - 2015 The Motley Fool, LLC. All rights reserved. The Motley Fool has a disclosure policy.