Elon Musk's Solar Roof Plans Are a Big Gamble No Matter How You Slice It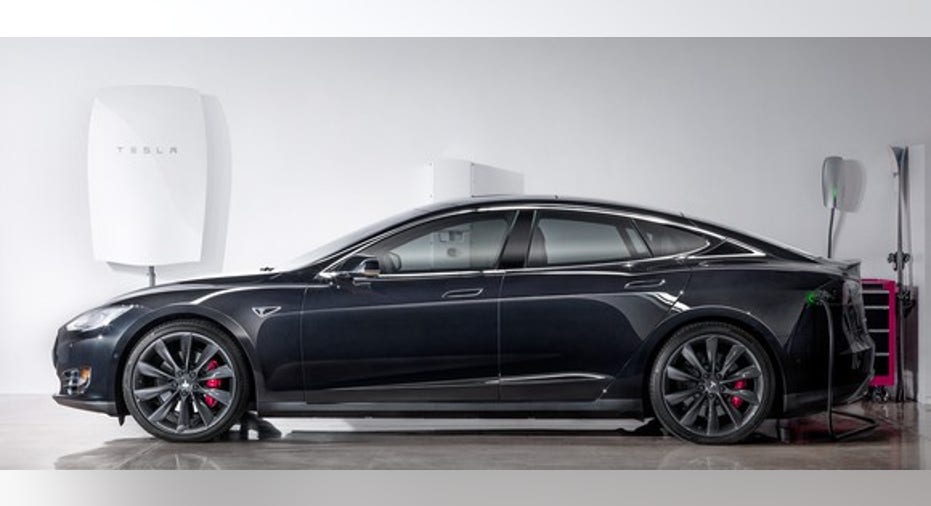 Elon Musk is trying to bring solar energy, energy storage, and electric vehicles under one roof. Image source: Tesla Motors.
On Thursday, September 22, 2016 , Tesla CEO Elon Musk teased a solar roof announcement on Oct. 28, which may also reveal Powerwall 2.0 and a new Tesla Motors (NASDAQ: TSLA) home charger. With Tesla in the middle of acquiring SolarCity (NASDAQ: SCTY), this is a big announcement. It could outline Musk's vision for the future of solar and electric vehicles.
What Musk has already outlined is a big vision and there's no guarantee his companies can overcome the hurdles involved. Here are just a few things to watch for.
Designing a solar roof is hard
There have been a few earnest attempts at building integrated photovoltaics, or BIPV as it's known in the solar industry. And no one has really gained any traction. Energy Conversion Devices went bankrupt in 2012 and Dow Chemical's Powerhouse Solar Shingle product was shut down earlier this year. It's just been too hard to design a durable solar cell that could be placed on the roof and generate energy cost effectively.
SolarCity is apparently going about the design of the solar roof differently. Musk said recently that the new product "is the roof." That brings up a host of new questions SolarCity has to answer. Here are just a few:
How is the brittle solar cell reinforced so the roof can be walked on or snow can accumulate and be shoveled off?
How will the roof be sealed between panels and at corners? Today, this is done with flexible shingles, but what's the solution with a solar roof?
How does the solar roof adapt to irregular shapes? Every roof is different, requiring customization as it is being constructed. That's easy with traditional shingles and parts made of wood, but how will that be done with a product that (probably) needs to be reinforced to protect the solar cell?
The technical challenges of building a solar roof that can potentially be installed on millions of homes is incredible. And SolarCity hasn't even proven the ability to build a solar panel, much less a solar roof, at scale. There are a lot of ways this product could go wrong and it's not the only questionable product Musk will talk about.
Will solar panels on a roof like this eventually be obsolete? Image source: SolarCity.
Can energy storage be cost effective?
It sounds like a great idea to add energy storage to a home and save energy from the sun for when the it's dark out. But financially, energy storage simply doesn't make any sense... at least not yet.
As it stands, there's not enough of a spread between a customer's highest energy price and lowest energy price to play any kind of arbitrage to make money off energy storage. And most residential customers don't pay demand charges, which is how commercial customers justify energy storage. So, Tesla may be able to come up with an elegant energy storage solution that plugs easily into a SolarCity solar-power system, but it has to answer, "Why would it be worth the cost?" It's a hard sell to customers who have been sold solar energy as a way to save money.
This is no Model 3 launch
Musk's last major product announcement was the Model 3, which was a huge hit and generated hundreds of millions of dollars in deposits from eager customers. That won't happen in October.
During the second quarter earnings conference call, SolarCity's management team highlighted a market potential of 5 million homes getting new roofs in the U.S. each year. And on the surface that sounds like a lot.
But not every roof is suitable for solar energy. The National Renewable Energy Laboratory estimates that 83% of small buildings are in locations suitable for solar installations and only 26% of those buildings are actually suitable for solar development. Maybe the roof has an angle or shape that isn't suitable for solar or maybe there's tree cover, but lots of homes just don't make sense with solar. In total, only about 21.6% of homes in the U.S. are suitable for solar, so the market opportunity is probably only about 1.1 million homes each year.
Of that 1.1 million market potential, if SolarCity could get 2% adoption of the solar roof, it could generate 21,600 new customers per year. This year the company will install about 120,000 solar-power systems if it hits guidance, so the announcement could be a big product, but it won't be a Model 3 with hundreds of thousands of interested customers.
With a great design, solar roofs could be a big business. But energy storage will be much tougher for Tesla and SolarCity. Hawaii is the only state in the U.S. where the economics of energy storage currently make sense and despite other states starting to create rate structures that may make energy storage more attractive, there are already dozens of competitors awaiting energy storage growth.
On the energy storage size, the residential energy storage market is tiny. According to GTM Research, Q1 2016, which was the second best quarter in history at the time, had 1.3 MW of residential energy storage installed. That's demand for about 200 Powerwalls per quarter. Remember, that's after Tesla reported 38,000 pre orders for the Powerwall in 2015, so this is a product that's way overhyped.
Whatever Musk and team announce on Oct. 28, it'll face a lot of scrutiny in the market and he will have to make the savings attractive for customers. These are difficult markets to enter and the challenge designing products people will like is big. But it'll be worth watching nonetheless.
A secret billion-dollar stock opportunity The world's biggest tech company forgot to show you something, but a few Wall Street analysts and the Fool didn't miss a beat: There's a small company that's powering their brand-new gadgets and the coming revolution in technology. And we think its stock price has nearly unlimited room to run for early in-the-know investors! To be one of them, just click here.
Travis Hoium has no position in any stocks mentioned. The Motley Fool owns shares of and recommends SolarCity and Tesla Motors. Try any of our Foolish newsletter services free for 30 days. We Fools may not all hold the same opinions, but we all believe that considering a diverse range of insights makes us better investors. The Motley Fool has a disclosure policy.