Elon Musk: The First "Summon" Feature Is Just a "Baby Step"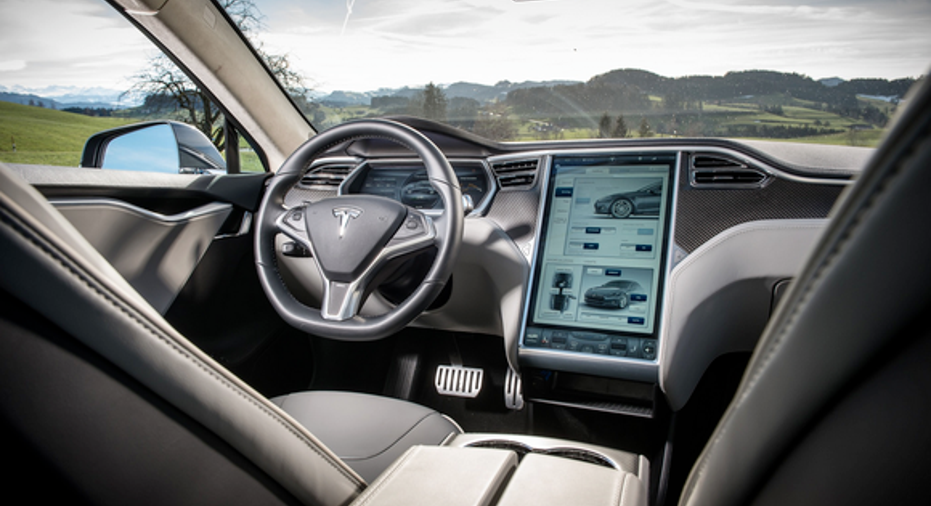 Over the weekend, Tesla owners were prompted to download a surprise software update, labeled Tesla v7.1. The most notable feature included in the over-the-air update was the ability for owners to "summon" their vehicles in and out of garages while standing outside their car. But this is apparently only the first aspect of Tesla Summon -- a "baby step" compared to what's to come for the feature, according to Tesla CEO Elon Musk.
Model S interior. Image source: Tesla Motors.
Tesla v7.1 Beyond Tesla Summon, other changes in Tesla's latest software update for its vehicles include:
New safety restrictions for automatic steering, including a maximum speed of five mph above the posted speed limit when the feature is engaged on restricted roads.
Automatic steering now can "keep Model S in its current lane when passing highway exits" and "keep Model S in its current lane when lane markings are faded."
Automatic parking now includes perpendicular parking. Up until now, it worked only for parallel parking.
Real-time visualization of the road and surrounding traffic viewable in the dash for Model S has been improved to "provide more information about your vehicle's surroundings."
The Instrument Panel can now display multiple vehicles around the front of Model S. In addition, distinct graphics indicate vehicle type -- cars, trucks, and motorcycles.
Tesla's instrument panel display's how the vehicle views its surroundings. Image source: Tesla Motors.
Other updates include automatic speed adjustments for specific situations when using traffic-aware cruise control, automatic opening and closing of garage doors, vehicle lock improvements, Supercharger site availability and trip planning improvements, improved windshield-wiping logic, and more.
Summon a Tesla across the country? But the most notable takeaway this weekend wasn't the specific updates included in the software update -- though the robustness of the update is yet another reminder of the advantage of the company's deep integration of hardware and software. The most surprising element of Tesla's announcement this weekend was Musk's reference to this first aspect of Tesla Summon as only a "baby step."
The future for Tesla Summon, according to Musk, basically ushers in an era of self-driving cars. In about two years, Summon should work in any landlocked region not blocked by borders, Musk said in a question-and-answer session with press on Sunday morning.
"Eventually, your Tesla will be able to drive anywhere across the country to meet you, charging itself along the way," the company explained in a blog post about Tesla Summon. "It will synch with your calendar to know exactly when to arrive."
Notably, Musk did say that Tesla would need more sensors built into the vehicle in order to achieve the company's goal of a self-driving car traveling across the country in about two years. The sensors would give Tesla vehicles "more redundancy" and make a human driver as a "plan B" no longer necessary, he explained.
Musk also said Tesla is working on a next-generation hardware suite of autopilot hardware, but he didn't comment any further on its timeline for a rollout. Further, he wasn't clear on whether these sensors would be retrofitted to current cars, or only to future Tesla vehicles.
Tesla vehicles can already automatically navigate highways.
The CEO did say he believes achieving full autonomy in two years is probably "slightly optimistic." For a more realistic range, he said it could happen in 24 to 36 months. And this autonomy would not just match human capability, but exceed it, he noted.
This bold prediction from Tesla follows Musk's recent forecast for the company to achieve "complete autonomy in approximately two years."
Tesla's increasingly frequent references to a timeline of about two years for achieving autonomous driving is intriguing. Tesla is planning to launch its lower-cost Model 3 in about two years, and the electric-car maker has recently confirmed that its timeline for the vehicle is on track. It's possible, therefore, that Tesla is planning on including its next-generation autopilot hardware and software in the Model 3. This would enable the company to market the new vehicle as capable of autonomous driving.
The article Elon Musk: The First "Summon" Feature Is Just a "Baby Step" originally appeared on Fool.com.
Daniel Sparks owns shares of Tesla Motors. The Motley Fool owns shares of and recommends Tesla Motors. Try any of our Foolish newsletter services free for 30 days. We Fools may not all hold the same opinions, but we all believe that considering a diverse range of insights makes us better investors. The Motley Fool has a disclosure policy.
Copyright 1995 - 2016 The Motley Fool, LLC. All rights reserved. The Motley Fool has a disclosure policy.