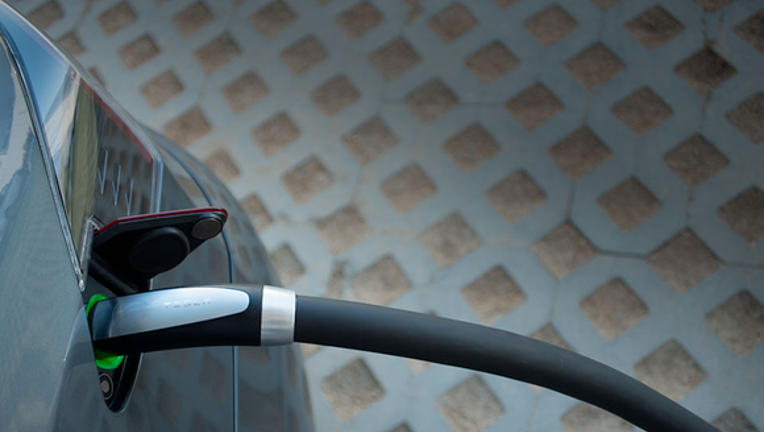 While some investors may think Apple's rumored electric car project is just a side project the tech giant may or may not follow through on, Tesla Motors CEO Elon Musk is more certain. Apple will be a competitor to Tesla, Musk asserted onstage at Recode's 2016 Code Conference. But despite Apple's massive size, design prowess, or track record of successfully entering new markets, Tesla's Musk isn't worried about Apple getting in the way. Indeed, Musk believes Apple is moving too slowly.
Tesla Fremont factory. Image source: Tesla Motors.
A "missed opportunity"
Here's how Musk's conversation with Recode's Walt Mossberg and Kara Swisher about Apple went.
After noting that Musk doesn't expect Alphabet to be a direct competitor to Tesla, but to instead opt to license its self-driving technology to established auto manufacturers, Mossberg and Swisher asked Musk whether Apple would be a direct competitor or not.
"Yeah, that'll be more direct," Musk said.
Musk, however, didn't appear intimidated by Apple's potential foray into the nascent space.
"I think it's great that they're doing this -- you know -- and I hope it works out," he said.
But Musk believes Apple is late to the game.
"I think they should have embarked upon this project sooner actually," Musk said. "... I don't think they'll be in volume production sooner than maybe 2020. That'll be like the soonest."
Tesla Model S charging. Image source: Tesla Motors.
Asked whether he was insinuating it would be too late to compete with Tesla, Musk answered:
Musk also said he believes all auto manufacturers will eventually be competitors in the electric-car market.
Already competing for talent
Until Apple does launch its own electric car, the two companies are already competing directly in one important arena: human resources. Apple and Tesla have both have hired employees from each other.
One notable recent reported hire by Apple of a former Tesla employee was former Tesla vice president of vehicle engineering Chris Porritt. Tesla CEO Elon Musk said in September 2015 that any engineers lost up until that point weren't significant personnel. But Musk can't say the same thing after Apple's hire of Porritt. Porritt was a key Tesla executive.
But as Apple gets closer to bringing its rumored electric car to market, could the two companies battle for talent heat up even more?
While Musk's view of competition is likely subject to bias, it is true there is room for a handful of companies to be successful in the auto industry. And it's also true that investors often overestimate the likelihood of outcomes in which a company succeeds at the exclusion of a competitor. Given Apple's sheer size and history, however, it's worth keeping an eye on the tech giant's potential move into electric cars.
The article Elon Musk: Apple, Inc. Will Be a Direct Competitor to Tesla originally appeared on Fool.com.
Suzanne Frey, an executive at Alphabet, is a member of The Motley Fool's board of directors. Daniel Sparks owns shares of Apple and Tesla Motors. The Motley Fool owns shares of and recommends Alphabet (A and C shares), Apple, and Tesla Motors. The Motley Fool has the following options: long January 2018 $90 calls on Apple and short January 2018 $95 calls on Apple. Try any of our Foolish newsletter services free for 30 days. We Fools may not all hold the same opinions, but we all believe that considering a diverse range of insights makes us better investors. The Motley Fool has a disclosure policy.
Copyright 1995 - 2016 The Motley Fool, LLC. All rights reserved. The Motley Fool has a disclosure policy.