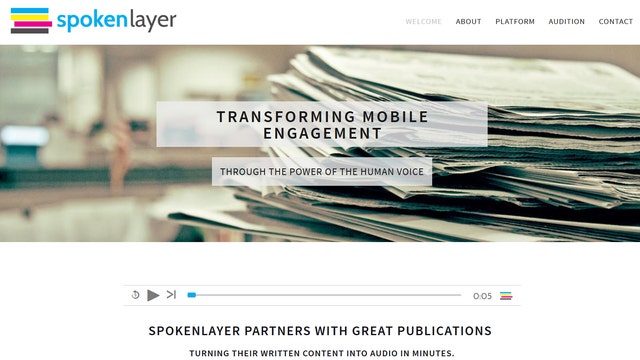 SpokenLayer CEO Will Mayo will be appearing on FOX Business Network's Risk & Reward on Friday Aug. 29, to make the case for his startup that turns written text into audio.
In an "elevator pitch," Mayo will be making the case to host Deirdre Bolton and judges "Disrupt" author Luke Williams, Shankman/Honig partner Peter Shankman and Renee Park from High Peaks Venture Partners.
"Every smartphone user walks around with a set of headphones, but the vast majority of the biggest brands in publishing are leaving sound on the table," says Mayo.  "I saw the potential to connect people with the content they care about, through one of the most accessible methods: listening."
Mayo said that this startup was inspired by his dyslexia. When growing up, his father used to record stories he read aloud in order to help Mayo learn.
Mayo's goals for SpokenLayer are ambitious, planning to "make the largest body of content ever published, the Internet, accessible to the widest demographic of people possible."
One of the target demographics for SpokenLayer will be commuters, according to Mayo. He hopes that his startup will increase the volume of audio content available.
SpokenLayer has raised funding from family and friends, but is hoping to complete a seed financing round in the coming months. They plan to use their financing for hiring and for scaling their business.