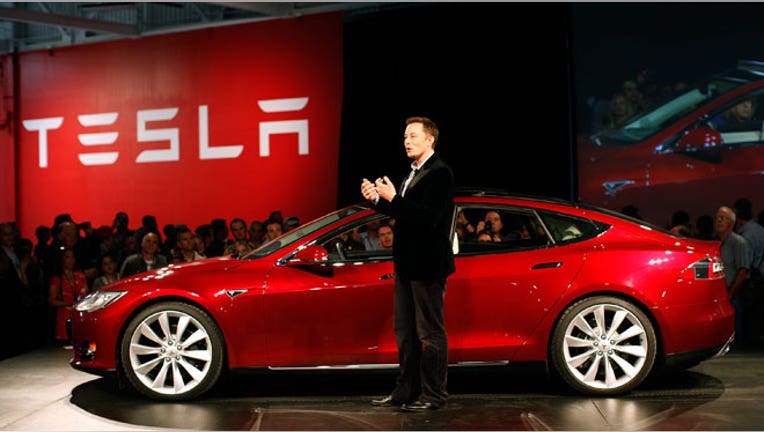 Tesla Motors Inc's (NASDAQ:TSLA) quarterly net loss widened, and the electric car maker cut its sales forecast for the second time in a year, while spending heavily ahead of the launch of its crossover Model X and the opening of its Nevada battery factory.
The company's stock fell 5 percent in extended trading.
Tesla on Wednesday lowered its full-year sales forecast to a range of 50,000 to 55,000 cars. Last year, Chief Executive Elon Musk had forecast sales of 60,000 cars in 2015, but lowered that earlier this year to 55,000.
The company said it lost $184.2 million in the second quarter, compared with a loss of $61.9 million in the year-ago period. Revenue climbed 24 percent to $955.0 million, from $769.3 million, as car sales continued to rise.
On an adjusted basis, Tesla said it lost 48 cents a share, less than the 60 cents analysts had expected. In the year-earlier period, Tesla said, it earned 13 cents a share on an adjusted basis.
With expenses still outstripping revenue, Tesla's cash reserves fell to $1.15 billion as of June 30, from $1.5 billion on March 31 and $1.9 billion on Dec. 31, bringing total cash burn in the first half to $755.0 million.
Earlier this year, Chief Financial Officer Deepak Ahuja said total cash burn for the year should be less than $1.0 billion.
Capital expenses totaled $405.2 million, as the company continued to spend to complete tooling on the Model X and equip the new Nevada battery factory, which is slated to open in 2016. Spending in the first half totaled $831.2 million. Tesla said it expects full-year capital expenditures of about $1.5 billion.
Free cash flow fell slightly to $564.7 million. The cash burn in the second quarter was partially offset by $218.4 million in cash from financing activities.
The China Automotive Technology and Research Center said earlier on Wednesday the automaker delivered 2,147 cars in China in the first half, or about 10 percent of its global sales. Tesla's China sales fell to 171 cars in June from 338 in May and 948 in April, it added.
Tesla's stock has swung widely over the past 12 months, from a low of $181.40 to a high of $291.42. It closed up 1.4 percent at $270.13 on Wednesday.
(Reporting by Paul Lienert in Detroit)
!function(d,s,id){var js,fjs=d.getElementsByTagName(s)[0],p=/^https:/.test(d.location)?'https':'http';if(!d.getElementById(id)){js=d.createElement(s);js.id=id;js.src=p+"://cdn1.findthebest.com/rx/widgets.js";fjs.parentNode.insertBefore(js,fjs);}}(document,"script","ftb-widgetjs");