Edmunds: Are Hatchbacks Better Than Crossovers?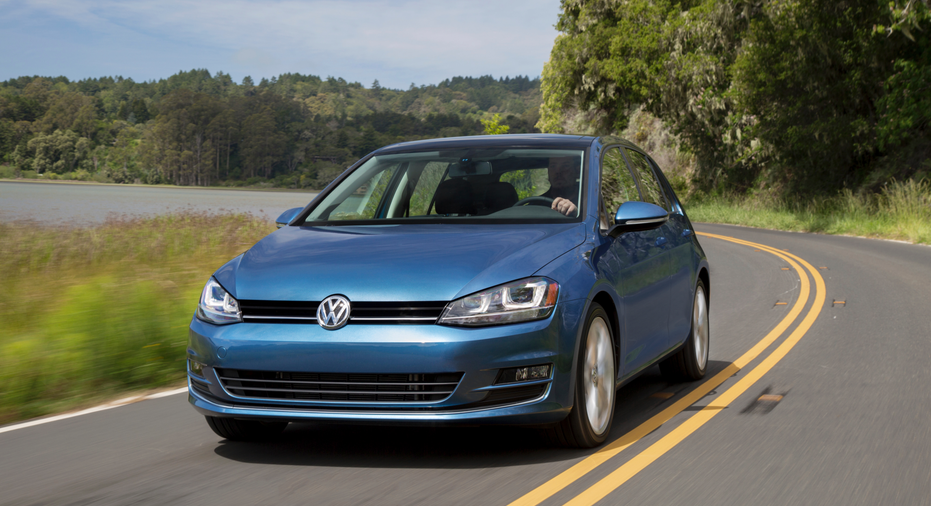 It's often said that Americans don't like hatchbacks, but nothing could be further from the truth.
Just look at any crossover SUV — the Nissan Rogue , for example, which is on pace to outsell every regular car on the market this year. See that cargo door, or "liftgate" in today's lingo, at the rear of the vehicle? That's a hatchback.
Far from hating hatchbacks, American buyers have actually turned to them in droves with the ascendance of the SUV. So why are shoppers walking right past the cheaper, nimbler and more fuel-efficient traditional hatchbacks and buying the ones on stilts?
For some, it's the elevated seating position of a crossover that seals the deal. Others think they must have all-wheel drive. It's understandable. Once you've sampled that commanding view from behind the wheel, you might not want to go back. And even if that part's negotiable, most mainstream hatchbacks simply don't offer all-wheel drive.
But if you're a crossover-curious shopper who can live without an aerial view and all-wheel drive, you might find the classic hatchback formula uniquely appealing. Here are three contemporary hatchbacks that Edmunds recommends and that could make you think twice about buying a crossover:
2017 VOLKSWAGEN GOLF (from $20,715)
It's remarkable that you can get so much Golf for so little money. Even the entry-level Golf S comes standard with alloy wheels, a 6.5-inch touchscreen, USB connectivity, Bluetooth, Apple CarPlay, Android Auto, and an eight-speaker audio system with satellite radio. It's just as impressive under the hood, where Volkswagen provides a 1.8-liter turbocharged four-cylinder engine that accelerates with authority and achieves an EPA-estimated 29 mpg combined. Compare that to VW's all-new 2018 Tiguan crossover, which tops out at a combined 24 mpg and costs $5,000 more to start.
The base Golf is so well-equipped that it might be all you need, although the Wolfsburg Edition only costs another $1,700 and adds a sunroof, keyless entry and start, heated seats and advanced safety features, among other desirable items. What's more, every Golf gives you 22.8 cubic feet of storage behind the rear seats and 52.7 cubic feet with those seatbacks folded, putting it on par with some smaller SUVs. Despite the compact footprint, there's plenty of room for front and rear passengers, and few crossovers can rival the Golf's agile handling and unflappable high-speed composure.
2018 HONDA CIVIC HATCHBACK (from $20,790)
It's clear that Honda had the Golf in its sights with the new Civic hatchback, which starts at the same price and eschews the Civic sedan's base 2.0-liter four-cylinder engine in favor of a stronger 1.5-liter turbocharged unit. In Edmunds track testing, the Civic hatch handily beat the Golf, reaching 60 mph in 7.3 seconds compared to the VW's 7.8 seconds. Yet the Civic's also significantly more fuel-efficient at up to 34 mpg combined. It's great to drive, too, channeling some hits from Honda's past with its sharp steering response and fluid, controlled ride from corner to corner.
Overall, there's only one aspect of the Civic hatchback that gives us pause, and that's the styling, which appears to be a heartfelt homage to the '90s Japanese tuner-car scene. But perhaps you find the VW's stolid sheetmetal too staid, in which case the Honda could be the perfect antidote. Just keep in mind that if you want to go feature-for-feature with the Golf, the base Civic LX will seem a bit sparse. You'd need to look at the Civic EX, which stacks up favorably against the Wolfsburg Edition Golf in the $23,000 price bracket.
As for two-row crossovers you'll find on the Honda lot, the similarly priced HR-V subcompact is deathly slow compared to the Civic (0 to 60 mph in 9.7 seconds with all-wheel drive), while the larger CR-V is far costlier if you want the 1.5-liter turbo engine. For the money, the Civic hatchback is easily the best value of the three Honda contenders, leading the way in performance, handling and fuel economy while tying the HR-V on price. It would be worth your time to inspect this trio side by side to determine whether you really need more utility than the Civic has to offer.
2018 AUDI A5 SPORTBACK (from $43,575)
When you're looking at a starting price above $43,000, value usually isn't a selling point, and so it is with the new four-door A5 Sportback. Truth be told, the Golf delivers much of the A5's refinement and more interior space at less than half the price. But the Sportback nails the finer things, from its sleek, coupelike shape to the velvety purr of its turbocharged 2.0-liter engine.
Sure, it's got a maximum cargo space of only 35 cubic feet, trailing the Civic by 11 cubic feet and the Golf by 18. But the cabin materials are so nice, and the buttons and levers move with such precision. Throw in the A5 Sportback's standard all-wheel drive, and Audi's related Q5 crossover might start to lose its luster, to say nothing of the brand's outdated subcompact Q3. That vehicle would be difficult to recommend to any shopper over the Sportback.
What Edmunds Says: There are a lot of great crossovers out there. But could a hatchback bring you more happiness for less coin? Test-drive a few and find out.
______
This story was provided to The Associated Press by the car-shopping website Edmunds. Josh Sadlier is senior manager of content strategy at Edmunds. Instagram @s.b.true
Related Articles:
— 2017 Hatchback Buying Guide: http://edmu.in/2gWqx1e
— 2017 Crossover Buying Guide: http://edmu.in/2Dj63YG