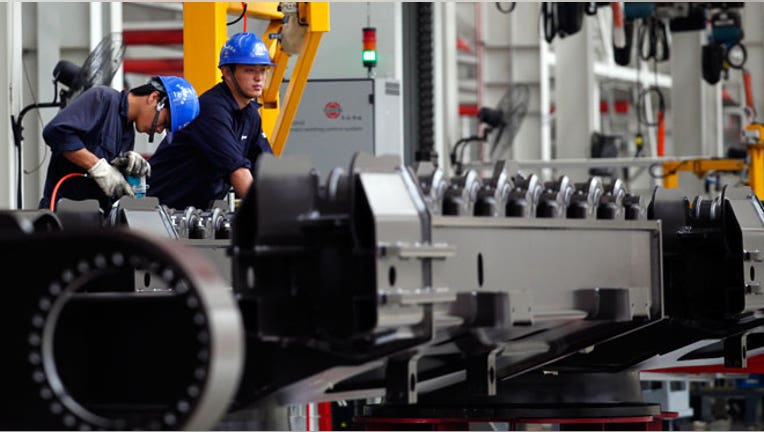 The unexpected 0.1% annualized decline in fourth-quarter U.S. gross domestic product was met with a yawn on Wall Street. Economists broadly said not to read too deeply into this first estimate from the Commerce Department, noting several quarter-specific factors that swayed the reading.
Here are excerpts from notes sent by several prominent business economists to clients on the back of the report.
Chris Williamson at Markit
The U.S. suffered a surprise economic contraction in the final quarter of last year, but this is not likely to be the start of a double-dip recession. While vindicating the Fed's aggressive policy stance, the economic weakness late last year should not be a cause of renewed concern for policymakers. The decline could be largely blamed on companies adjusting their inventories, falling government spend(ing) and disruption from Hurricane Sandy. More up-to-date economic data have also indicated the recovery has regained traction as we move into 2013.
After a disappointing end to 2012, the first quarter of 2013 may well surprise on the upside as the economy rebounds from a temporary spell of weakness.
Tom Porcelli at RBC Capital Markets
Rest assured, this report changes nothing for us. We continue to think the U.S. exists in a modest growth backdrop. Period. Our view that 2013 is bifurcated, with softer first half growth giving way to a stronger second half remains fully intact. In other words, a negative sign in front of GDP is not an invitation to beat the "things are bad" drum. What the negative sign in front of GDP does reflect is that growth in the U.S. is modest enough that an inventory swing could drive you into negative terrain.
Peter Newland at Barclays
All in all, it was a clearly weak report but the relative strength of consumption and business investment suggests that household and corporate sector demand was resilient in the face of uncertainty over the outcome of the fiscal cliff and in a solid position heading into the new year. Tax increases will hit consumption to a certain extent in Q1 but, if anything, risks to our 1.5% forecast for Q1 GDP growth lay to the upside, given the likely need for firms to rebuild inventory following the extent of de-stocking in Q4.
Michelle Meyer at Bank of America Merrill Lynch
GDP contracted 0.1% in Q4, significantly below expectations. However, we advise fading the headline number given distortions in the data. Growth was dragged down by a sharp contraction in government defense spending and inventory accumulation, which combined subtracted 2.6 (percentage points) from growth. Outside of these two very volatile components, underlying growth improved with a solid gain in business investment. We believe today's report suggests upside risk to our forecast of 1.0% for Q1 GDP.
After looking past the noise in the data, we still see a roughly 2.0% economy. Moreover, we believe there is greater capacity for inventory accumulation and capital expenditure in Q1, suggesting upside risk to our forecast of 1.0% growth. The economy is not exactly robust, but it is certainly not contracting as today's data would otherwise suggest.
Ellen Zentner at Nomura
While this report tends to be dismissed as "old" news it does provide a jumping off point, so to speak, for estimating economic growth going forward. The outsized drawdown in inventories in Q4 would tend to put upward pressure on inventory building in the following quarter. But we have to determine if aggregate demand will be sufficient in Q1 to warrant inventory building. Consumer spending accelerated in Q4, but households are faced with smaller paychecks in Q1 which we expect will hamper spending over the quarter. Moreover, retailers have noted they are comfortable with inventory levels at the start of 2013. Business investment was stronger in Q4, but much of it may represent the pulling forward of orders as businesses anticipated a change in tax policy. This would imply some payback to Q4's increase in investment in the following quarters.
We expect economic growth to pick up from the flat pace in Q4 2012, but remain weak in Q1 driven primarily by household adjustments to a decline in disposable income and ongoing business caution over uncertain fiscal policy outcomes.