Eat Your Heart Out, SpaceX. Blue Origin Takes the Prize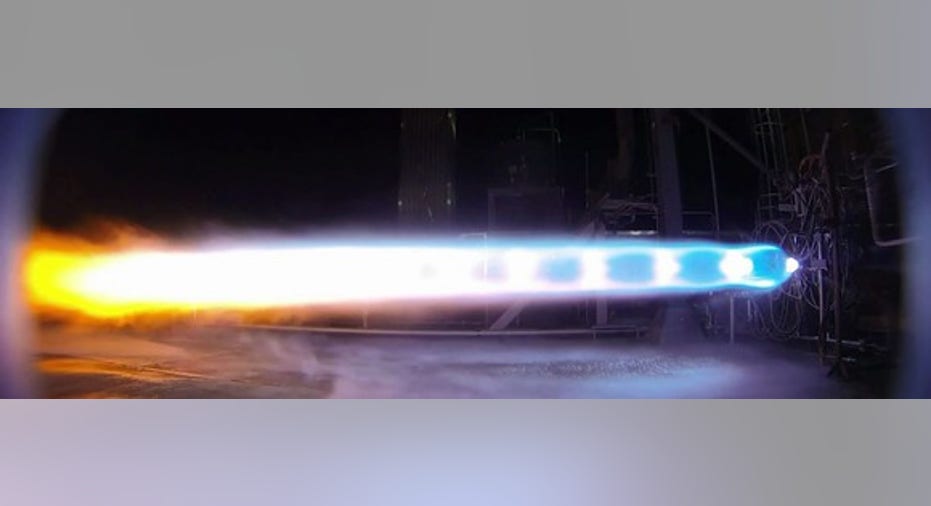 Author Robert A. Heinlein autographing books at the 1976 World Science Fiction Convention in Kansas City, Mo. Image source: Wikimedia Commons.
The past five years have been amazing for Elon Musk and his several companies. Over the course of five short years, his SpaceX space launch venture has sent the first privately owned spacecraft to dock with the International Space Station, landed a Falcon 9 rocket (on land and at sea), won a $2.6 billion commercial crew contract from NASA, and announced a plan to put a man on Mars.
At Tesla Motors , Musk launched the Model S electric car -- at one time the best-rated car in Consumer Reports history -- then followed that up with the introduction of a Model X electric SUV, and most recently, received more than 400,000 pre-orders for the Tesla Model 3 sedan, Tesla's first mass-market "affordable" electric car. And indeed, even Musk's SolarCitysolar power business has racked up some accomplishments. SolarCity began with an IPO at $8 per share in December 2012 and rocketed more than 10 times higher barely a year later. More recently, SolarCity has become famous for a much-maligned proposed buyout -- but one that could help secure its future for years to come.
There is one thing Musk has failed to accomplish, however.
Despite all the above, he didn't repeat his 2011 win of the Heinlein Prize. That honor went to his rival, Amazon.com CEO and Blue Origin founder Jeff Bezos.
The Heinlein Prize Trust announced on June 21 that it is awarding its commercial space award to Bezos "for his vision and leadership in commercial space activities that have led to historic firsts and reusability in the commercial spaceflight industry."
The Heinlein Prize
Five years ago, Elon Musk became the second-ever winner of the Heinlein Prize Trust's coveted award for "progress in commercial space activities that advances [the] dream of humanity's future in space," given in recognition of his accomplishment for putting the world's first privately built rocket in orbit. Five years later (the prize is awarded once every five years), Jeff Bezos has taken the prize -- for putting a different rocket not in orbit.
As explained in the Heinlein Prize's press release, Bezos won for developing a "commercially financed line of engines that pave the way to reusability in space transportation" and for using these engines (dubbed BE-3) to send Blue Origin's suborbital New Shepard rocket "into space and then land vertically upon the Earth."
The real prize
SpaceX fans will doubtless insist this was no big deal. New Shepard may have made it into space, but it never achieved speeds fast enough to stay there before returning to land. Nevertheless, this was the first time a powered space-to-Earth landing had ever been accomplished, and Blue Origin has since repeated it multiple times.
In short, Bezos won the Heinlein Prize fair and square -- but it isn't the biggest prize he's won. In fact, Blue Origin's really big win is something barely mentioned in the Heinlein Prize's press release: "Blue Origin reached a commercial agreement with a private launch company to develop the BE-4 engine which could be used to power the next generation of U.S. launch vehicles."
Keep your friends close, and your competitors closer
The old adage was put into practice last summer, when Lockheed Martin tapped Blue Origin to "expand production capabilities for the American-made BE-4 engine that will power the Vulcan." Vulcan, as you will recall, is the new rocket that Lockheed and Boeing are building to replace United Launch Alliance's (ULA) Atlas V line of space rockets -- and compete with SpaceX's cheaper Falcon line of rockets.
Because Boeing and Lockheed Martin focus their space efforts on building rocket ships, they generally outsource engine work to subcontractors. On Vulcan, Aerojet Rocketdyne is building one possible engine variant, while Blue Origin is building another -- and by all indications, Blue Origin's BE-4 is the engine Boeing and Lockheed would prefer to use in ULA's new rocket.
So what does this mean for Blue Origin? Jeff Bezos is building Blue Origin up as a space tourism company that will fly tourists to the edge of space, then return them safely -- for a tidy fee. Ultimately though, Bezos intends Blue Origin to become a true orbital space launch company that will rival both SpaceX and ULA. (In fact, just this week Blue Origin broke ground on a new factory to build "orbital vehicles.")
Through its BE-4 contract with ULA, Blue Origin is killing two birds with one rock(et). It's developing an engine powerful enough to give its own rocket ships true orbital velocity that will permit spaceflight. At the same time, it's generating revenue from sales of this engine to ULA -- revenue that it can then reinvest in its own business to further its own spaceflight efforts.
Spaceflight, not just suborbital flight -- that's the real prize for Blue Origin. And it's starting to look like it's going to win it.
Blue Origin could blast into orbit on a red-hot tail of BE-4 engine revenue from United Launch Alliance. Image source: Blue Origin.
The article Eat Your Heart Out, SpaceX. Blue Origin Takes the Prize originally appeared on Fool.com.
Rich Smith has no position in any stocks mentioned.You can find him onMotley Fool CAPS, publicly pontificating under the handleTMFDitty, where he's currently ranked No. 278 out of more than 75,000 rated members.The Motley Fool owns shares of and recommends SolarCity and Tesla Motors. Try any of our Foolish newsletter services free for 30 days. We Fools may not all hold the same opinions, but we all believe that considering a diverse range of insights makes us better investors. The Motley Fool has a disclosure policy.
Copyright 1995 - 2016 The Motley Fool, LLC. All rights reserved. The Motley Fool has a disclosure policy.