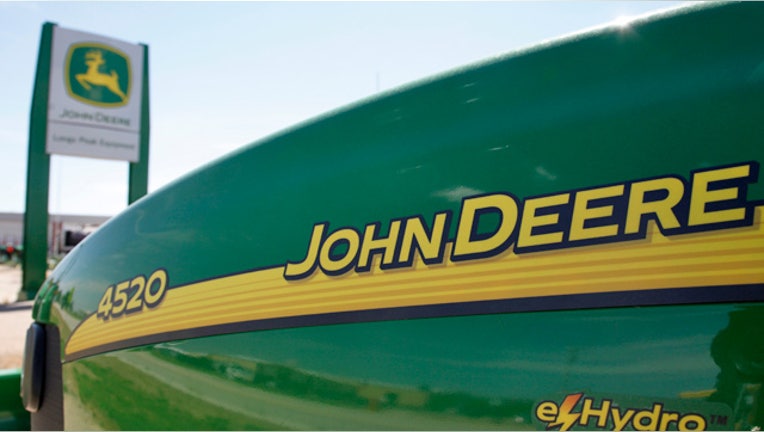 DuPont's (NYSE:DD) agricultural seed unit is partnering with farm equipment maker Deere (NYSE:DE) to launch a program that helps farmers maximize crop production, joining forces to rival a similar service from Monsanto (NYSE:MON).
DuPont and Monsanto are both making a push into precision farming, a technique that uses GPS and computer technology to correctly plant seeds and apply fertilizer.
The precision farming program from DuPont Pioneer and Deere, called Field360, is expected to roll out next year. It relies on wireless technology that allows for faster soil analysis, as well as analytics related to pest control and weather patterns.
For instance, Pioneer and Deere said the program will guide farmers on buying fertilizer and positioning crops to increase harvests. It will also help farmers determine the best time to harvest.
The partnership between Pioneer and Deere will use the equipment maker's machinery to collect information on crop yields, moisture and location. That data will be sent to servers operated by Deere. A Pioneer analyst will then examine the data and deliver reports to farmers.
Field360 is a high-tech take on Pioneer's current program that utilizes information on data cards. Those cards must then be handed off to Pioneer analysts who prepare reports.
Field360 will quicken response times, perhaps by months, thanks to the wireless transfer of data.
Pioneer said it will look to form additional partnerships with other equipment makers. Its arrangement with Deere is not exclusive.
Meanwhile, Monsanto completed a $930 million deal last week to buy The Climate Corp., a weather modeling firm. The world's largest seed company also acquired Precision Planting in 2012.
Monsanto said it doesn't plan to initially incorporate climate data when it launches FieldScripts next year in Illinois, Indiana, Iowa and Minnesota.
Shares of DuPont were up 43 cents at $61.28 Friday morning, while Deere was down 36 cents at $81.20. Monsanto climbed $1.30, or 1.2%, to $105.30.