Dumping Opel Is the Right Move for General Motors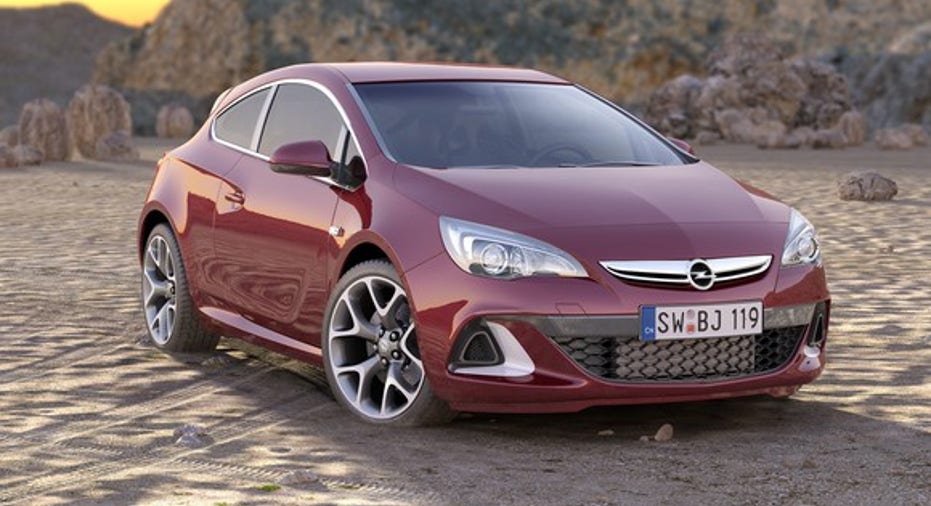 It turns out that the 17th time is not the charm for struggling General Motors (NYSE: GM) subsidiary Opel.
General Motors executives entered 2016 with high hopes that the company would earn a profit in Europe for the first time since 1999. However, in July, GM CFO Chuck Stevens warned that the fallout from Brexit threatened to upend that plan. Sure enough, Opel -- and its British sister-brand Vauxhall -- lost money, yet again, last year.
Now, the General is thinking about ditching Europe for good by selling its European operations to French automaker Peugeot (NASDAQOTH: PUGOY). As long as Peugeot is willing to pay a reasonable price, selling Opel is GM's best course of action.
Peugeot is interested in buying Opel and Vauxhall from GM. Image source: Pixabay.
GM keeps losing money in Europe
General Motors has had a foothold in Europe since the late 1920s. It has been thinking about leaving for almost as long, according to The Wall Street Journal.
Most recently, the company was close to selling off its European operations in 2009. GM pulled out of that deal at the last moment, largely because it depended on Opel's expertise for designing small cars at the time. As my Foolish colleague John Rosevear recently pointed out, GM is no longer so reliant on Opel.
Meanwhile, Europe continues to be a consistent money pit for General Motors. It has lost more than $15 billion there since 2000, as it racked up 17 consecutive years in the red. In 2016, the GM Europe segment improved its operating profit by more than $550 million, but it still posted a full-year loss of $257 million.
Brexit created a roughly $300 million profit headwind in the second half of 2016. The Vauxhall brand gives GM strong exposure to the U.K., where weakness in the British pound eroded the profitability of vehicles imported from the rest of Europe and forced automakers to raise prices, crimping sales. Excluding that impact, GM would have posted a small profit in Europe.
More investments are needed
While General Motors has been making steady progress in Europe in recent years, it has had to invest a lot of money to get there. Indeed, GM Europe's capex has exceeded $1 billion in each of the past two years compared to annual depreciation and amortization charges of less than $500 million.
This indicates that GM's accounting statements underestimate the amount of money the company is pouring into Europe. Furthermore, the General would have to invest a lot more money in Europe in the coming years if it continues to go it alone. It needs to launch new vehicles, double down on marketing, and perhaps implement another costly factory closure.
GM would have to invest a lot more money in Opel to turn it around. Image source: Pixabay.
Indeed, 2016 was Opel's big opportunity to bounce back. With top-rival Volkswagen in the midst of its damaging emissions scandal, the time was ripe to regain market share in Europe. Instead, Opel and Vauxhall continued to hold just 6% of the European market. The inability to win in this benign environment suggests that there's a lot of turnaround work left to be done.
GM doesn't need Opel
Some industry observers continue to believe that GM can't afford to sell Opel to Peugeot because it needs global scale. Yet the 1.2 million vehicles GM sells in Europe account for just 12% of its global sales volume. Even without Opel, it will be one of the biggest automakers in the world.
The theory behind maximizing scale in the auto industry is that it allows automakers to spread R&D costs over as many vehicles as possible. However, given that GM has been consistently losing money in Europe for many years, it's fair to say that Opel is not doing anything to help the General cover its R&D overhead.
Will Peugeot pay?
General Motors has a multibillion-dollar asking price for Opel/Vauxhall. If Peugeot is willing to pay that kind of price to take what is still a money-losing operation off of GM's hands, it seems like a no-brainer for GM to sell.
For Peugeot, which is a fraction of GM's size, the extra volume that Opel/Vauxhall provides might justify the obvious risk of buying loss-making brands. If nothing else, it will make Peugeot the No. 2 automaker in Europe, which could lead to better pricing power. Opel could also help Peugeot get a jump on alternative-energy vehicles.
There are big political hurdles to consummating a deal. Labor unions -- and their allies in government -- are clearly worried that a Peugeot-Opel merger would eventually lead to job cuts. GM investors should hope that CEO Mary Barra and Peugeot CEO Carlos Tavares find a way to resolve these issues and complete a deal.
10 stocks we like better than General MotorsWhen investing geniuses David and Tom Gardner have a stock tip, it can pay to listen. After all, the newsletter they have run for over a decade, Motley Fool Stock Advisor, has tripled the market.*
David and Tom just revealed what they believe are the 10 best stocks for investors to buy right now... and General Motors wasn't one of them! That's right -- they think these 10 stocks are even better buys.
Click here to learn about these picks!
*Stock Advisor returns as of February 6, 2017
Adam Levine-Weinberg owns shares of General Motors. The Motley Fool recommends General Motors. The Motley Fool has a disclosure policy.