Duluth Holdings Inc. Wraps Up 2016 on a High Note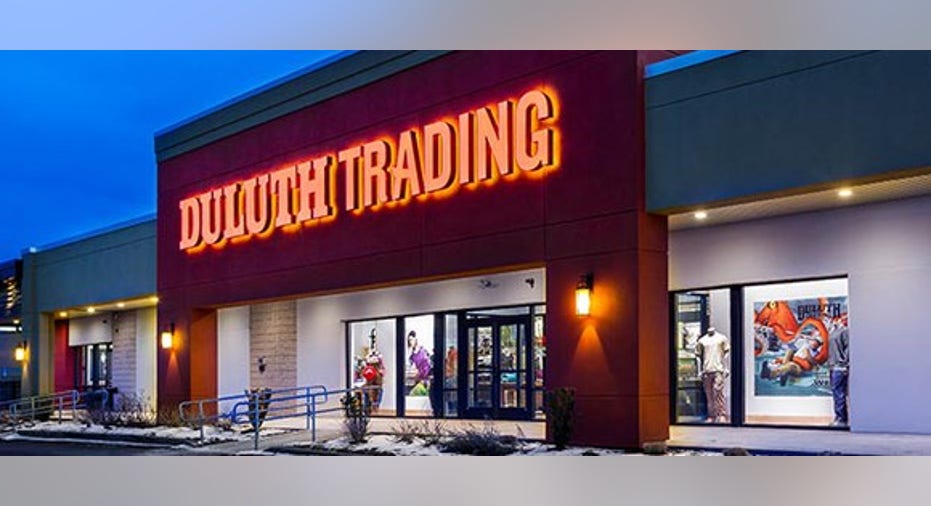 While 2016 was a challenging year for many retailers, niche apparel brandDuluth Holdings(NASDAQ: DLTH) didn't feel much of the pain. The company's innovative apparel and unique marketing techniques allowed it to easily attract new customers to its stores. In turn, Duluth was able to report top-line growth in excess of 24% during its fourth quarter.
Image source: Duluth Holdings.
Duluth Holdings Q4 results: The raw numbers
| Metric | Q4 2016 | Q4 2015 | Year-Over-Year Change |
| --- | --- | --- | --- |
| Revenue | $174.7 million | $140.4 million | 24% |
| Net income | $14.0 million | $17.5 million | (20%) |
| Earnings per share | $0.43 | $0.58 | (26%) |
Data source: Duluth Holdings Inc.
What happened with Duluth Holdings this quarter?
The 24% jump in sales was driven by the combination of 15% growth in direct sales and 106% growth in retail sales. This was the 28th consecutive quarter of the retailer increasing sales year over year. The $174.7 million in total revenue also easily passed Wall Street's projection of $163 million.
Gross margin declined to 55.4% compared to 56.1% in the year-ago quarter. Management said that 70-basis-point decline was caused by "the impact of promotions offered in response to the highly promotional retail environment."
While net income declined once again, the drop is mostly owed to the company's decision in 2015 to convert from an S corporation to a C corporation. The change caused quarterly income taxes to balloon to $8.8 million compared to only $1.3 million in the year-ago period, driving down net income. However, management pointed out that adjusted earnings before interest, taxes, depreciation, and amortization (EBITDA) increased 23% during the quarter, providing investors with another marker of profit growth.
Despite the big tax hit, earnings per share (EPS) of $0.43 still came in well ahead of the $0.34 that the pros had predicted.
The company opened two new retail stores during the quarter, bringing its total count up to 14 stores and two outlets at year's end.
Zooming out to the full year's results, here's a review of the headline numbers from 2016:
Net sales increased 24% to $376.1 million.
Retail sales grew 76% and now make up 18% of total sales.
Gross margin fell 10 basis points to 56.9%, compared to 57% a year ago.
Adjusted EBITDA grew by 21% to $41.2 million.
Net income fell 22% to $21.3 million, or $0.66 per diluted share.
Duluth opened seven retail stores.
What management had to say
CEO Stephanie Pugliese was enthusiastic about the company's fourth-quarter results, especially given the challenging start to the period:
Pugliese also noted that Duluth's brand-awareness metrics are increasing, which shows that the company's marketing efforts are resonating with customers.
Looking forward
For 2017, management expects to open 10 to12 new stores, which should drive the company's retail sales higher. Management expects the expansion initiative and the company'scontinued investments in marketing to lead to improved year-over-year results in fiscal 2017.
Metric
2016 Actual
2017 Guidance
Year-Over-Year
Change at Midpoint
Revenue
$376 million
$455 million to $465 million
22%
Adjusted EBITDA
$41.2 million
$47 million to $49.5 million
15%
GAAP EPS
$0.66
$0.66 to $0.71
4%
Data source: Duluth Holdings.
As a reminder, management has stated that it is targeting annual revenue growth of 20% and net income growth of 25% over the long term. Since this profit guidance falls short of those targets, Pugliese offered up the following commentary:
Given that there is still plenty of room left for new-store openings, Duluth continues to look well-positioned to grow its top line.
10 stocks we like better than Duluth HoldingsWhen investing geniuses David and Tom Gardner have a stock tip, it can pay to listen. After all, the newsletter they have run for over a decade, Motley Fool Stock Advisor, has tripled the market.*
David and Tom just revealed what they believe are the 10 best stocks for investors to buy right now and Duluth Holdings wasn't one of them! That's right -- they think these 10 stocks are even better buys.
Click here to learn about these picks!
*Stock Advisor returns as of February 6, 2017
Brian Feroldi has no position in any stocks mentioned. The Motley Fool recommends Duluth Holdings. The Motley Fool has a disclosure policy.