DryShips Inc. Finally Starts to Bulk Up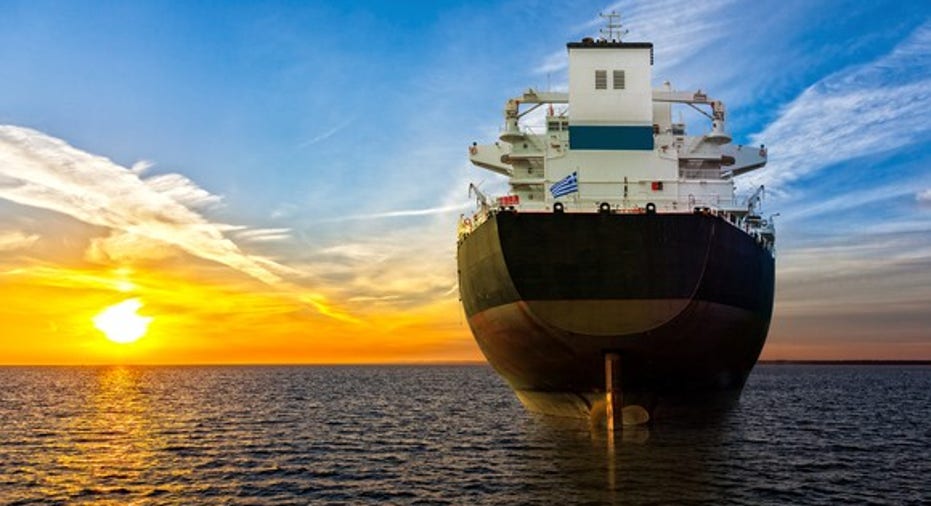 DryShips (NASDAQ: DRYS) spent much of the past few years selling off its fleet to shore up its balance sheet. However, with its finances back on solid ground to start the year, the company charted a course to make its fleet great again by looking for opportunities to acquire vessels at depressed prices. While the company initially set off into unchartered waters through the acquisition of some gas carriers, it recently jumped back into the dry bulk market, acquiring four vessels at historically low prices. It's a deal the company hopes will pay off in the very near future.
Dismantling and then reassembling
DryShips started the year with just 13 Panamax dry bulk carriers that had a combined deadweight tonnage of 1 million tons and six offshore supply vessels. That's down from the start of 2015 when the company had 39 dry bulk carriers, including 13 Capsize, 24 Panamax, and two Supramax, that had a combined deadweight tonnage of 4.3 million tons. The shipper also had 13 ultra-deepwater drillships and 10 tankers, including four Suezmax and six Aframax, that had a combined deadweight tonnage of 1.3 million tons.
Image source: Getty Images.
However, since the start of the year, DryShips has added several more vessels to its fleet. In early January, the company signed an option agreement to acquire up to four newbuild Very Large Gas Carriers under long-term time charters for $83.5 million apiece. The company has since exercised its option to purchase two of those vessels. Then, in late February, the shipper reentered the tanker market, acquiring a newbuild Aframax vessel and a Very Large Crude Carrier for a combined $102.5 million, taking advantage of the historically low prices of tanker vessels.
That said, with each new deal the company continued to reaffirm its desire to rebuild its core dry bulk fleet. The company finally fulfilled that ambition this week when it acquired four Newcastlemax vessels with a combined deadweight tonnage of 206,000 tons for $124 million. What's worth noting about the deal is that two of the ships are under time charter contracts, while the other two will trade in the spot market. While the company didn't release the contract durations for the time charters, they do provide it with a little bit of cash flow certainty in what has been a very uncertain spot market.
The feeding frenzy
Although the dry bulk spot market has been very tough to navigate over the past few years, things are looking up lately. According to comments by DryShips CEO George Economou in the acquisition press release, "spot rates for dry bulk vessels have continued to improve since the beginning of the year, and our outlook for dry bulk is positive given the modest order-book and the continued strength of the Chinese economy that generates demand for raw commodities." One evidence of the improvement is the Baltic Dry Index, which tracks shipping rates for dry goods. This past week it hit a two-year high as demand for large vessels, in particular, has been on the rise.
These surging rates have caused shipping companies to start buying dry bulk vessels again. Earlier this month Star Bulk Carriers (NASDAQ: SBLK) spent $30.3 million to acquire two Kamsarmax vessels, which each have a carrying capacity of 81,713 tons. In addition to that, Star Bulk Carriers took the delivery of a newbuilding Newcastlemax carrier. Meanwhile, Eagle Bulk Shipping (NASDAQ: EGLE) continued its buying binge, signing a deal late last month to buy up to nine Ultramax vessels for as much as $153 million. That's Eagle Bulk Shipping's third deal since last November when it made its first acquisition in more than six years.
One of the drivers of these deals is that investors are pouring hundreds of millions of dollars into the coffers of shipping companies, giving them ample dry powder to make deals. Eagle Bulk Shipping, for example, raised $100 million earlier this year to acquire dry bulk vessels. Meanwhile, Star Bulk Carriers sold $50.6 million in stock this past February, giving it cash to make deals. DryShips, however, has topped them both, raising $400 million in equity so far this year to finance its buying binge, giving it $455 million of liquidity to continue looking for more deals to diversify its fleet.
Investor takeaway
After several brutal years, dry bulk shipping rates have started to recover due to rising demand for commodities. That's leading investors to pour money into shipping companies, giving them the cash to rapidly expand their fleets and take advantage of the higher prices. If those higher rates remain in place, these deals should pay off.
That said, shippers have an atrocious track record when it comes to allocating capital, often squandering the good times by investing beyond their means to expand. Because of that, investors need to be very cautious before wading into this sector because it's notorious for drowning capital.
10 stocks we like better than DryShipsWhen investing geniuses David and Tom Gardner have a stock tip, it can pay to listen. After all, the newsletter they have run for over a decade, Motley Fool Stock Advisor, has tripled the market.*
David and Tom just revealed what they believe are the 10 best stocks for investors to buy right now... and DryShips wasn't one of them! That's right -- they think these 10 stocks are even better buys.
Click here to learn about these picks!
*Stock Advisor returns as of February 6, 2017
Matt DiLallo has no position in any stocks mentioned. The Motley Fool has no position in any of the stocks mentioned. The Motley Fool has a disclosure policy.