Drug wholesaler to make board change after opioid protest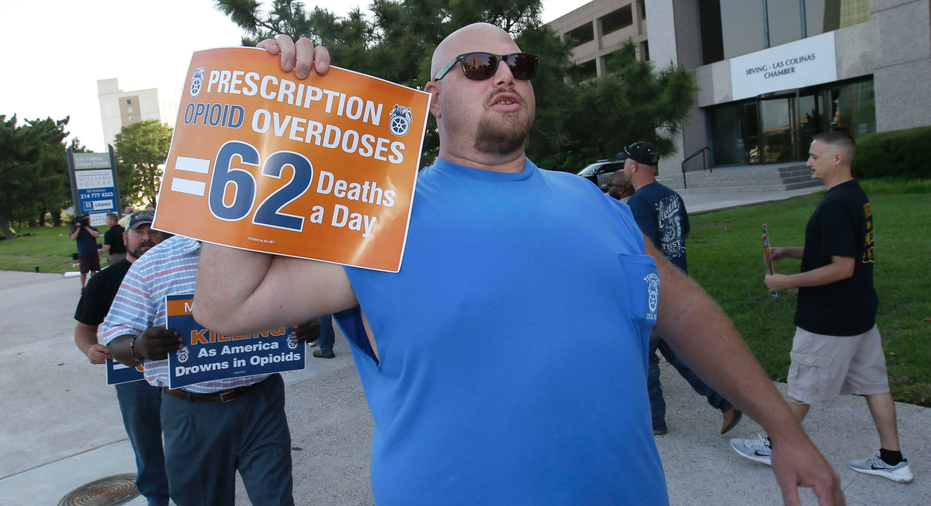 Top U.S. drug wholesaler McKesson agreed Wednesday to create an independent board chairman, responding to a Teamsters-led shareholder protest over its role in distributing opioids.
McKesson Corp. is dealing with lawsuits, government investigations and fines for its handling of suspicious opioid orders to U.S. communities. Wholesalers buy drugs from manufacturers and sell them to pharmacies, hospitals and nursing homes.
The company's move came even though shareholders at Wednesday's meeting didn't back the Teamsters' proposal to split the CEO and board chairman jobs to provide more oversight and protect the company's reputation. The change won't take effect until after longtime CEO John Hammergren leaves.
The union, a longtime McKesson shareholder, also opposed the company's executive pay package. In an advisory vote, shareholders rejected it; the company said it will review its compensation policies and consider changes.
"These reforms will not bring back the lives taken by the opioid crisis, but hopefully will provide greater oversight and accountability for how prescription drugs are distributed in this country," Teamsters General Secretary Ken Hall said in a statement.
Union members protested before the start of the annual shareholders meeting in Irving, Texas.
Last January, San Francisco-based McKesson agreed to pay a record $150 million settlement with the Justice Department over allegations it violated the Controlled Substances Act by not reporting frequent or suspiciously large shipments of opioids. That was required under the company's $13.25 million settlement with the government in 2008 over similar allegations.
The January settlement also required McKesson to stop sales of controlled substances from four warehouses.
McKesson is being sued by West Virginia's attorney general, accused of oversupplying opioids in that state, and also by the Cherokee Nation for allegedly using deceptive practices. Also, a House committee is investigating the role of McKesson and two other large wholesalers in growing opioid shipments.
Meanwhile, on Tuesday, treasurers of three states hit hard by opioid abuse — West Virginia, Illinois and Pennsylvania — sent McKesson a letter urging the company to take steps to stem the opioid epidemic.
"The company is doing everything it can to help address this crisis in close partnership with the U.S. Drug Enforcement Administration and other organizations," McKesson said in a statement after Wednesday's meeting.
The Teamsters' shareholder proposal was backed by Institutional Shareholder Services, the world's biggest advisory service on corporate governance issues, whose clients include large pension and hedge funds. The group noted McKesson's "poor share performance" and the repeated top executive bonuses above set targets despite the opioid controversy.
According to the group's calculations, McKesson gave Hammergren a total of $21.7 million in compensation for the 2017 fiscal year. Hammergren, 58, has been McKesson's chief executive since 2001 and board chairman since 2002.
McKesson shares have fallen more than 30 percent from a peak of about $237 in May 2015.
___
Follow Linda A. Johnson at https://twitter.com/LindaJ_onPharma