Drones Lift AeroVironment's Prospects for 2016 Growth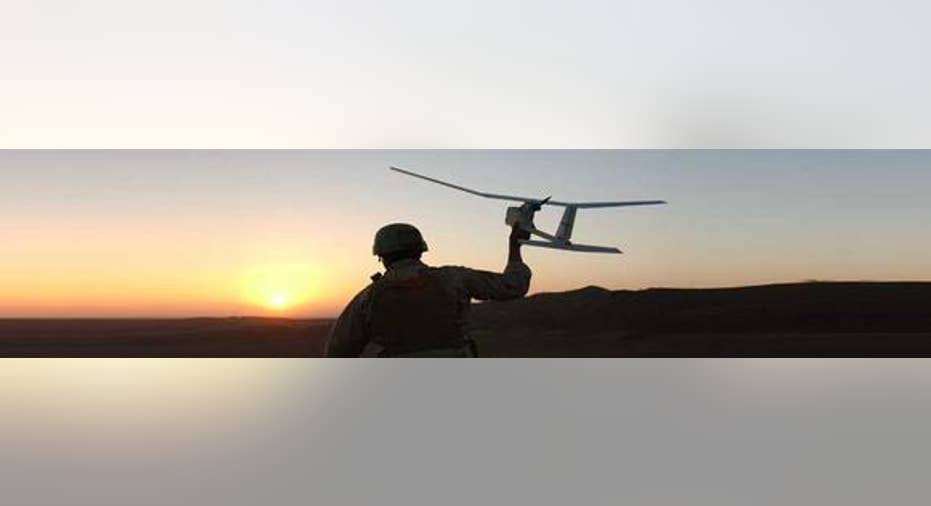 Image: AeroVironment.
The defense industry has a lot of huge players in it, and niche specialist AeroVironment is a relative upstart compared to the big-name defense contractors like Northrop Grummon that dominate the field. Investors have been increasingly interested in the potential of the drones that AeroVironment makes, but coming into Tuesday's fiscal second-quarter financial report, some shareholders weren't certain whether the drone-maker could sustain past growth rates. AeroVironment largely proved its skeptics wrong, with solid growth that surpassed expectations. Let's take a closer look at AeroVironment's latest results and what they say about the company's future.
How AeroVironment soared higherAeroVironment's fiscal second-quarter numbers reversed some troubling results three months ago. Sales jumped 23% to $64.7 million, easily topping the consensus forecast among investors for a gain of less than 10%. Even more impressively, AeroVironment reversed a year-earlier loss with net income of $4.4 million, and that worked out to earnings of $0.19 per share. Compared to analyst estimates for a loss of $0.08 per share, the drone-maker's results were especially encouraging to shareholders who've held their stock through tough times.
The typical performance of AeroVironment's two main segments reasserted itself this quarter. Sales growth from the key Unmanned Aircraft Systems unit amounted to 31%, but the company's Efficient Energy Systems division suffered a 15% decline in revenue. Gross margins on the drone business also expanded, climbing to nearly 50% and surpassing even greatly improved margin figures for the Efficient Energy group.
Backlogs have also continued to improve for AeroVironment. The company reported a rise in backlog to $97.2 million, up by half from last year's levels. Contract services revenue also rose by more than 50%, complementing growth in product sales quite well.
CEO Tim Conver was pleased with AeroVironment's performance. "Solid bookings of more than $66 million in UAS contracts and contract extension further rillustrate our team's effectiveness during the quarter," Conver said, and "we also produced meaningful progress from our investments in commercial UAS information services and Tactical Missile Systems." All told, Conver believes that AeroVironment is well-positioned for long-term growth for the remainder of the fiscal year and beyond.
What's next for AeroVironment?In particular, AeroVironment largely reiterated its past guidance with respect to the full 2016 fiscal year. The company still believes that revenue will be between $260 million and $280 million, and its gross profit margin will finish in a range of 36% and 37.5%.
In addition, AeroVironment sees the potential for drones to have an even greater long-term impact on its results. In the short run, the company said that it expects to increase research and development spending on commercial unmanned aircraft systems, and overhead expenses related to commercial drones could also rise. Yet even though AeroVironment thinks that those expenditures could largely offset any operating profit for the current fiscal year, the hope is that the company will see a huge payoff from those investments in fiscal 2017 and beyond. With Northrop Grumman and other defense players also making big bets on drones, it's critical that AeroVironment use its specialization edge to keep Northrop and others at bay.
Investors celebrated the solid results and upbeat comments about the company's future, sending the stock up 9% in after-hours trading following the announcement. To sustain those advances, AeroVironment will have to continue to see growth in the drone segment and expand its sales of drones beyond the defense sector to more commercial purposes. If that anticipated trend takes hold, AeroVironment could find itself in the perfect place to take full advantage of the opportunity in the years to come.
The article Drones Lift AeroVironment's Prospects for 2016 Growth originally appeared on Fool.com.
Dan Caplinger has no position in any stocks mentioned. The Motley Fool owns shares of and recommends AeroVironment. Try any of our Foolish newsletter services free for 30 days. We Fools may not all hold the same opinions, but we all believe that considering a diverse range of insights makes us better investors. The Motley Fool has a disclosure policy.
Copyright 1995 - 2015 The Motley Fool, LLC. All rights reserved. The Motley Fool has a disclosure policy.