'Dr. Doom', Marc Faber, removed from more boards after comments on race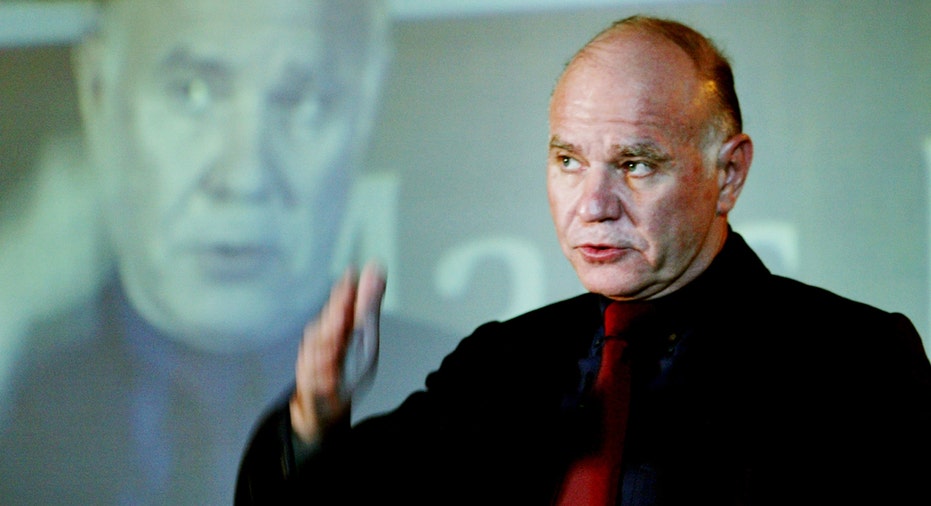 Marc Faber, the markets prognosticator known as "Dr. Doom," has been dismissed from three more company boards after comments in his latest newsletter this week suggested the United States had only prospered because it was settled by white people.
U.S-based Sunshine Silver Mining Corp, Vietnam Growth Fund managed by Dragon Capital, and Indochina Capital Corporation, had all dismissed him, Faber told Reuters on Friday,
Faber has now been fired from six boards with Canadian fund manager Sprott Inc, NovaGold Resources Inc and Ivanhoe Mines Ltd letting him go on Tuesday after his remarks went viral on social media platform Twitter.
In the October edition of his newsletter, "The Gloom, Boom & Doom Report," in a section discussing capitalism versus socialism, Faber criticized the move to tear down monuments commemorating the U.S. Civil War military leaders of the Confederacy.
"Thank God white people populated America, not the blacks," Faber wrote in his newsletter. "Otherwise, the U.S. would look like Zimbabwe, which it might look like one day anyway, but at least America enjoyed 200 years in the economic and political sun under a white majority."
"I am not a racist," Faber continued, "but the reality - no matter how politically incorrect - needs to be spelled out as well."
Faber, a Swiss investor based in Thailand, who oversees $300 million in assets, said he has not lost any client money, and still stands by his comments and will keep publishing his newsletter.
"My clients all know me for more than 30 years. They know that to call me a racist is inappropriate," he said.
Faber said he has not seen a significant amount of subscribers cancel their subscriptions to his newsletter as a result of the controversy.
"No, I think most people actually agree with me and certainly defend freedom of expression even if it does not coincide with their views."
On his board dismissals, Faber said: "If saying what I said leads to these consequences, I prefer not to be on these boards. I think the corporate world is now run by compliance people. In this context, I understand their firing me."
Business television networks such as CNBC and Fox Business said they would remove Faber from booking lists for their shows, and a Dow Jones spokesperson on Friday said Faber has not been involved in the Barron's Roundtable since 2015.
Faber said: "I shall continue to write my two reports: The printed Gloom Boom & Doom Report and the website report. If I ever stop writing it won't be because some media outlets call me a racist, but because Mr. Mugabe asks me to be his minister of finance."
He was referring to Zimbabwe's president, Robert Mugabe.