Down 27%, Is It Time to Buy Allergan Stock? 3 Things You Need to Know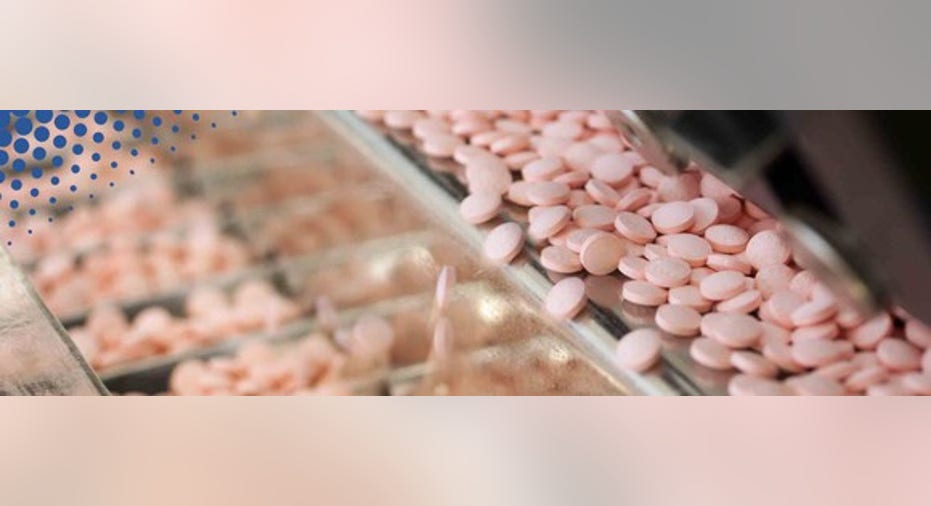 With the stock down 27% over the past year, Goldman Sachs' buy rating on Allergan is not working out particularly well for investors. But whereas others might panic at the sell-off, throw in the towel, and sell a losing stock, Goldman Sachs is doing something a bit different today.
It's upgrading its recommendation from buy to conviction buy.
Goldman Sachs is more convinced than ever that Allergan stock is attractively priced today. More specifically, it's convinced that it, Goldman, is right about Allergan being worth $275 per share -- and that everyone else is wrong for thinking the stock is worth just $223 and change.
Here are three reasons why.
Generic drugs. Consumers want 'em. Allergan's got 'em. Image source: Allergan.
Thing No. 1: Teva
Allergan today is a company largely defined by its debt load, which at more than $40 billion net of cash on hand, is rather heavy. That debt load wasn't a huge worry to investors when they were focusing on Allergan's expected merger with Pfizer a few months ago. Pfizer has now called off that merger, and that's bringing the debt issue up front and center.
Fortunately, as StreetInsider.com explains, Allergan is in the process of dealing with the issue -- by selling off its generic drugs businessto Teva Pharmaceutical for almost precisely $40 billion worth of cash and stock. And by Goldman's estimates, this infusion of new money will permit Allergan "to de-lever from 4X to 1.5X post TEVA."
Thing No. 2: Money can't buy happiness, but it can buy back stock
Allergan isn't planning to spend all its Teva money on debt pay-downs, however. In evidence of which, Goldman points to Allergan's announcement of a new $10 billion stock buyback campaign. (In fact, Goldman predicts Allergan will go ahead and jump the gun a bit, and spend between $4 billion and $5 billion on stock buybacks before the Teva deal even closes.)
Thing No. 3: Risk can be rewarding
Why might this be a good idea? Clearly, Allergan believes its stock is undervalued today, and Goldman Sachs agrees with them, and endorses the idea of a big stock buyback.
Other investors aren't 100% convinced that the Teva deal will close, which explains why the stock price is depressed right now. But Allergan seems certain the deal will go through. And with investor worry continuing to weigh on the stock, that means that if Allergan truly wants to buy back its own stock, it's more likely to get good prices on the buybacks now, before the Teva cash materializes, than after the fact.
The most important thing
All of which makes sense. And I have to say that when I look at Goldman Sachs' record as we've tracked it here at Motley Fool CAPS, the odds seem to favor Goldman Sachs being right about all this.
Although only a middling stock analyst overall, ranking in just the top 40% of investors we track, Goldman Sachs is actually a pretty fine analyst when it comes to picking pharmaceutical stocks in particular. Indeed, focusing on active recommendations, we find Goldman Sachs getting more than 70% of its big pharma stock picks right -- and including positive recommendations of both Allergan and Pfizer among its winners.
Also notable is how well Allergan itself has been performing lately. Last quarter, the company reported a 15% improvement in pro forma profit, a 48% increase in net revenue, and 71% growth in "branded net revenues." While there may be upside to be found in the event Allergan succeeds in selling its generics business to Teva -- and while this is what Goldman Sachs is banking on -- even if the Teva deal doesn't go through, Allergan stock doesn't look horribly overpriced.
The most recent data from S&P Global Market Intelligence shows the company earning $4.7 billion annually, generating $4.6 billion in free cash flow, and therefore selling for a multiple to earnings (GAAP or cash) of about 18.6 or 19.0. Weighed against a projected long-term growth rate of 14.5%, those aren't exactly bargain prices -- but they're not too expensive for a leading pharmaceuticals company. And with the potential for lower debt, and faster growth at the company by focusing on branded drug sales after offloading the generics business on Teva, there's certainly reason to hope the stock will look even more attractive a few months from now.
Would I personally buy the stock today? No -- simply because "not horribly overpriced" isn't what I look for when buying a stock(I prefer an out-and-out bargain). But if you're a gambler like Goldman, I can see how today's situation with Allergan stock could be appealing.
The article Down 27%, Is It Time to Buy Allergan Stock? 3 Things You Need to Know originally appeared on Fool.com.
Fool contributorRich Smithdoes not own shares of, nor is he short, any company named above. You can find him onMotley Fool CAPS, publicly pontificating under the handleTMFDitty, where he's currently ranked No. 291 out of more than 75,000 rated members.The Motley Fool recommends Teva Pharmaceutical Industries. Try any of our Foolish newsletter services free for 30 days. We Fools may not all hold the same opinions, but we all believe that considering a diverse range of insights makes us better investors. The Motley Fool has a disclosure policy.
Copyright 1995 - 2016 The Motley Fool, LLC. All rights reserved. The Motley Fool has a disclosure policy.