Dow Surges Nearly 300 Points Amid Hopes for European Fix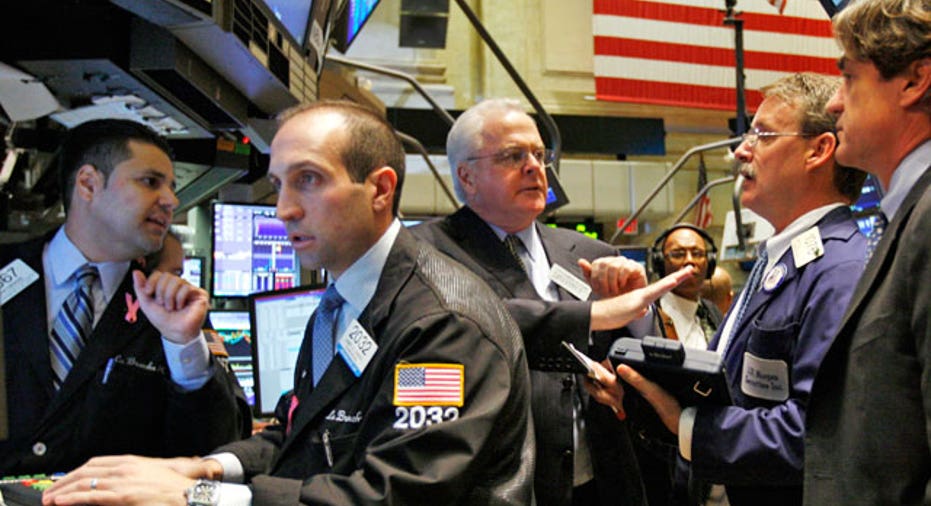 FOX Business: The Power to Prosper
The Dow raced nearly 300 points higher Monday morning as Wall Street celebrates Columbus Day by cheering more signs Europe is attempting to get its sovereign debt debacle under control and traders set their sights on the kickoff to earnings season.
Today's Markets
As of 11:49 a.m. ET, the Dow Jones Industrial Average soared 274.96 points, or 2.48%, to 11377.51, the Standard & Poor's 500 jumped 32.83 points, or 2.84%, to 1188.29 and the Nasdaq Composite leaped 76.18 points, or 3.07%, to 2555.39. The FOX 50 gained 23.18 points, or 2.75%, to 867.05.
While U.S. bond markets were closed in observance of Columbus Day, the equity markets were making serious noise by opening sharply higher. The early buying put the blue chips on track for their fourth gain in five sessions.
Without any major economic reports on the agenda, Wall Street continued to take its cues from Europe amid the sovereign debt crisis there.
"I think market sentiment has shifted to a modestly positive tone. Current pricing is, frankly, relatively cheap relative to what earnings should be," said Peter Kenny, managing director at Knight Capital. Kenny also said, "The tone out of Europe has become a lot more constructive over the last week or so" thanks to "pretty aggressive, very proactive policy initiatives spearheaded by both France and Germany."
Over the weekend German Chancellor Angela Merkel and French President Nicolas Sarkozy promised to take action before the end of October to fix the continent's debt mess and shore up their banks. The leaders of the two largest euro-zone countries said they are close to a deal to recapitalize embattled European lenders. However, Merkel and Sarkozy stopped short of laying out specifics of a plan.
Because of Europe's ties to the global financial and economic systems, the deepening sovereign debt crisis has hurt stocks and growth around the world in recent months.
In another sign Europe is attempting to get the crisis under control, France and Belgium quickly teamed up to nationalize and break up municipal lender Dexia, which had been teetering on the verge of collapse due to its enormous exposure to Greek bonds. Dexia, which appears to be the first banking victim of the current crisis, quickly reached a deal to receive $121 billion in state guarantees and sell its Belgium unit to the government for $5.4 billion.
"They weren't playing games with that. It wasn't dragged on, for a change," said Kenny.
On the other hand, Greek stocks plunged after the government was forced to nationalize Proton Bank.
Tech stocks also rallied in the U.S. as Apple (NASDAQ:AAPL) said it sold a record 1 million iPhone 4S devices in a single day and Netflix (NASDAQ:NFLX) soared 7% after abandoning plans to separate its DVD rental business.
Commodities weren't left out of the Columbus Day rally as crude oil soared $2.72, or 3.27%, to $85.70 and gold gained $35.90 a troy ounce, or 2.20%, to $1,671.20.
Earnings season is set to kick off this week as aluminum maker Alcoa (NYSE:AA) releases its quarterly results after Tuesday's closing bell. Whether or not companies are able to meet and even exceed expectations for earnings is likely to be a key driver for stocks for the next several weeks. Financial stocks are expected to disclose steep declines in quarterly profits.
Last week U.S. stocks stopped their slump, with the Dow rallying 1.7% and the Nasdaq Composite leaping almost 3% amid hopes policymakers in Europe are finally taking the crisis seriously. However, stocks closed in the red on Friday as enthusiasm for a better-than-expected jobs report was drowned out by a credit ratings downgrade for both Spain and Italy.
Corporate Movers
Yahoo! (NASDAQ:YHOO) jumped 3% as Reuters reported co-founder Jerry Yang is interested in teaming up with private-equity firms to take the struggling Internet giant private. Meanwhile, Bain Capital has emerged as another potential suitor for Yahoo! and Chinese Internet company Alibaba has reportedly held talks with Singapore's Temasek about providing financing to buy the 40% investment Yahoo! holds in itself
Superior Energy (NYSE:SPN) agreed to be acquire energy services company Complete Production Services (NYSE:CPX) for $6.2 billion. The $32.90-a-share deal represented a 62% premium on Complete's close on Friday.
Global Markets
London's FTSE 100 rose 1.63% to 5389.79, Germany's DAX surged 2.88% to 5839.06 and France's CAC 40 rallied 1.91% to 3154.64.
In Asia, the Japanese Nikkei 225 was closed for a holiday, but Hong Kong's Hang Seng inched up 0.02% to 17711.10.