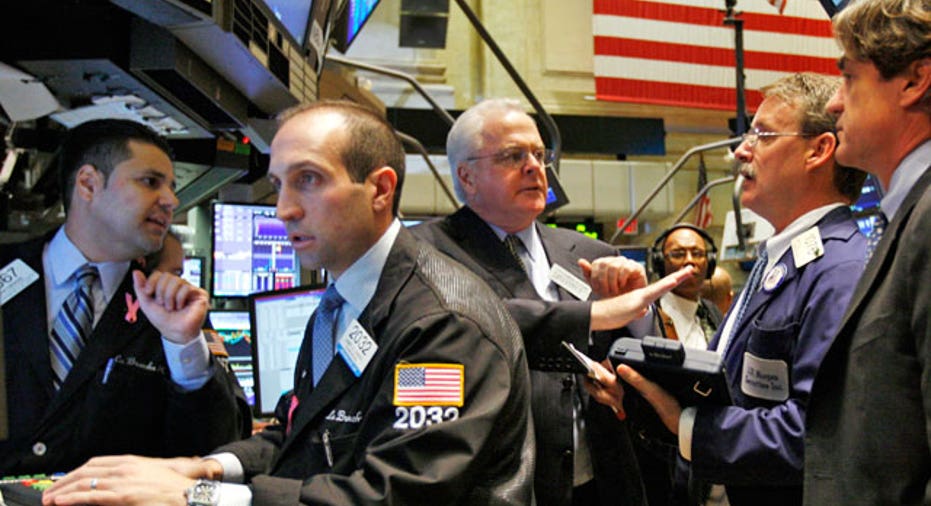 FOX Business: The Power to Proper 
The blue chips fell mildly in choppy trade after the Fed revealed plans to extend "Operation Twist," but came short of unleashing a more potent form of easing that some had hoped for.
Today's Markets
The Dow Jones Industrial Average slipped 12.9 points, or 0.1%, to 12824, the S&P 500 fell 2.3 points, or 0.17%, to 1356 and the Nasdaq Composite rose 0.69 point, or 0.02%, to 2930.
The Federal Reserve said it is going to continue extending the maturity of its balance sheet after the current program ends this month in a bid to push long-term interest rates down. Specifically, it will buy Treasury securities between six and 30 year maturity and then sell or redeem ones with  a maturity of three years or less. Some analysts had hoped the central bank would unleash another quantitative easing program that would actually add to its balance sheet instead of shifting it.
Instead, the Fed said it "is prepared to take further action as appropriate to promote a stronger economic recovery and sustained improvement in labor market conditions in a context of price stability." It also said that the economy is still expanding "moderately," but that unemployment remained elevate and housing is still "depressed."
"The Fed [views] the economic expansion as lackluster and has gotten more pessimistic on the prospects for growth," Dan Greenhaus, chief global strategist at BTIG wrote in an e-mail "As a result, they are swapping some securities for others. This is not a convincing response."
The central bank is already pushing hard on the accelerator. The federal funds rate, which is the Fed's main monetary policy tool, is already at an exceptionally low target range between 0% and 0.25%, where it has sat since the financial crisis in 2008. It has also run two quantitative easing programs in which it bought certain assets.
Officials on the Federal Open Market Committee that concluded its two-day meeting on the day were confronted with a stream of gloomy data. The world's biggest economy added a paltry 69,000 jobs in May on the heels of an also tepid 77,000 the month before. That compares to a considerably more robust 275,000 in the first month of the year. At the same time, the economy grew at an annualized pace of 1.9% in the first quarter, down sharply from 3% in the final quarter of 2011.
On the European front, Greece's New Democracy party was on track to forge a coalition government within the next day, according to multiple news reports. Analysts say that would dramatically reduce the risk of a Greek default and exit from the eurozone as some had feared.
The yield on Spain and Italy's 10-year bonds, which have been closely watched recently, both fell markedly as market participants moved into risky assets on Tuesday. Spain's yield is now below 7% and Italy's is below 6%, both still painful, but improved from earlier in the week.
Oil came under heavy selling pressure after the weekly inventory report from the Energy Department showed a big build in inventories compared to expectations of a draw. The benchmark crude oil contract traded in New York dropped $2.28, or 2.3%, to $81.75 a barrel. Wholesale New York Harbor Gasoline fell 1.9% to $2.59 a gallon.
In metals, gold dipped $7.40, or 1.9%, to $1,616 a troy ounce.
Foreign Markets
The Euro Stoxx 50 rose 0.43% to 2207, the English FTSE 100 gained 0.64% to 5622 and the German DAX edged higher by 0.45% to 6392.
In Asia, the Japanese Nikkei 225 rallied 1.1% to 8752 and the Chinese Hang Seng climbed 0.53% to 19519.