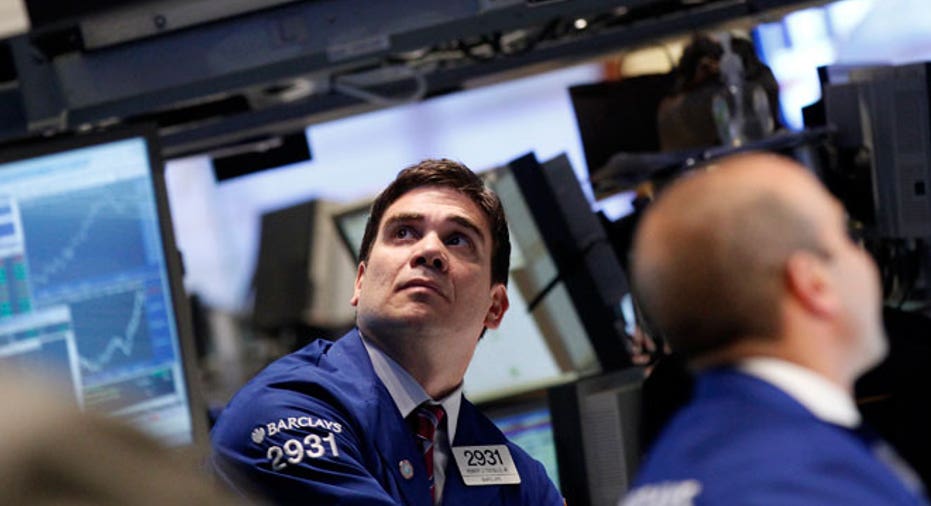 FOX Business: The Power to Prosper
The Dow posted a triple-digit rally for the second day in a row, topping the psychologically-important 13000 mark for the first time since May.
Today's Markets
As of 3:10 p.m. ET, the Dow Jones Industrial Average futures rose 213 points, or 1.7%, to 13100, the S&P 500 gained 27.8 points, or 2%, to 1388 and the Nasdaq Composite climbed 64.5 points, or 2.2%, to 2958.
Wall Street roared higher on Thursday, with Dow tacking on 212 points in its best performance in close to a month. The gains were driven by remarks from European Central Bank President Mario Draghi indicating the central bank is willing to take steps to ease borrowing costs in embattled eurozone nations, presumably including Spain and Italy.
The optimism continued into Friday, with French newspaper Le Monde reporting that the ECB is preparing a joint intervention with one or both of the eurozone's rescue funds. In what was sign as a positive sign, the yield on Spain's 10-year bonds tumbled well below the key 7% mark and recently traded at 6.88%.
Still, not all news on that front was positive. Reuters reported that Spanish officials for the first time discussed the prospect of a sovereign bailout in the order of $366 billion. The separate report from the wire service also said the ECB is considering taking significant losses on Greek debt in a move to help cut the country's debt level. Private debtholders have already had to take writedowns, but the ECB and national central banks have been reluctant to make such a move.
Traders are also shifting their focus to the U.S. economy. The first reading of gross domestic product from the Commerce Department showed the U.S. economy expanded at an annualized pace of 1.5% in the second quarter, in line with expectations and down from an upwardly revised 2% in the first quarter.
While the report broadly matched expectations, the sentiment across trading desks remained gloomy.
"The main take away from today's report, the specifics aside, is that the U.S. economy is barely growing," Dan Greenhaus, chief global strategist at BTIG wrote in a note to clients.
The final reading of the Reuters/University of Michigan consumer-sentiment index showed confidence among U.S. consumers increased to 72.3 in late July from 72.0 earlier in the month.
On the earnings front, Merck (NYSE:MRK) unveiled an adjusted second-quarter profit of $1.05 a share on sales of $12.3 billion, beating estimates of $1.01 a share on $12.15 billion.
Commodities were broadly to the upside. The benchmark crude oil contract traded in New York climbed 21 cents, or 0.23%, to $89.60 a barrel. Wholesale New York Harbor gasoline climbed 0.61% to $2.831 a gallon.
In metals, gold jumped $12.20, or 0.75%, to $1,632 a troy ounce.