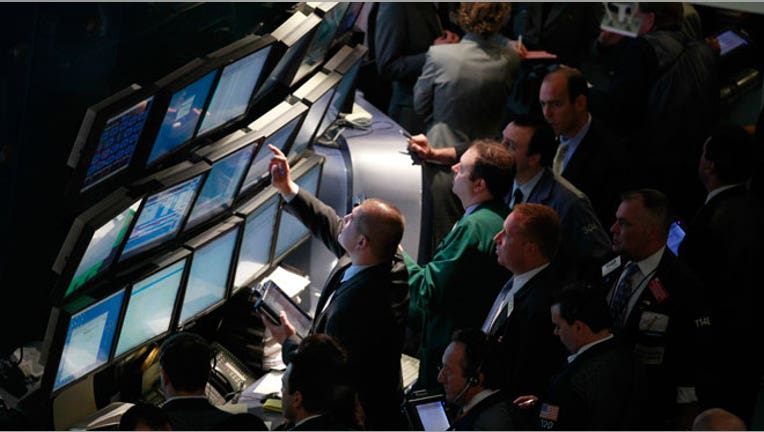 Wall Street struggled to maintain gains on Wednesday as it looked to break a three-day losing streak.
The Dow Jones Industrial Average slid 9 points or 0.06% to 17540. The S&P 500 gained 6 points, or 0.31% to 2099, while the Nasdaq Composite climbed 34 points, or 0.67 % to 5139.
The technology sector jumped 1% as Apple shares rebounded, while the consumer discretionary, energy, and telecom sectors fell into negative territory.
Today's Markets
U.S. equity markets failed to reverse a three-day losing streak, losing momentum following a slew of economic data out ahead of the bell and as shares of media giants, including Disney (NYSE:DIS), plunged in afternoon trading.
The entertainment giant gave up its title of "best performer in the Dow" as investors continued to pummel the stock after the company reported record quarterly profit, but revealed a revenue miss for the first time in two years. The company's shares plunged more than 9%, the biggest drop in four years. Still, Disney is up 29% year to date.
"We might be at the dog end of the U.S. reporting season, but there are still one or two big names posting figures," IG market analyst Alastair McCaig said in a note. "How much sympathy Walt Disney is likely to receive as it struggles with currency headwinds is debatable, especially as recent reports have highlighted the wide differences in pricing for citizens of different EU nations."
Following Disney's lead, a handful of other media companies also saw significant deterioration in their stock prices as worries over the future of cable TV heated up. 21st Century Fox (NYSE:FOXA), the parent company of the FOX Business Network  and CBS (NYSE:CBS) saw their shares drop more than 9% and 5% respectively on no particular news, and head of quarterly earnings due after the bell.
Time Warner (NYSE:TWX) shares dropped 9%, Discovery Communications (NASDAQ:DISCA) plunged 12.4%, Viacom (NASDAQ:VIA) shares lost 8%, while Scripps (NYSE:SSP) shares shed 4%.
The tech sector helped offset those loses, rising more than 1% in late-afternoon action as Apple (NASDAQ:AAPL) traded to the upside after slipping into correction territory.
Meanwhile, investors simultaneously cheered a fresh batch of economic data that Wall Street hopes could keep the Fed from hiking short-term rates soon.
Payroll processor ADP reported private-sector employment in July came in well under expectations. Private employment increased by 185,000 jobs compared to Wall Street forecasts for an increase of 215,000 jobs.
Barclays analysts said they don't put too much stock in the numbers from ADP thanks to their history of frequent revisions, but it could preview what's to come on Friday.
"The slower pace of private payroll growth reported for July by ADP is broadly in line with our outlook for 200,000 in non-farm and private payroll growth in Friday's official employment," a note read.
International trade data from the Commerce Department showed the U.S. trade gap widened in June thanks to steeper domestic demand for imported food and autos. The trade deficit widened to $43.84 billion during the month from a downwardly revised $40.94 billion in May. Wall Street expected a shallower increase to $42.80 billion.
The final piece of Wednesday's economic puzzle from the Institute for Supply Management showed service-sector growth surged to its highest level in a decade. The ISM gauge jumped to 60.3 in July from 56 in June. It was above expectations for a shallower rise to 56.2.
The data comes on the heels of comments from Atlanta Fed President Dennis Lockhart, who told the Wall Street Journal there is a "high bar" to not raising rates, and it would take "significant deterioration in the data" to persuade him the central bank should not hike short-term interest rates in September. The comments sent stocks lower in midday action on Tuesday.
Second-quarter earnings results continued to trickle out on Wednesday.
Ahead of the bell, investors got the latest look at quarterly report cards from Chesapeake Energy (NYSE:CHK), DISH Network (NASDAQ:DISH), Kate Spade (NYSE:KATE), Lumber Liquidators (NYSE:LL), and Time Warner (NYSE:TWX).
After the closing bell, media companies CBS  and 21st Century Fox will report their latest results along with fitness company Fitbit (NYSE:FIT), which is set to reveal its first quarterly results as a public company. Tesla Motors (NYSE:TSLA) is also out with its earnings.
In commodities, signs that U.S. interest rates are set to rise sooner rather than later weighed on the metals market, though gold and copper pared earlier losses after the release of U.S. economic data. Gold turned negative after some positive gains in the prior session, falling 0.46% to $1,085 a troy ounce, while copper followed suit, trading 0.51% lower to $2.35 a pound.
Elsewhere, oil reversed earlier gains in the session after notching the worst month since 2008 in July. It traded down 1.29% to $45.15 a barrel on Wednesday, while Brent, the international benchmark declined 0.80% to $49.59 a barrel.
In currencies, the euro traded 0.11% lower against the U.S. dollar. The yield on the benchmark 10-year U.S. Treasury rose 0.050 of a percentage point to 2.261%. Bond yields move in the opposite direction of prices.
Positive data on China's services sector overnight failed to give markets there a much-needed boost.  The Shanghai Composite index fell 1.65% while Hong Kong's Hang Seng rose 0.44%, and Japan's Nikkei ticked 0.04% higher.
Over in Europe, The Euro Stoxx 50, which tracks large-cap companies in the eurozone, jumped 1.58%. The German Dax climbed 1.60%, the French CAC 40 fell 1.67 %, while the UK's FTSE 100 ticked 0.81% higher.