Dow Edges Higher as Auto Sales Trump Euro Worries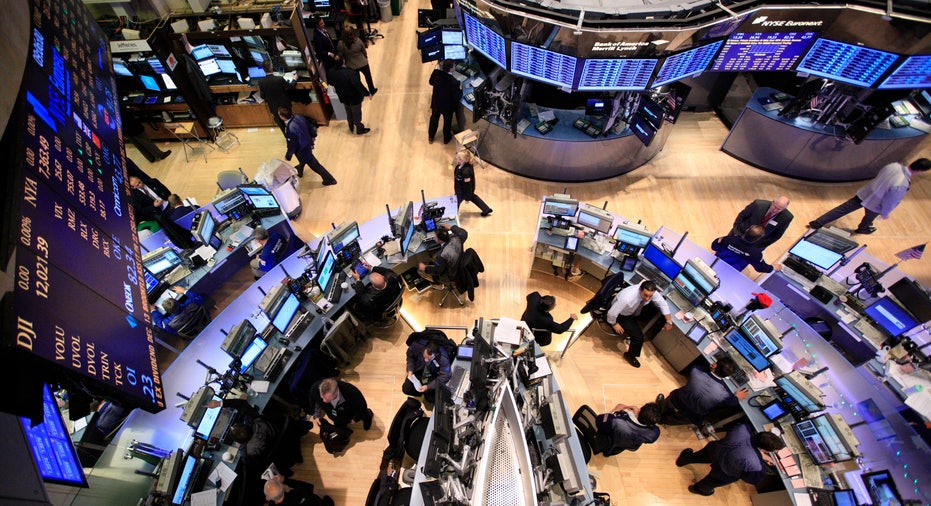 FOX Business: The Power to Prosper
The blue chips posted modest gains, rising to the highest level since July, after encouraging sales data from U.S. automakers helped traders overcome worrying developments on Europe's debt crisis.
Today's Markets
The Dow Jones Industrial Average rose 21 points, or 0.17%, to 12418, the S&P 500 gained 0.24 point, or 0.02%, to 1277 and the Nasdaq Composite slid 0.36 point, or 0.01%, to 2648.
The Dow has tacked on 201 points over the past two days alone as Wall Street has kicked off the new year in stride. Alcoa (NYSE:AA), Microsoft (NASDAQ:MSFT) and Intel (NASDAQ:INTC) led the gains on the day, while Verizon Communications (NYSE:VZ), Wal-Mart (NYSE:WMT) and Pfizer (NYSE:PFE) lagged behind.
The Big Three American automakers posted year-over-year increases in December and full-year sales on Wednesday, helping to lift confidence on Wall Street.
General Motors (NYSE:GM) unveiled a 4.5% increase in its December sales as compared to the same period last year, and a 13% jump in full-year sales. Ford (NYSE:F) posted a 10% rise in December, coupled with an 11% gain for 2011, while Chrysler's December sales zoomed 37% higher, with full-year sales leaping 26%.
Japanese automakers didn't fare as American ones: Honda (NYSE:HMC) and Toyota (NYSE:TM) both posted full-year drops.
On the economic front, The Commerce Department unveiled factory sales data from the month of November. Sales jumped 1.8% from October, topping expectations by 0.1 percentage points, led by a 14.7% gain in transportation orders.
Developments from Europe, however, weighed on traders' sentiment. Banks held roughly $591 billion in overnight deposits at the European Central Bank on Wednesday, coming in slightly higher than a record set last week. Lenders receive a low return of 0.25% in interest when depositing money at the ECB overnight, considerably less than they would earn lending it in interbank markets, or through other forms of lending.
"Banks are still terribly worried about lending to each other," Louise Cooper, a London-based market analyst at BGC Partners said in an interview with FOX Business. "Credit is still very much crunched."
Banks in Europe have lowered lending to each other as worries have mounted of exposure to beleaguered sovereign debt. The fear is that when banks begin cutting off lending to one another, it can choke broader money markets, tipping off a vicious cycle that ma harm the financial system and with it the broader economy that depends on borrowing to expand. Such a situation occurred after Lehman Brothers failed in 2008, deepening the financial crisis and slamming the economy.
Also on the European front, Spain may be mulling requesting a loan from the European Union's rescue fund or the International Monetary Fund, according to Spanish newspaper Expansion, citing unnamed sources. This comes at at time when the county is forced to pay relatively high borrowing costs to finance itself on the private markets. The country's benchmark 10-year note recently yielded 5.42% and at a 3.49-percentage point premium to the safe-haven German bund.
The euro fell 0.8726% to $1.2936, while the U.S. dollar gained 0.59% against a basket of six trading partners.
Energy futures extended gains after soaring in the prior session. The benchmark crude oil contract traded in New York climbed 26 cents, or 0.25%, to $103.22 a barrel. The settlement price marked the highest closing level for crude since May.
Wholesale RBOB gasoline rose 1.3% to $2.758 a gallon.
In metals, gold climbed $12.20, or 0.76%, to $1,613 a troy ounce.
Corporate News
Boeing (NYSE:BA) plans to close its Wichita, Kan., plant in 2013, impacting more than 2,000 employees.
Apple (NASDAQ:AAPL) said its iPhone 4S will go on sale in China and 21 other countries on January 13.
Foreign Markets
European blue chips slid 1.1%, the English FTSE 100 slipped 0.36% to 5679 and the German DAX dipped 0.47% to 6138.
In Asia, the Japanese Nikkei 225 rallied 1.2% to 8560 and the Chinese Hang Seng fell 0.8% to 187272.