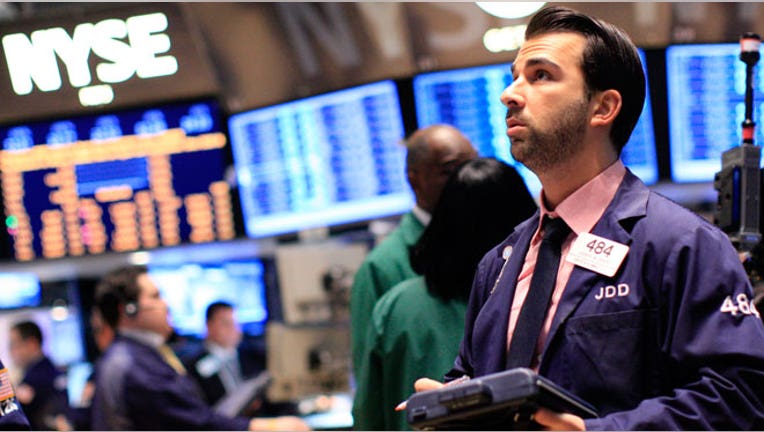 U.S. equity markets regained lost ground on Monday, propelling the Dow to its third-straight close -- the longest winning streak in a month.
The Dow Jones Industrial Average rose 67 points, or 39% to 17454. The S&P 500 10 points higher, or 0.52% to 2102, while the Nasdaq Composite gained 43 points, or 0.86% to 5091.
Today's Markets
Wall Street reversed course as traders digested the latest round of economic data and what it means for the both economy and the Fed's timing for raising interest rates.
The New York Fed's gauge of manufacturing activity pushed a market that was mostly treading water, into negative territory ahead of the bell. The New York Federal Reserve's gauge of manufacturing in the state unexpectedly plunged in August, coming in at -14.92. The reading was the lowest since April 2009. Wall Street had forecasted a rise to 5 from a July reading of 3.86.
"U.S. manufacturing has unexpectedly jolted back into the limelight as the Empire State manufacturing index fell to the lowest level since 2009. It seems it's not only the Chinese manufacturers that are slowing down, with today's survey showing contraction within the U.S. manufacturing sector adding food for thought at the FOMC," Joshua Mahony, market analyst at IG, said in a note.
The latest read on a homebuilder sentiment gauge from the National Association of Home Builders climbed to 61 in August from 60 in July, matching Wall Street expectations.
Data this week, especially the meeting minutes, will be closely watched as Wall Street anxiously awaits the Fed's September meeting, where the central bank is largely expected to announce the first interest-rate increase in nearly a decade.
"The statement was mildly dovish last time, but there is this hope/fear that the minutes will be more granular about a September liftoff being pre-ordained, or 'appropriate,' or what have you," Michael Block, chief strategist at Rhino Trading partners said in a note. "I remain the buyer of perceived hawkishness."
There was a flurry of corporate news in the U.S. on Monday.
Nasdaq President Adena Friedman told FOXBusiness.com exclusively that she has long-term career plans to become a CEO. The comments come about a year after Friedman rejoined the company from Carlyle Group (NASDAQ:CG) where she served as chief financial officer. The move has fueled speculation on the Street about Nasdaq's succession plans once CEO Bob Greifeld decides to leave his post at the firm.
"Regardless of what might or might not happen at Nasdaq, it's more about what's my long-term ambition. And my long-term ambition is to be a CEO," she explained in the interview. "But my view on that is that it can't be the CEO of just any company. To be the best CEO you can be you have to be passionate about the business you're running. And I have true passion for the financial markets and the financial industry."
QVC said it plans to acquire five-year old Internet retailer Zulily for $2.4 billion in cash and stock. Zulily, which went public in November 2013, saw rapid growth as its shares surged, but in recent quarters, the company's sales have slowed, with its stock price plunging 46% year to date.
Target (NYSE:TGT) announced a c-suite shakeup. The company promoted John Mulligan to a newly-created role as executive vice president and chief operating officer effective September 1. Mulligan served as the company's chief financial officer from 2012, before taking over er as the interim president and CEO until August 2014. Target also said it plans to hire Cathy Smith, who served as executive vice president and CFO at Express Scripts, to fill the role as executive vice president and CFO.
In commodities, global oil prices continued to retreat. U.S. crude declined 63 cents to $41.87 a barrel, its lowest settlement since March 3, 2009. Brent, the international benchmark, slid 0.81% to $48.79.
Gold, largely seen as a safe-haven asset, rose 0.32% to $1,116 a troy ounce, while copper declined 1.28% to $2.32 a pound.
Elsewhere in the world, Asia markets ended mixed after data showed Japan's economy contracted in the second quarter. The Shanghai Composite rose 0.71%, while Hong Kong's Hang Seng declined 0.74%. Japan's Nikkei, however, rose 0.49%.
Over in Europe, where traders are closely monitoring whether Greece will be able to make its debt payment on Thursday, markets ended the day mixed. The Euro Stoxx 50, which tracks large-cap names in the eurozone, added 0.2%. The German Dax dropped 0.41%, the French CAC rose 0.57%, while the UK's FTSE 100 fell 0.01%.
Meanwhile, the U.S. dollar rose against most other world currencies. Against the euro, the greenback declined 0.27% to $1.10. The yield on the benchmark 10-year U.S. Treasury fell 0.046 of a percentage point to 2.15%.