Douglas Dynamics Jumps on Record Results, Dividend Boost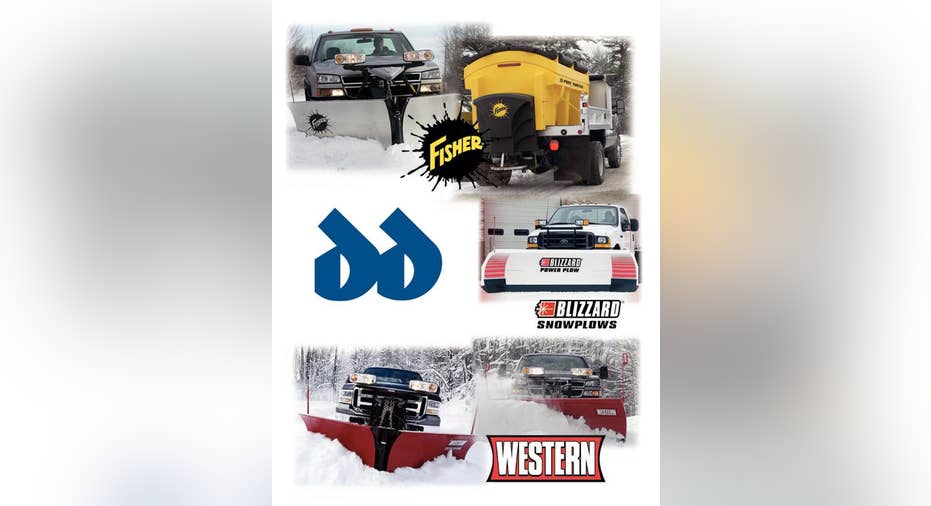 Image source: Douglas Dynamics.
It's easy to think that for a business like snow-plow maker Douglas Dynamics , weather is the only determining factor to its success. Admittedly, Douglas Dynamics gets much of its business from government entities charged with road safety, and a mild winter can reduce demand for snow-removing equipment. Indeed, coming into its fourth-quarter financial report, investors had expected that earnings might slip from the previous year's winter-driven profits. Yet the company has made efforts to diversify its seasonal exposure, and its results turned out even better than most had expected. Let's take a closer look at how Douglas Dynamics did in the early winter months and what it sees in its future.
Douglas Dynamics survives winter Douglas Dynamics' fourth-quarter results continued the company's history of solid performance. Revenue jumped 19% to $118.8 million, which was quite close to what investors had expected for the quarter. Net income also posted a healthy 17% gain to $14.9 million, and that worked out to earnings of $0.66 per share. That topped the consensus forecast by more than a dime per share, showing Douglas Dynamics' effectiveness in driving higher sales down to the bottom line.
Looking more closely at the report, investors should note that this will be the last quarter in which the acquisition of Henderson Products will play a major role in revenue growth. Douglas Dynamics noted that the integration's initial phases are now complete, and the combined company hopes to see continued growth in the legacy Henderson's segment. With Henderson producing record results for the full 2015 year on a separate basis, Douglas Dynamics has been pleased with the way it has added to its overall success.
Douglas Dynamics also noted that in-season shipments of equipment and service parts in its core business were strong. What makes that even more remarkable is that the early part of the winter was unusually tame, and even after the quarter ended, subsequent major snow events have been few and far between.
Once again, though, Douglas Dynamics saw a big drop in gross margins, which fell more than 6 percentage points to 32.5%. Lower tax expenses were largely responsible for the gain in earnings, although the company also did a good job of keeping overhead costs in check.
CEO James Janik had good things to say about Douglas Dynamics during the quarter. "The fact that we were still able to produce a very strong fourth quarter indicates that near-term pent-up demand continued to unwind," Janik said. He also noted that snowfall for the entire season remains well below average despite the major East Coast snowstorm in late January.
Can Douglas Dynamics plow ahead?Douglas Dynamics remains confident in its future. As Janik noted, "We continue to see positive non-snowfall indicators in the market, [and] strong sales of light trucks, low gas prices, and positive dealer sentiment all bode well for our business."
Its outlook for the 2016 year was upbeat. The company expects revenue of between $310 million and $370 million, which should produce earnings of $1.05 to $1.65 per share. Both figures compare favorably to investor expectations, although Douglas noted that the year's results will include a one-time benefit of about $0.27 per share stemming from a legal settlement. At the same time, it was realistic as well, noting how hard it would be to expect favorable conditions to support a third straight record annual performance in 2016.
The company shared its success with investors with a dividend boost. Douglas Dynamics will now pay $0.235 per share quarterly, up almost 6% and working out to a yield of more than 4%. Janik said that the record results warranted the generous payout increase.
Shares reacted favorably to the news, climbing 1.5% the day after the company made its afternoon release. Having done so well even in a less-than-perfect winter, Douglas Dynamics has proven its resiliency and ability to generate long-term results even under challenging conditions.
The article Douglas Dynamics Jumps on Record Results, Dividend Boost originally appeared on Fool.com.
Dan Caplinger has no position in any stocks mentioned. The Motley Fool recommends Douglas Dynamics. Try any of our Foolish newsletter services free for 30 days. We Fools may not all hold the same opinions, but we all believe that considering a diverse range of insights makes us better investors. The Motley Fool has a disclosure policy.
Copyright 1995 - 2016 The Motley Fool, LLC. All rights reserved. The Motley Fool has a disclosure policy.