Double the Football: Chargers, Ravens Favored in Monday Night Kickoff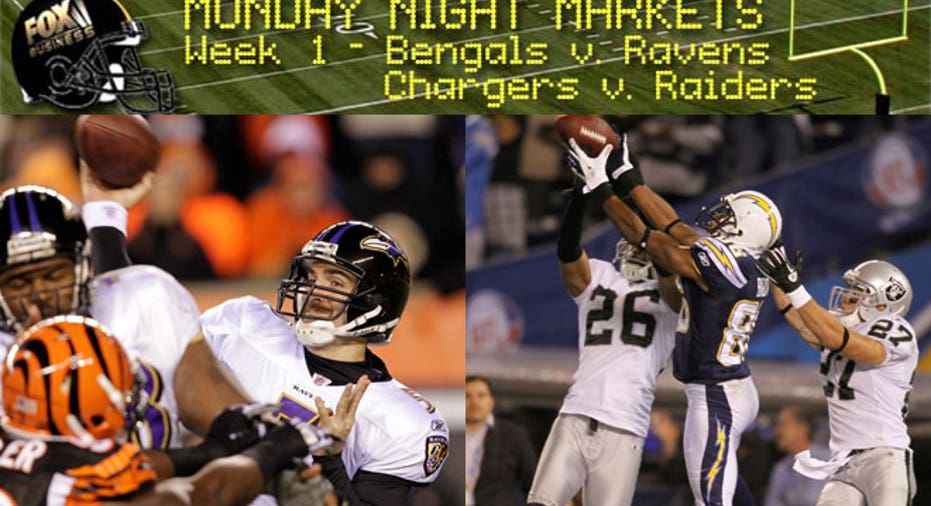 The 2012 Monday Night Football season kicks off with a double header featuring AFC divisional rivals.
First the Cincinnati Bengals head to M&T Bank Stadium to take on their AFC North rivals the Baltimore Ravens. The Bengals are coming off a better-than-expected 9-7 season that ended in a surprising wild card playoff spot. Watch for QB Andy Dalton to continue growing his chemistry with receiver A.J. Green who caught 65 passes for 1,057 yards and seven touchdowns in his rookie season. The running game turns to Benjarvus Green-Ellis, acquired from the Patriots, who has scored 10 or more touchdowns in each of the past two seasons and was brought in to replace Cedric Benson. Other Key positions to watch include Center Jeff Faine who was brought in two weeks ago to fill in for Kyle Cook who was placed on injured reserve and Corner Leon Hall who is coming back from an Achilles injury and will likely have to cover the likes of Anquan Boldin. One key facet is whether the Bengal run defense behind DT Geno Atkins, which ranked 10th last year against the rush, can slow down the Raven's ground attack led by RB Ray Rice, which put up 124.8 yards per game in 2011.
The Raven's are coming off a 12-4 season in which they swept the Bengals and went to the AFC Championship game. This season they have more weapons for QB Joe Flacco, including speedy receiver Jacoby Jones to compliment second year receiver Torrey Smith. During the pre-season, the offense showed a dangerous no-huddle which can hurt the Bengals, who tend to rotate defensive specialists. One player to watch is TE Denis Pitta, who missed all of preseason due to injury. Pitta has had great chemistry with Flacco, especially on third downs, which may take some time to redevelop due to the missed playing time. Defensively, the Ravens lost 2011 Defensive Player of the Year Terrell Suggs to a partial Achilles tear and will rely on linebacker Paul Kruger.  Watch for third year Nose Tackle Terrence Cody to try to take advantage of Bengal fill-in center Jeff Faine and Corner Lardarius Webb, who was impressive last season, try to contain A.J. Webb.
The late game has the San Diego Chargers heading to the Oakland-Alameda County Coliseum to take Raiders in an AFC West showdown. The Chargers went 9-7 in 2011 but did not make the playoffs for the second year in a row after taking the AFC West title in the four previous years which could have Coach Norv Turner on the hot seat. The Chargers have already suffered some key injuries including LT Jared Gaither and RB Ryan Matthews. Gaither will be replaced by undrafted rookie Michael Harris while RB Ronnie Brown, who had limited carries with the Eagles last season, will look to step up for Matthews and could be key in helping take the pressure off of QB Philip Rivers. While receiver Vincent Jackson signed with Tampa, Rivers still has TE Antonio Gates and WR Malcolm Floyd and the Chargers also picked up WR Robert Meachem from the Saints. A key addition on defense is LB Jarret Johnson, formerly with the Ravens, who should help the Chargers' 20th ranked run defense which gave up 122.2 yards per game in 2011.
The Raiders start 2012 under new head coach Dennis Allen after a disappointing 8-8 season. QB Carson Palmer is stating his first full season as a Raider and will be without WR Jacoby Ford who is out with a foot injury. Look for WR Darrius Heywood-Bey who had a breakout season in 2011 with 64 receptions for 975 yards and four touchdowns to step up. RB Darren McFadden will be looking to rebound from a foot injury and will be a key outlet to Palmer as a dump off to help reduce interceptions. One thing Coach Allen will need to address is reducing penalties. The Raiders were the most penalized team last season accruing a record 163 penalties for 1,358 yards.
FOX Business has evaluated the win/loss and stock market statistics over the past 20 seasons of Monday night NFL games and come up with a Monday Night Markets (MNM) score for each team based on their record and the prior week's market activity. Let's take a look at what the markets have to say:
The Dow Industrials ended last week's abbreviated session up 1.65% and the S&P 500 was up as well, closing out the week with a 2.23% gain with both indexes being up seven of the last nine weeks. The markets shrugged off a bad August employment report, keeping gains made after the European Central Bank's announcement of a new bond buying plan and a stronger-than-expected report on US private sector job growth.
Over the past 20 years, the Bengals have played 6 Monday night games and based on our calculations have a Monday night rank of .000 when the Dow closes the prior week up and .000 when the S&P 500 is up, giving them a MNM rank for this week of .000.
During the same 20-year period, the Ravens have played 17 Monday night games and have a rank of .538 when the Dow is up and .538 when the S&P 500 is up, giving them an MNM rank this week of .538.
Monday Night Markets picks the Baltimore Ravens at home over the Cincinnati Bengals.
The Chargers have played 18 Monday Night games over 20 years and have a Monday night rank of .500 when the Dow closes the prior week up and .538 when the S&P 500 is up, giving them a MNM rank for this week of .519. The Raiders have played 26 Monday night games and have a rank of .389 when the Dow is up and .400 when the S&P 500 is down, giving them an MNM rank this week of .395.
Monday Night Markets picks the San Diego Chargers on the road over the Oakland Raiders.
Week 1 FBN Staff Picks:
Bengals @ Ravens
Bengals!
I pick the Ravens.
I take the Ravens.
Chargers @ Raiders
Chargers!
I pick the Chargers.
I take the Chargers.
The Monday Night Markets (MNM) rank is derived by taking the number of games won during each market condition of up or down during a twenty year period, over the total number of games played.  Each result for the Dow and S&P are averaged to determine a final rank between 0 and 1.