Don't Ignore Disney's Diminutive Dividend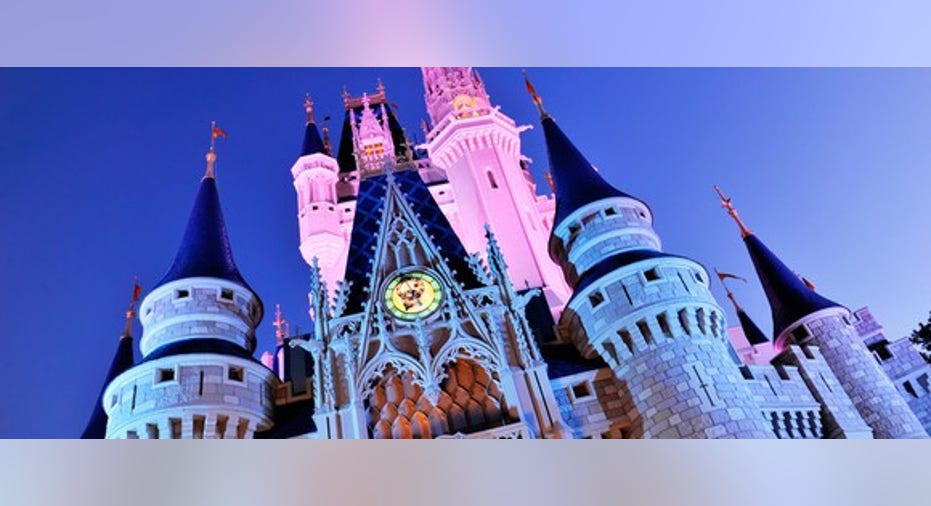 Image source: Walt Disney.
Shares of Walt Disney currently pay a meager dividend of $1.42 per year, a yield of about 1.4% at today's price. That's a price that got a recent cut after the media giant delivered a rare earnings miss that sent shares tumbling more than 4% earlier this month. But even at that tiny yield, shares of Disney could have a place in a dividend growth investor's portfolio.
Mr. Market is being a bit irrational
Disney has one major cloud hanging over its head: its media networks segment -- comprised of its cable and broadcast networks -- is facing declining cable subscriptions. Its biggest network, ESPN, saw subscribers decline by 7 million from 2013 to 2015. Management blamed the decline on skinny bundles offered by pay-TV providers like Comcast to prevent subscribers from cutting the cord. Those bundles often leave out a lot of high-value networks like ESPN and the Disney Channel.
After its recent price drop, shares of Disney are trading for around 17.5 times expected 2016 earnings. That's about the same value as competitors Comcast and Twenty-First Century Fox . But both of those companies are much more exposed to the cable television industry than Disney. (Note, all three own equal shares of Hulu, an over-the-top service.)
Last quarter, Disney's media networks produced 45% of the company's revenue and 60% of its operating income. Comparatively, Fox's television business accounted for 72% of revenue and 80% of operating income. Comcast's NBCUniversal broadcast and cable divisions combined for 24% of the company's total revenue and cable video subscribers and advertising accounted for another 32%.
With more limited exposure to the cable industry and a stronger portfolio of intellectual property, Disney shares ought to carry a higher multiple than its competitors.
The dividend growth alone is worth it
Management has been aggressively returning capital to shareholders over the past few years. It's made seven dividend increases in the last six years. Since 2010, Disney's dividend has increased by an average of 29% per year. Last year, dividends paid to shareholders increased 19% over 2014.It's evident management is committed to increasing its dividend, and there's plenty more room for it to do so.
Disney's dividend growth far exceeds the competition. Comcast resumed paying a dividend in 2008, and it's grown an average of 20% every year since then. In recent years, however, growth has slowed, averaging 12% over the past three years. Fox's short history as an independent company hasn't allowed it to establish a dividend history, but it increased its semi-annual payout 15% last year, though neglected to increase it again earlier this year.
The company's current payout ratio is just 24% of expected 2016 earnings. As a percentage of free cash flow (the stuff dividends are made of), Disney paid out 33% of free cash flow over the trailing 12 months as dividends. What's more, analysts are still projecting solid earnings growth. The current consensus is for 14% growth in EPS this year and 11% average growth over the next five years. Combined with its currently low payout ratio, that solid earnings growth leaves room for double-digit dividend growth for years to come.
The article Don't Ignore Disney's Diminutive Dividend originally appeared on Fool.com.
Adam Levy has no position in any stocks mentioned. The Motley Fool owns shares of and recommends Walt Disney. Try any of our Foolish newsletter services free for 30 days. We Fools may not all hold the same opinions, but we all believe that considering a diverse range of insights makes us better investors. The Motley Fool has a disclosure policy.
Copyright 1995 - 2016 The Motley Fool, LLC. All rights reserved. The Motley Fool has a disclosure policy.