Dont Fall for Apple Inc.'s iPad Magic Trick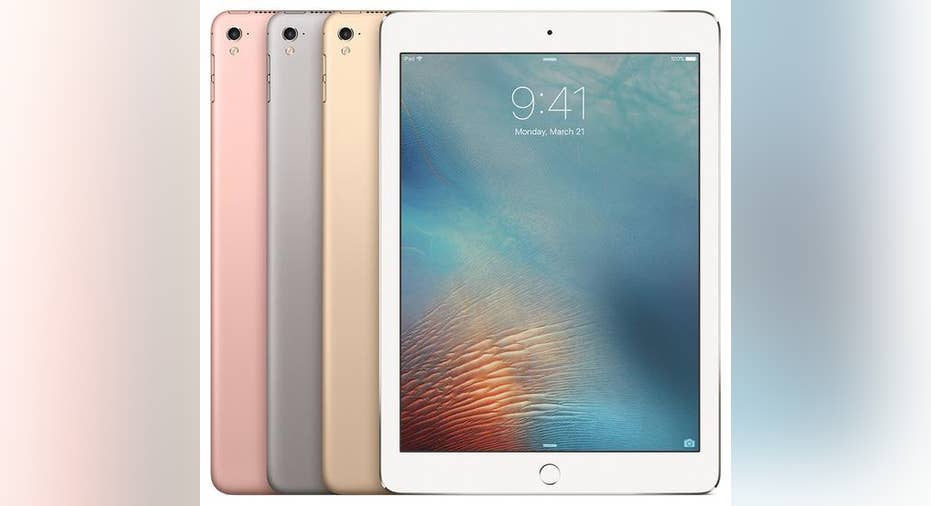 Image credit: Apple.
Apple's struggling iPad family of tablets saw a significant decline in both revenue and units, with both falling 19% respectively over the results seen a year prior. The iPad and, indeed, the tablet market at large is being squeezed by thin-and-light personal computers on one side and by large-screen smartphones on the other.
Now, in a bid to assuage investor fears around this product category, Apple CEO Tim Cook told investors that the company expects to enjoy the "best iPad revenue compare in over two years."
This may seem as though Cook is signaling a fundamental improvement in the iPad business, but it's simply sleight of hand. Allow me to explain.
iPad Pro 9.7-inch revenue ramping up in FQ3Apple indicated that it didn't recognize any sales revenue in fiscal Q2 for the iPhone SE, which launched on March 24 and began shipping to customers on March 31, with initial shipments recognized in fiscal Q3. The iPad Pro launched at the same time, so revenues for that product probably weren't recognized in fiscal Q2, either.
That means the initial "surge" of 9.7-inch iPad Pro sales will make a financial impact in fiscal Q3.
How this makes the year-over-year comparison worthlessIn the year-ago quarter (Q3 of fiscal 2015), Apple didn't launch any new iPad products. Indeed, in the same quarter in 2015, Apple was well past the October 2014 launch of the iPad Air 2 and iPad Mini 3. So Apple is comparing a seasonally "peak" iPad quarter with a mid-product cycle quarter from a year ago.
To further fuel the fire, Apple will surely benefit from having the 9.7-inch iPad Pro sell at higher prices than the previous-generation iPad Air 2 products that were available for sale in the year prior. And, of course, Apple should benefit from the fresh price reductions on the iPad Air 2, which could help drive incremental volume in the quarter.
Yes, next quarter should be "as good as it gets" from a year-over-year comparison perspective, but that's much more a reflection of product launch timing dynamics than of fundamental demand trends.
Apple still has a question to answerApple has to find a way to get iPad sales to grow again on an apples-to-apples basis. It's not clear how the company will be able to achieve this goal, particularly given that -- at least with iPad -- the company doesn't have any real obvious "product issues."
The iPad is far and away the best tablet on the market, in my view, sporting state-of-the-art hardware, a large selection of apps tailored for the iPad, and an excellent operating system.
The problem is that people just aren't buying tablets like they used to. Perhaps Apple can introduce some fundamental game-changing innovations that will make the iPad a must-have, but even if it does, those features will shortly find their way into the iPhone -- the product category that Apple cares about the most -- and rightfully so.
The article Dont Fall for Apple Inc.'s iPad Magic Trick originally appeared on Fool.com.
Ashraf Eassa has no position in any stocks mentioned. The Motley Fool owns shares of and recommends Apple. Try any of our Foolish newsletter services free for 30 days. We Fools may not all hold the same opinions, but we all believe that considering a diverse range of insights makes us better investors. The Motley Fool has a disclosure policy.
Copyright 1995 - 2016 The Motley Fool, LLC. All rights reserved. The Motley Fool has a disclosure policy.