Don't Expect Saudi Arabia's New Oil Minister to Change Course in Policy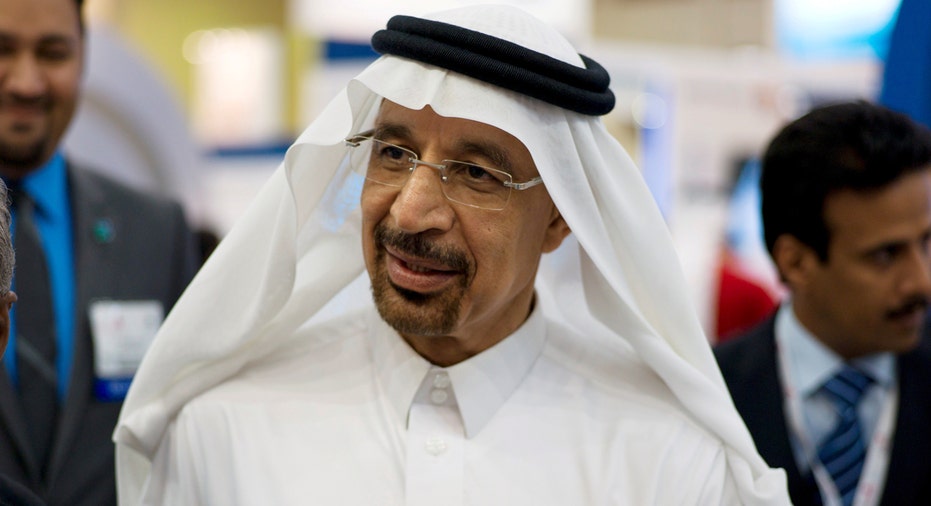 Energy stocks were among the market's worst performers on Monday, while U.S. oil prices snapped a three-session win streak, after news over the weekend that Saudi Arabia unexpectedly replaced its oil minister.
It was announced on Sunday Saudi Aramco Chairman Khalid al-Falih will succeed Ali al-Naimi as the Middle Eastern nation's oil minister. The news comes less than a month ahead of OPEC's June 2 meeting.
While some view Naimi's ouster as a result of perhaps diverging views between him and the oil-rich nation's leadership, Omar Al-Ubaydli, affiliated senior research fellow at George Mason University's Mercatus Center, said it was more a necessary transition of leadership than anything else.
"The man is 81 years old; it's time to retire," Al-Ubaydli said.
He explained that Falih's appointment is likely to result in a continuation of Saudi oil policy as the world becomes more comfortable with the idea that lower crude prices are here to stay.
"This is a good opportunity to overcome some internal political opposition that would exist if they tried to introduce economic reforms. When there are high prices, it's difficult to convince local stakeholders to change the way the economy starts up, but with low prices now…this is time to introduce reforms," he said.
Al-Ubaydli continued by saying it's simply a coincidence that an oil-minister regime change came about at the same time the nation looks to enact a change in economic policies.
Last month, Deputy Crown Prince Mohammed bin Salman – son of Saudi Arabia King Salman bin Abdulaziz Al Saud – announced a plan to reduce the nation's economic dependence on oil as prices have collapsed more than 70% since the summer of 2014 as other world players – including U.S. shale producers – have helped drive up global production, creating a supply glut.
Richard Swann, editorial director for Americas Oil Markets, said while Saudi is feeling pain alongside the rest of the world's leading oil producers, the reshuffling of the ranks isn't an indication the nation is looking to shift away from current policy.
"The upheaval in the oil patch is a direct result of Saudi oil policy and their refusal to move on price has resulted in current market conditions…the reshuffle confirms that they're sticking to policy and there will be no short-term let up from Saudi," he said.
Naimi's departure comes alongside a slew of other changes including a move to rename the Ministry of Petroleum and Mineral Resources to the Ministry of Energy, Industry and Natural Resources. That shift is another in the move to diversify away from oil.
"Saudi has a lot of untapped mineral resources. It signifies the expansion of diversifying the economy," Al-Ubaydli said. "The shake ups in other ministries including energy, and adding culture is an attempt at diversification, to create jobs for Saudi Arabians, and rebuild an economy in a very dynamic and forceful way."
For global oil prices long term,  Al-Ubaydli said analysts need to understand that even with the regime shift in the Saudi oil ministry, it's unlikely a downshift in the country's production will come about any time soon.
"It's commercial suicide for OPEC," he said. "Shale has changed the way the market works and analysts need to accept prices won't increase soon, and they need to suspend the intellectual contortion about how it will happen."
Swann explained that for oil markets, communication has been key – and analysts have been able to react knowingly to any headlines with Naimi's name included. Now, with a new oil minister in place, he said further communications efforts will be just as important.
"They've been a country that's been very clear at communicating their policy, and about what the policy is. With the new minister, the market will look for the same kind of signals," he said. "It's very important for the stature of Saudi Arabia."
Meanwhile, as Falih transitions into his position, Saudi-owned Aramco looks to float a small portion of its sales in an initial public offering on the London Stock Exchange soon as 2017 or 2018, the Telegraph reported on Sunday, hoping to entice heavyweights like ExxonMobil (NYSE:XOM) or China's Sinopec to do a deal. The deal is could value the group in the trillions-of-dollars range.