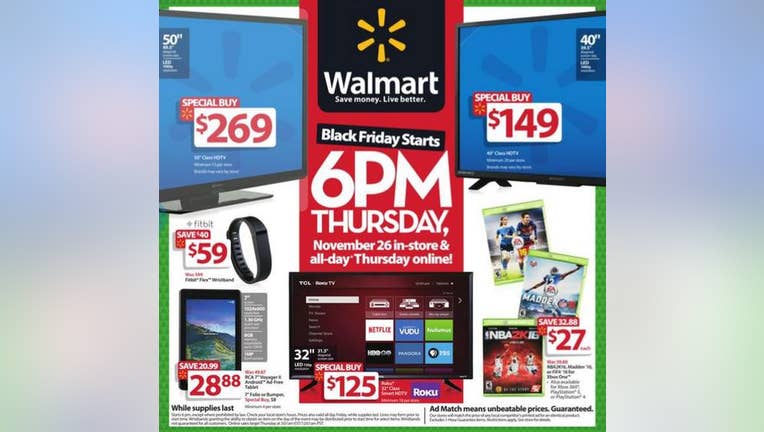 This Friday, millions of turkey-stuffed Americans will brave long lines and thick crowds at retailers throughout the country, all with the hopes of saving a few dollars on holiday gifts and householdessentials.Sales run the gamut, and vary on a store-by-store basis, but there's one item that's long been a Black Friday staple: the television. HDTVs anchor both Wal-Mart andBest Buy's Black Friday ads, and even apparel stores like Kohl's are offering discounts on flat-panel televisions.
But sales can be deceiving. Although it may be possible to find a good TV at an attractive price, consumers should think twice before buying a TV on Black Friday.
Wal-Mart's Black Friday ad. Image source: Wal-Mart.
Made by who?You can't judge a TV basedsolelyon its brand name, but a few manufacturers stand above the rest. Samsung, LG, Sony, Panasonic, and Vizioare household names and for good reason: their sets are widely praised, often delivering a quality picture quality or solid value. Then there are the other brands, including Seiki, Insignia, Element, Westinghouse, Philips, and Magnavox (among many others). TVs from these manufacturers may be fine for some consumers -- they're more than capable of delivering a high-definition image and sound -- but quality may be lacking. Outlets that specialize in reviewing televisions, like CNet and Digital Trends, rarely review them favorably, if they do so at all.
Unfortunately, many of the TVs offered on Black Friday fall into the second camp. Searswill discount a wide variety of sets from these lesser-known manufacturers. Wal-Mart is taking it a step further, advertising TVs without even disclosing the brand name or model. The front page of its Black Friday ad promises 40-inch HDTVs for $149 and 50-inch HDTVs for $269. "Brands vary by store," the ad declares. Don't expect anything noteworthy.
Something is missingEven if you find a television from a brand you recognize,you still might want to think twice before buying it. In an effort to drum up foot traffic, some retailers have partnered with TV manufacturers to produce special derivative models. These televisions are made solely for the purpose of being sold on Black Friday at prices that seem attractive to uninformed buyers. Typically, they're based on existing sets, but are usually stripped of key features and may use substandard parts. Unfortunately, it's often difficult to discern derivative models from standard sets. Still, there are a few warning signs.
This year, Best Buy's Black Friday ad is anchored by a 60-inch Samsung television (model UN60JU6390FXZA). At $799.99, it appears to be a great deal, especially because it's an Ultra HD 4K display (rather than the standard 720p or 1080p). But that price may be too good to be true -- it's likely a derivative model.
The TV is a Best Buy-exclusive -- you won't find it any other retailer, and it only comes in one size. Those are both obvious red flags. It's only been available for purchase for just a few days -- as of this writing, it has a mere six reviews, the oldest of which dates back to just November 16th. It appears to be derived from a similar model, Samsung's 4K UN60JU6500. Compared to that set, some changes are obvious: it has fewer inputs (1 less HDMI port and no composite video). Others could be harder to spot. The panel itself could be lesser quality, or it may use cheaper parts -- there's just no way to know.
If you can wait a few months...If you're in the market for a big screen TV, and you're not in a rush, consider waiting until February. Big TVs from major brands are often offered on sale the week before the Super Bowl. Unlike Black Friday, they're often legitimate sets discounted to move, as TV manufacturers typically refresh their offerings with next year's models in March or April.
The article Don't Buy a TV on Black Friday originally appeared on Fool.com.
Sam Mattera has no position in any stocks mentioned. The Motley Fool has no position in any of the stocks mentioned. Try any of our Foolish newsletter services free for 30 days. We Fools may not all hold the same opinions, but we all believe that considering a diverse range of insights makes us better investors. The Motley Fool has a disclosure policy.
Copyright 1995 - 2015 The Motley Fool, LLC. All rights reserved. The Motley Fool has a disclosure policy.