Dont Be Surprised to See Intuitive Surgical Inc. Continue Its Run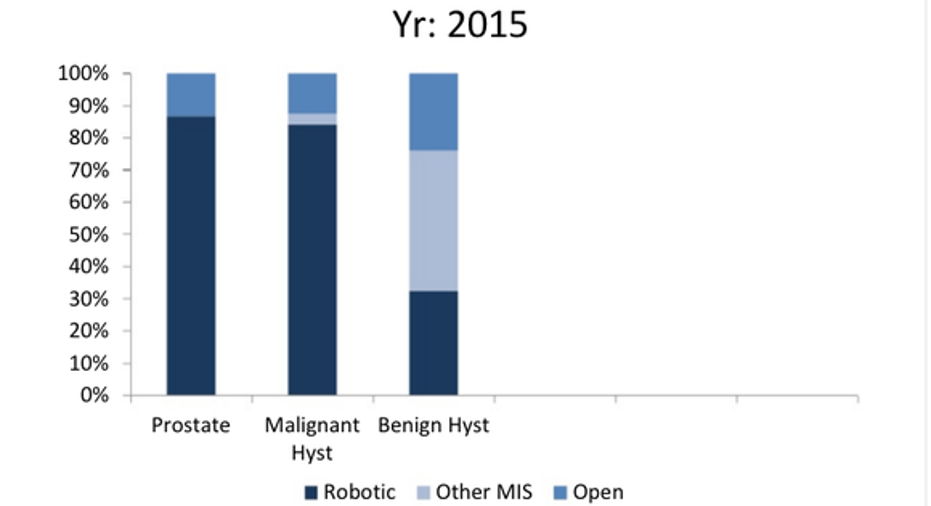 Intuitive Surgical's newest iteration, the Xi, has table motion technology to allow for greater accessibility. Image source: Intuitive Surgical.
If there's one thing that seasoned management teams understand, it's that controlling expectations is paramount. After his company endured a rough two-year stretch starting in early 2013, Intuitive Surgical CEO Dr. Gary Guthart has taken a very smart approach to managing expectations.
While the number of daVinci Robotic Surgical Systems sold is an important measure of the company's success -- and the sales slowdown following the enactment of the Affordable Care Act was a key factor in the company's performance -- the real metric that long-term investors need to watch is the number of procedures performed.
As more and more doctors experiment with Intuitive's newest Xi system -- the theory goes -- the more likely it is that another "breakthrough" operation will be discovered. The main way to measure whether that's happening or not is by (1) listening closely to the company's conference calls, and (2) looking for growth in overall procedures.
After having to drastically reduce its outlook for procedure growth at the beginning of 2014, here's how the metric has stacked up versus the expectations that management offers.
Two things are worth noting. First, the slower growth in the fourth quarter of 2015 wasn't as bad as it looks: The company still exceeded its full-year guidance. Second, management upped its outlook for the rest of 2016 after a monster first quarter. The mid-point of guidance now sits at 13%.
How is this kind of growth possible?
Once Intuitive finds an operation where its system adds value -- by improving immediate patient outcomes, lowering direct costs, shortening hospital stays, and causing less complications -- and is able to prove this value, it can quickly come to dominate a particular procedure.
To see what I mean, let's investigate prostatectomies, as well as malignant and benign hysterectomies. Back in 2004, almost none of these procedures were performed robotically.
Image source: Intuitive Surgical
But in a little over a decade, the company came to dominate two of the three procedures, and made modest inroads in the third.
Image source: Intuitive Surgical
With the stock now trading for 32 times trailing earnings, it's clear that investors are eyeing a new growth driver. If that arrives, the first procedures it will come from are hernia and colorectal operations. Management has specifically discussed both of these as being major contributors to growth in "General Surgery" in the U.S. for over a year now.
Here's a visual that management provided at a recent conference that shows how much room there is to grow if these procedures continue to catch on.
Image source: Intuitive Surgical
Heading into the next earnings call, investors should know that it may be more than a decade for Intuitive Surgical's penetration into the hernia and colorectal surgery segments to reach the same levels as it has for prostate and hysterectomies. That being said, given management's track record of low-balling estimates -- and the fact that increased use of the Xi will put more pressure on hospitals to purchase even more systems -- I wouldn't be surprised to see Intuitive continue riding its wave of positivity.
The article Dont Be Surprised to See Intuitive Surgical Inc. Continue Its Run originally appeared on Fool.com.
Brian Stoffel owns shares of Intuitive Surgical. The Motley Fool owns shares of and recommends Intuitive Surgical. Try any of our Foolish newsletter services free for 30 days. We Fools may not all hold the same opinions, but we all believe that considering a diverse range of insights makes us better investors. The Motley Fool has a disclosure policy.
Copyright 1995 - 2016 The Motley Fool, LLC. All rights reserved. The Motley Fool has a disclosure policy.