Don't Be Fooled By Background Check Data, Growth Will Slow For Gunmakers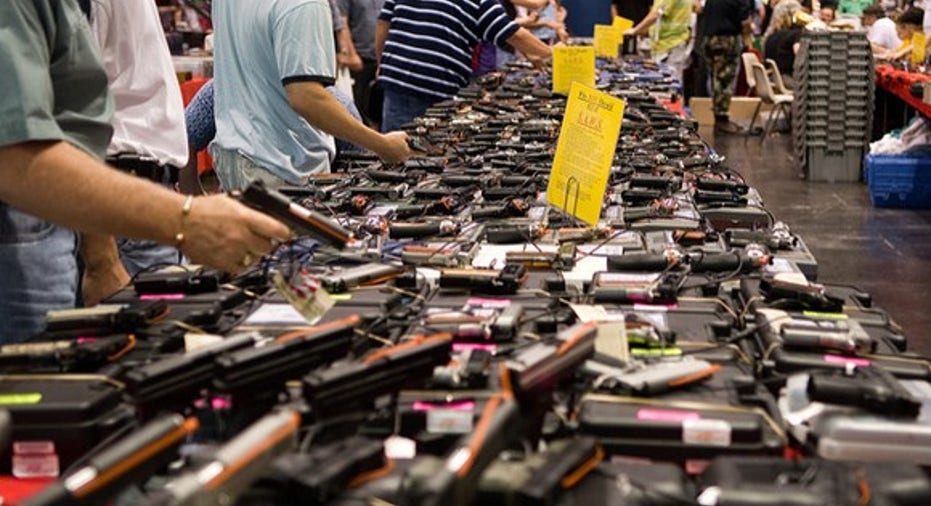 Blowout Black Friday sales pushed FBI background checks to a new record, but it may signal slower growth going forward. Image source: Flickr via Francisco Angola.
Gun buyers who long feared greater restrictions from a Hillary Clinton presidential victory actually have her to thank for the Christmas gift bestowed on them last week. The FBI says it processed more criminal background checks on gun buyers on Black Friday this year than it has on any other single day, ever.
The National Instant Criminal Background Check System (NICS) processed 185,713 investigations that day. While background checks don't translate equitably into gun sales because a person may buy more than one gun, or none at all, they're often considered a reliable proxy for consumer demand. And probably one of the biggest reasons for the surge was Clinton, despite her election loss.
Fear of greater gun control
One of the reasons proffered for rising gun sales at Smith & Wesson Holding (NASDAQ: SWHC), Sturm, Ruger (NYSE: RGR), and other gun manufacturers was the fear of more gun control. Ruger specifically cited the elections in its third-quarter earnings release last month as one of the primary reasons the estimated sell-through of its firearms from independent distributors to retailers was so high for the period. Smith & Wesson was more charitable, saying it didn't take presidential politics into consideration.
While the press and pundits were all expecting Clinton to easily walk away with the presidency, they weren't alone. Gun dealers also bought into the notion she would win and had busily built up their inventory in anticipation of the outcome. The belief was apparently that if she won, there would be a huge run by gun buyers getting their purchases in before any new restrictions could be imposed.
When Donald Trump surprised everyone with his upset victory, it took the wind out of the sails of the gunmakers, which saw their stocks tumble in the aftermath. Shares of Smith & Wesson fell 15% and Ruger dropped 14%. There just no longer seemed to be the need to buy a gun now -- today! -- and that posed a problem for the gun dealers: They had this huge inventory on hand they now needed to get rid of.
Image source: Flickr via M&R Glasgow.
Booming business
Enter their Black Friday sales. Gun shops were reportedly offering discounts of anywhere between 10% and 50%, and they were applicable to guns, ammunition, and accessories. The start of the Christmas shopping season wasn't just for mall retailers, and because buying a gun to give to someone else is considered illegal, these were "presents" people were buying for themselves.
The downside to the binge shopping, however, is that it may very well portend a drop in sales going ahead, as the discounts pull forward sales that might have occurred in December, January, and February.
That's what happened two years ago, when NICS background checks fell in 2014, the first time in 12 years the FBI had conducted fewer investigations from one year to the next. The lull caused a buildup in inventory that dealers extricated themselves from by discounting. It created a lag of several months in gun buyers returning to the market, but since then we've been in a raging bull market of gun sales, with the FBI reporting record background checks for 18 straight months. In a few days, we'll get November's numbers, and if Black Friday is any indication. it will be a blowout month as well.
Image source: Getty Images.
Still on target
Smith & Wesson just reported its results, and it showed that gun buying continued growing at a torrid pace, with gun sales surging 57% in the quarter to $194.5 million. Its guidance disappointed analysts; however, despite raising full revenue forecasts again to a range of $920 million to $930 million, it tightened its adjusted earnings outlook to between $2.42 and $2.47 per share, compared with its previous expectations of $2.38 to $2.48 per share.
The gunmaker itself doesn't see any let up in gun buying and says now with younger, more urban buyers in the market, as well as more women, it's a new demographic shopping for guns than in the past. It does expect normalized industry sales growth in the high-single-digit range, so whether that turns into lower sales growth for now remains to be seen.
Yet it's clear that it's not just elections that have been driving sales, but also fear for personal safety. And that remains an ever-present threat, which just might overcome presidential politics.
10 stocks we like better than Smith and Wesson Holding When investing geniuses David and Tom Gardner have a stock tip, it can pay to listen. After all, the newsletter they have run for over a decade, Motley Fool Stock Advisor, has tripled the market.*
David and Tom just revealed what they believe are the 10 best stocks for investors to buy right now... and Smith and Wesson Holding wasn't one of them! That's right -- they think these 10 stocks are even better buys.
Click here to learn about these picks!
*Stock Advisor returns as of November 7, 2016
Rich Duprey has no position in any stocks mentioned. The Motley Fool has no position in any of the stocks mentioned. Try any of our Foolish newsletter services free for 30 days. We Fools may not all hold the same opinions, but we all believe that considering a diverse range of insights makes us better investors. The Motley Fool has a disclosure policy.