Donald Trump to Meet With Some House and Senate Republicans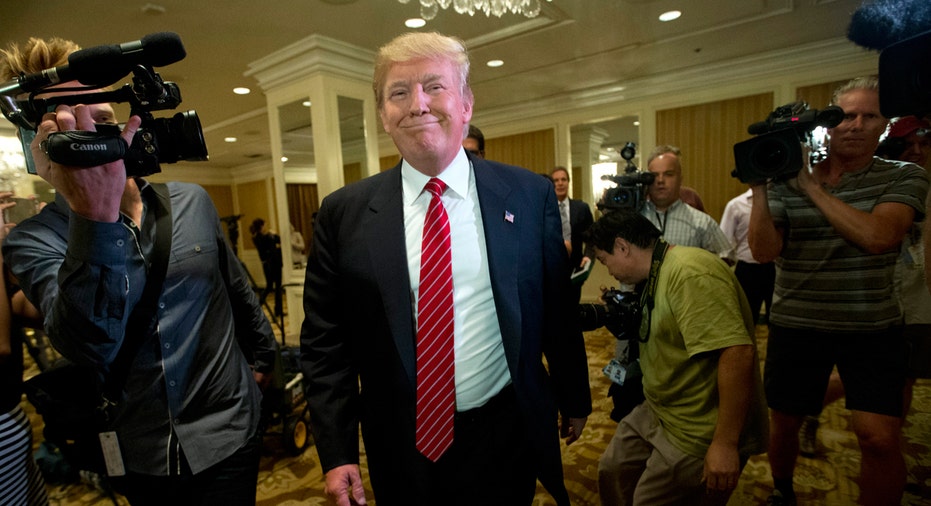 GOP presumptive nominee Donald Trump will arrive on Capitol Hill on Thursday for the second time this year to meet with Republican lawmakers -- at least those who aren't too busy to find time in their schedule for him.
When the New York real estate mogul arrives for his separate meetings with House and Senate Republicans Thursday morning, many of the most vulnerable GOP lawmakers up for re-election this year won't be there to greet him.
Sen. Kelly Ayotte (R., N.H.) will be in a Senate Armed Services Committee hearing, as will Sen. John McCain (R., Ariz.) Both are up for re-election this year in races where Mr. Trump's presence at the top of the ticket could help their opponents if Democrats are unusually motivated to turn up at the polls in November.
"We have a hearing in the Armed Services Committee tomorrow morning," Mr. McCain said Wednesday. "I have to attend the hearing that I called as chairman."
Mr. Trump last came to Capitol Hill in May, a time when House Speaker Paul Ryan (R., Wis.) had not yet endorsed him and the candidate's trio of meetings with Republican leaders focused on bridging the divide between Mr. Trump and Washington's GOP elite. Since then, congressional leaders and many of their rank and file have officially backed Mr. Trump, only to spend the intervening weeks responding to questions over his most incendiary comments and tweets.
As Democrats have worked to yoke vulnerable Republicans to Mr. Trump's provocative statements and stances, those GOP lawmakers have sought to distance themselves from their likely presidential nominee, with many opting not to attend the Thursday meetings in GOP buildings just outside the Capitol.
GOP Sen. Marco Rubio, who reversed course last month and opted to run again for his Senate seat in the swing state of Florida, will be presiding over the Senate during Mr. Trump's 10:30 meeting with the chamber's Republicans. Mr. Trump will meet earlier in the morning with House Republicans.
"That's my weekly time on Thursday," to preside, Mr. Rubio said, adding that other Republicans would benefit more from meeting with Mr. Trump. "Obviously I'm very familiar with Donald and his positions. I just came off an 11-month campaign where he was one of my opponents."
GOP Sens. Rob Portman of Ohio and Pat Toomey of Pennsylvania, both locked in competitive races in battleground states, weren't sure Wednesday if they would be able to meet with Mr. Trump.
"I don't know what my schedule is for tomorrow yet," Mr. Toomey said in a sentiment echoed by Mr. Portman.
But Sen. Ron Johnson, a Republican fighting a tight race in Wisconsin, said he planned to meet with Mr. Trump and hoped the candidate would back the six-plank policy agenda drafted by House Republicans this year.
Sen. Susan Collins of Maine, who isn't up for re-election this year, said she would attend the Trump meeting, though she hasn't endorsed him.
"He's the likely nominee for my party and I've never even met him or been in the same room as him," she said Wednesday. "This will be a chance for me to hear what he has to say."
Many Republicans remain unenthusiastic about Mr. Trump less than two weeks before the Republican Party convention begins on July 18. Republicans have worried about Mr. Trump's unorthodox campaign and whether its slim infrastructure will be able to compete with the complex organization powering his likely Democratic rival, Hillary Clinton.
Rep. Lou Barletta (R., Pa.) said he told a group of fellow Trump supporters Wednesday morning that he believed the GOP candidate was running "a very lean organization with an incredible grass roots campaign" that would best Mrs. Clinton's "very heavy, top-down campaign trying to generate excitement on the ground."
Mr. Trump's ability to raise money also accelerated in June, after his meager fundraising in May left some Republicans alarmed about whether he would be a viable competitor.
Write to Kristina Peterson at kristina.peterson@wsj.com