Donald Trump Lights a Fire Under Dave & Buster's Stock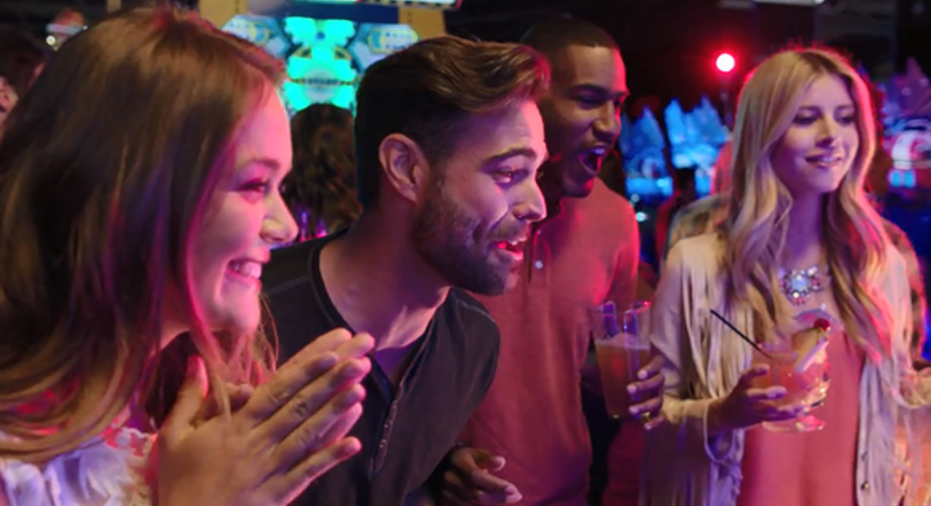 Image source: Dave & Buster's.
Dave & Buster's (NASDAQ: PLAY)was one of last week's biggest winners. Shares of the company behind big-box restaurants that combine casual dining, sports bars, and massive high-tech gaming arcades soared 20.3% after posting another blowout quarter. At least two analysts boosted their price targets on the stock following the report, with one of them playing the stock up as a beneficiary of Donald Trump's presidential win last month.
A strong report isn't really a surprise at Dave & Buster's. It has beaten analyst profit targets with ease in each and every quarter since its return as a public company two years ago. Last week's report was another beauty. Revenue clocked in at $228.7 million for its third quarter, 19% ahead of where it landed a year earlier. It had no trouble attracting customers with comps rising 5.9%. Scoring double-digit top-line growth is also easy when you grow your empire from 77 to 88 locations over the past year, but even with the aggressive expansion analysts were only targeting 12% in revenue growth.
Net income more than doubled to $0.25 a share. Wall Street pros were settling for just $0.14 a share. Dave & Buster's has managed to beat analyst profit forecasts every quarter by at least a double-digits percentage, though landing 79% ahead of market expectations is its second biggest beat since going public at $16 two years ago.
Wall Street comes to play and P-L-A-Y
BMO Capital analyst Andrew Strelzik is sticking to his bullish Outperform rating on the stock, boosting his price target from $48 to $59. He is saying that this could be the "ultimate Trump trade" given the president-elect's vow for federal corporate tax rate reform. Strelzik points out that the eatertainment chain has been shelling out an average effective tax rate of roughly 37% over the past few years.
The Dave & Buster's model is already a scalable one, fueled by high-margin entertainment offerings that make up a little more than half of its revenue. You won't find too many restaurant chains where food and beverage combine to account for just 44% of the revenue mix. Earnings have historically outpaced revenue growth. If Trump is successful in lowering corporate tax rates it could result in yet another boost to the bottom line.
If Trump is also able to execute a reduction in personal federal income tax rates it could trigger a spike in consumer spending, another reason why Strelik is high on Dave & Buster's. The high-end arcades provide a nostalgic escape for well-to-do adults, playing redemption games for tickets that can be used to score legit prizes. This isn't just "Chuck E. Cheese for adults." It's Chuck E. Cheese for adults with disposable income to throw at flashy diversions.
Wells Fargo also boosted its price target on the stock, taking its goal from a range of $52 to $55 up to $57 to $60. Wells Fargo is encouraged by the solid fundamentals and its resilience, arguing that Dave & Buster's isn't as vulnerable to industry lulls as its casual dining peers.
Dave & Buster's has been doing just fine in its brief return as a public company. It has sidestepped the "restaurant recession" that tripped up other eateries that fell into negative comps earlier this year. If federal and personal tax rates head lower, at least one Wall Street analyst feels that this is the stock to own.
10 stocks we like better than Dave and Buster's Entertainment When investing geniuses David and Tom Gardner have a stock tip, it can pay to listen. After all, the newsletter they have run for over a decade, Motley Fool Stock Advisor, has tripled the market.*
David and Tom just revealed what they believe are the 10 best stocks for investors to buy right now... and Dave and Buster's Entertainment wasn't one of them! That's right -- they think these 10 stocks are even better buys.
Click here to learn about these picks!
*Stock Advisor returns as of Nov. 7, 2016
Rick Munarriz has no position in any stocks mentioned. The Motley Fool recommends Dave and Buster's Entertainment. Try any of our Foolish newsletter services free for 30 days. We Fools may not all hold the same opinions, but we all believe that considering a diverse range of insights makes us better investors. The Motley Fool has a disclosure policy.