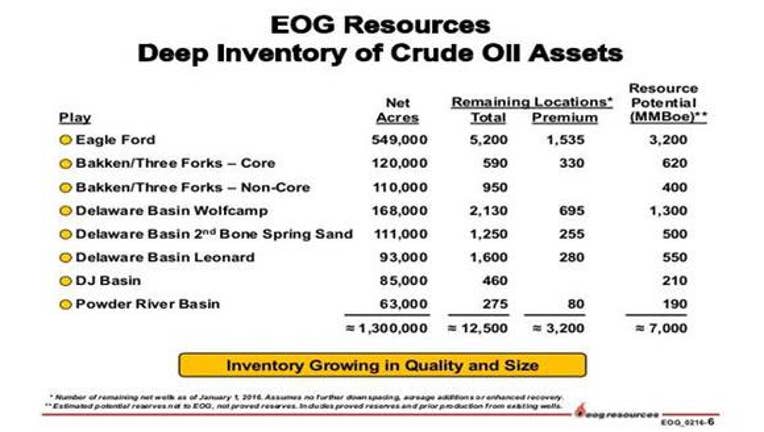 Image Source: California Resources Corporation corporate website
Tell me this isn't a setup for a big winner. Mark Papa, the "Godfather" of U.S. shale oil, retired from EOG Resources (NYSE: EOG) and has now come out of hibernation.
His new company, called Silver Run Acquisition Corp. (NASDAQ: SRAQU), has $450 million of cash and is on the hunt for bargain oil and gas assets. Does this shale legend, being tempted out of retirement, signal the bottom of the market?
Papa wasn't just a visionary -- he built EOG to lastAfter being spun out of Enron (yes, that Enron) in 1999, Papa steered EOG to some great success by getting into the shale natural gas game.
In 2007, while listening to competitors speak at a Goldman Sachs conference, Papa had a moment of terror. He realized that these competitors, like EOG were having such success with natural gas that the commodity price was likely to be ruined for decades.
Immediately after returning home to EOG, Papa told his staff to forget about trying to find more shale gas and to start finding and figuring out how to extract shale oil.
When Papa gave these orders, few in the industry thought shale oil was likely to have much of an impact. The common belief was that oil molecules were just too big to fit through shale rock, which has very poor porosity.
We now know, of course, that the common belief was wrong.
EOG locked down a massive land position in the heart of the Eagle Ford and did the same in the Bakken. EOG and the rest of the industry then figured out how to get oil out of those rocks.
Source: EOG company presentation.
Like EOG, Chesapeake Energy (NYSE: CHK) also aggressively pursued both shale gas and shale oil. The only play that Chesapeake didn't get into was the Bakken. Both companies were early movers in acquiring high-quality acreage, and both companies pushed the envelope on improving the techniques and technologies used in exploiting this acreage.
Yes, while today very real questions exist about Chesapeake's ability to make it through these depressed commodity prices, EOG is on very sound footing. EOG shareholders can again thank Papa for that, as he instilled at the company a focus on "return" on capital invested, rather than growth. That has kept EOG's balance sheet in better shape and put EOG at the head of the class in terms of well profitability.
We saw EOG's company discipline soon after the oil price collapsed, with the company's immediate decision not to grow production into an oversupplied market. That's a decision Papa would probably stand behind.
Silver Run Acquisition -- a blank-check companyPapa now takes the help at Silver Run Acquisition, which is a "blank check" company, or SPAC -- a special-purpose acquisition corporation. What that means is that Silver Run has raised cash for the specific purposes of making yet-to-be-identified acquisitions.
Getting an IPO done this year is impressive. Year to date, there have been five IPOs in 2016 at this point, versus 22 last year.Getting an IPO done in the energy sector is considerably more impressive.
That speaks to the respect Papa commands -- as does the fact that Silver Run raised $450 million, which was $50 million more than it planned on raising.
The way a SPAC works is that the company has two years to make an acquisition with the cash, or it is returned to shareholders. Given how many companies are desperate for capital and how many assets banks are going to be stuck with, finding attractive oil and gas assets shouldn't be a problem.
The stars seemed to be aligned here for success. The shale industry is decimated, and the "Godfather" of shale has returned, and his elephant gun is fully loaded. I believe that Papa's experience and track record make it worthwhile taking a look at shares of Silver Run before the company makes an acquisition. Given the current distress in the energy patch it seems hard to imagine that any transaction Papa chooses to act on could come at a bad price.
The article Does This Shale Oil Legend's Coming Out of Retirement Signal the Bottom of the Oil Market? originally appeared on Fool.com.
TMFWolfpack has no position in any stocks mentioned. The Motley Fool owns shares of EOG Resources,. Try any of our Foolish newsletter services free for 30 days. We Fools may not all hold the same opinions, but we all believe that considering a diverse range of insights makes us better investors. The Motley Fool has a disclosure policy.
Copyright 1995 - 2016 The Motley Fool, LLC. All rights reserved. The Motley Fool has a disclosure policy.