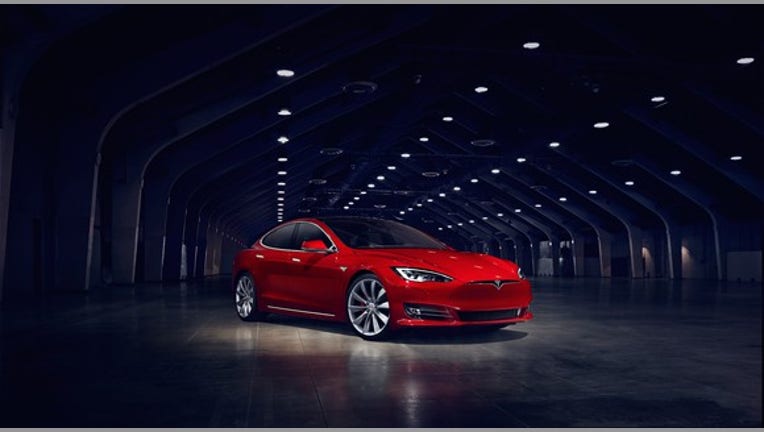 Image source: Tesla.
Last week, a Model S owner said his car creeped forward -- all on its own -- and struck a trailer in front of the car while he was away from it.Tesla Motors (NASDAQ: TSLA) says the car's Summon feature (which allows the car to park itself or autonomously drive meet the driver in front of his house) was activated, and the car and the driver simply didn't pay attention to the car while using that feature.
The Verge was able to take a look at the letterTesla sent to the owner, part of which said (emphasis added):
Whether the Model S owner or Tesla is at fault in this situation isn't what I'm focusing on here, but rather why Tesla believes it's necessary to keep such detailed data logs on everything its customers are doing with their vehicles -- down to the precise instances they enter and exit their vehicles.
This isn't the first time Tesla has refuted claims about its Model S using data logs. Back in 2013, a reporter from The New York Timestest-drove a Model S in winter and tracked its battery life. The reporter said the car ran out of electricity and left him stranded on the side of the road after saying he had enough charge to get him to the destination.
Tesla, on the other hand, provided detailed logs of the car, where it drove, how much it was charged, and that the reporter allegedly drove it in such a way that may have intentionally driven the battery down.
There is a difference between the two incidents, of course, because a journalist testing a product is different than an owner being tracked by a car maker. But what's clear from both of these incidents is that Tesla knows a lot about where its Model S vehicles are going -- and that might not be such a good thing.
Why is this bad for Tesla?Tesla is still a small player in the automotive market when it comes to unit sales. Last year, the carmaker only sold 50,580 cars in 2015, and by 2020 it expects to be making 500,000 vehicles per year. Meanwhile, some of the biggest carmakers are selling millions of vehicles each year (Toyota sold 8.6 million vehicles in fiscal 2016).
Still, I think Tesla will fall under more scrutiny as to what data it collects and why as the company grows.
Tesla has a loyal following of enthusiasts right now, but when more of the general public begins to buy the company's vehicles (likely because of the new the Model 3), they may not be so enthused with the carmaker knowing when and where they're stepping out of their vehicle.
Tesla isn't the only automaker that collects lots of data, of course, but it is one of the most prominent carmakers to publicly use vehicle logs to refute claims about its vehicles. And I think that makes the automaker uniquely susceptible to government and customer scrutiny.
The impact of all this data collection is likely to be minimal right now, but once Tesla's Model 3 hits the roads, I think we could start hearing a lot more about customers not wanting the company to know the details of their whereabouts at all times.
A recent survey by the FIA (an international federation of car clubs) showed that 90% of automotive consumers believed a car owner, or user, owned the data collected by their car, and 76% said that "consent to access car data should be for a limited time or per-ride basis." Additionally, 91% said they want the option to turn data collection off entirely.
Sure, lots of data collection may help Tesla make its cars better, track where the company needs more charging stations, or refute bogus claims by customers, but the survey indicates that laying claim to all of that data could put off potential customers. And that's something the automaker will have to reckon with as it starts becoming a bigger player in the automotive industry.
The article Does Tesla Know Too Much About Its Customers' Driving Habits? originally appeared on Fool.com.
Chris Neiger has no position in any stocks mentioned. The Motley Fool owns shares of and recommends Tesla Motors. Try any of our Foolish newsletter services free for 30 days. We Fools may not all hold the same opinions, but we all believe that considering a diverse range of insights makes us better investors. The Motley Fool has a disclosure policy.
Copyright 1995 - 2016 The Motley Fool, LLC. All rights reserved. The Motley Fool has a disclosure policy.