Does Teck Resources Ltd.'s Balance Sheet Have the Strength to Get Through 2016?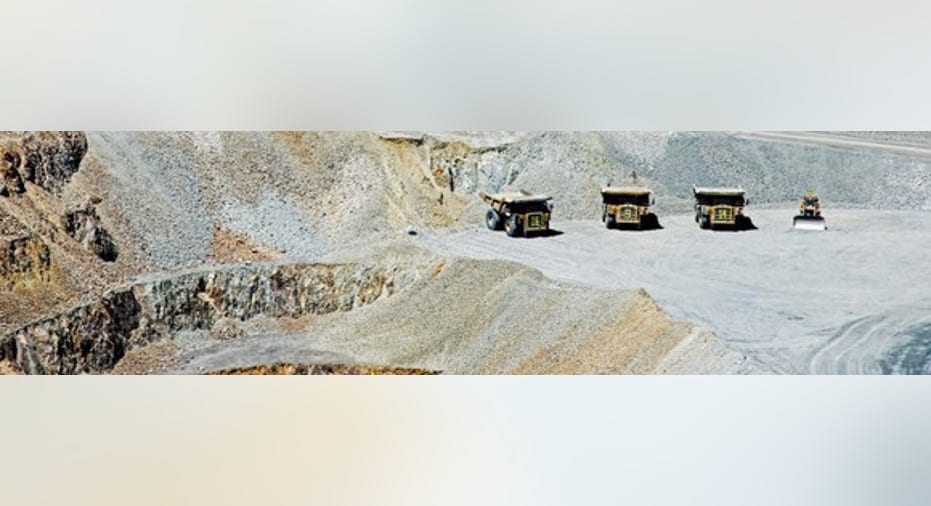 Image source: Teck Resources.
Teck Resources Ltd. is a North American miner with a big new mining project in the works. The timing of that new mine, in the Canadian oil sands, has turned out to be less than ideal. And it's had a big impact on the company's balance sheet. With the project getting closer to completion, is Teck's balance sheet strong enough to see this investment through?
That was then
Teck made the final call to move forward with its Fort Hills oil-sands project in late 2013, in conjunction with oil-sands specialist Suncor Energy and France's Total. Today, after Total sold a portion of its investment in Fort Hills to Suncor, Teck owns about 20% of the project, Total a touch over 29%, and Suncor the rest. (About two thirds of Suncor's production is from the oil sands.)
The end of 2013 is an interesting date. First, the commodity downturn was well under way by that point, but oil had been the one commodity that seemed to be bucking the downtrend. That said, by mid-2014, just a few months after Teck gave the project the green light, oil started to head lower, too.
Image source: Teck Resources.
The timing of all of this had a big impact on Teck's balance sheet. For example, long-term debt to equity stood at roughly 27.5% at the end of 2011. It moved up slowly the next couple of years to hit 30% at the end of 2014. Then it jumped to 37% by the end of 2015.
To be completely fair to Teck, a big reason for the jump was a non-cash asset impairment charge related to the commodity downturn that was taken in 2015. Non-cash charges like that come right out of shareholder equity. However, between 2011 and 2015, debt increased by a whopping 43%, in a commodity downturn. That's not exactly a great thing and helps explain why industry watchers were growing increasingly concerned about Teck's financial health.
This is now
The picture, however, has started to look a lot brighter over the past few months. For example, long-term debt at the end of the first quarter stood at around 34.5% of the capital structure, down from the end of 2015. And the actual dollar value of the company's debt is down around 10% because of changes in the value of the Canadian dollar. Perhaps more important, however, the costs for the Fort Hills investment are nearing an end.
Image source: Teck Resources.
The project is a little over halfway done, with first oil expected in late 2017. The project has been going well, and at this point, Teck expects it to be running at 90% of capacity by late 2018. (Teck's share of production, when the mine is at full capacity, is expected to be around 13 million barrels of bitumen oil per year.) To get to that point, Teck will have to contribute roughly $1 billion more to Fort Hills. That's a big sum, but Teck looks as if it can handle it.
For starters, Teck ended the first quarter with around $1.1 billion or so in cash on the balance sheet. Clearly all of that cash can't be spent on Fort Hills, since Teck has other expenses to pay. But add in another $3 billion that was undrawn on a credit facility, and you start to see that Teck has plenty of leeway to fulfill its financial obligations here. But the goal in 2016 is to leave the credit facility untapped and, instead, to fund Fort Hills payments with cash on hand. Teck's full-year targets suggests that its cash balance will decline nearly 75% year over year by the time 2016 is over. Although far from a dangerous financial situation, the numbers are starting to get tight..
First oil
Is Teck's balance sheet in as good a shape as it was before Fort Hills? No. When oil starts flowing, though, the company will be able to fix that problem. And to be honest, this is how big mining investments work -- huge upfront costs and then a long period of cash flow from the up-and-running project. In the case of Fort Hills, Teck expects around 50 years' worth of oil. Moreover, it will add a fourth major commodity to the miner's portfolio, increasing diversification beyond coal, copper, and zinc.
In the end, it looks increasingly as if Teck made the right long-term choice, even if the timing could have been better for its finances. But despite the strain, Teck's balance sheet does, indeed, look strong enough to get to first oil.
The article Does Teck Resources Ltd.'s Balance Sheet Have the Strength to Get Through 2016? originally appeared on Fool.com.
Reuben Brewer has no position in any stocks mentioned. The Motley Fool recommends Total. Try any of our Foolish newsletter services free for 30 days. We Fools may not all hold the same opinions, but we all believe that considering a diverse range of insights makes us better investors. The Motley Fool has a disclosure policy.
Copyright 1995 - 2016 The Motley Fool, LLC. All rights reserved. The Motley Fool has a disclosure policy.