Does GoPro's Tough Quarter Mean Trouble for Ambarella?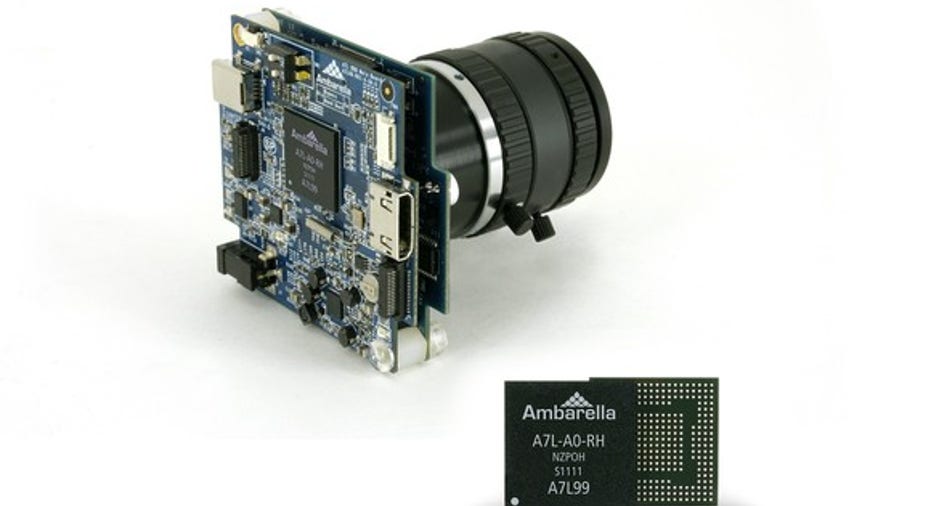 Video-processing chip specialistAmbarella Inc.(NASDAQ: AMBA)won't formally announce its fiscal third-quarter results until Dec. 1, 2016. But after keyAmbarella clientGoPro(NASDAQ: GPRO)released its owndisappointing Q3 resultslast week, some investors are already worried for what Ambarella's upcoming report will hold.
IMAGE SOURCE: AMBARELLA, INC.
More specifically, GoPro's quarterly revenue fell 39.9% year over year, to $240.6 million, well below analysts' consensus estimates for $314.1 million. To blame, according to GoPro CEO Nick Woodman, were "production issues that resulted in lower-than-expected launch volumes" for both its new HERO5 Black camera and Karma drone -- two products in which Ambarella's chips have presumably found a home. Woodman also warned, "[W]e anticipate difficulty catching up to meet forecasted demand during the fourth quarter."
What's more, GoPro followed that report earlier this week with a recall of roughly 2,500 Karma units -- representingallof the drones it has sold since Karma's launch less than a month ago -- after an unidentified problem caused a select few units to lose power mid-flight.
And because Ambarella is a key supplier to GoPro, the two companies' results have been inextricably linked in the minds of investors. Ambarella shares would often rise or fall in tandem with what GoPro had to say each quarter -- a relatively unsurprising pattern considering that, before last year, Ambarella collected as much as 30% of its total annual revenue from the action camera specialist.
Perspective is in order
But things are quite a bit different now.
As demand for GoPro's aging camera lineup began to wane last year, causing its revenue to plunge and inventory to pile up, earlier this year Ambarella management confirmed that weakness in the wearable camera market was stifling its own ability to grow and that revenue from GoPro as a percentage of total sales had fallen to the low single digits. As such, Ambarella in recent quarters has opted to take a more conservative view to modeling chip sales from the wearable camera market until visibility improves.
The situation was looking up as of Ambarella's last quarterly report in September, when the company not only beat expectations on both revenue and earnings but also forecasted a return to year-over-year revenue growth for the holiday season.However, Ambarella management subsequently indicated that this growth in the current quarter should arrive not primarily with the help of wearable sports cameras, but rather in spite ofcontinued weakness in that segment.
Wearables still matter, but...
Keeping in mind we're currently in Ambarella's fiscal third-quarter 2017, Ambarella CEO Fermi Wang elaborated:
In other words, Ambarella is finally enjoying strong-enough momentum in its supplementary markets that it's able to achieve modest growth even without the helping hand of its previous bread-and-butter wearables segment.
At the same time, that's not to say Ambarella would complain if wearables rebounded as many investors have come to hope. But GoPro's recall and production issues certainly won't do Ambarella any favors to that end. I won't be surprised, then, if Ambarella continues to opt for its decidedly cautious view of the wearable camera market going forward. But in the meantime, I'm not convinced GoPro's weak quarter is cause for concern for Ambarella shareholders today.
10 stocks we like better than Ambarella When investing geniuses David and Tom Gardner have a stock tip, it can pay to listen. After all, the newsletter they have run for over a decade, Motley Fool Stock Advisor, has tripled the market.*
David and Tom just revealed what they believe are the ten best stocks for investors to buy right now and Ambarella wasn't one of them! That's right -- they think these 10 stocks are even better buys.
Click here to learn about these picks!
*Stock Advisor returns as of November 7, 2016
Steve Symington has no position in any stocks mentioned. The Motley Fool owns shares of and recommends Ambarella and GoPro. The Motley Fool has the following options: short January 2019 $12 calls on GoPro and long January 2019 $12 puts on GoPro. Try any of our Foolish newsletter services free for 30 days. We Fools may not all hold the same opinions, but we all believe that considering a diverse range of insights makes us better investors. The Motley Fool has a disclosure policy.