Does GoPro Inc Need Karma Drone to Succeed?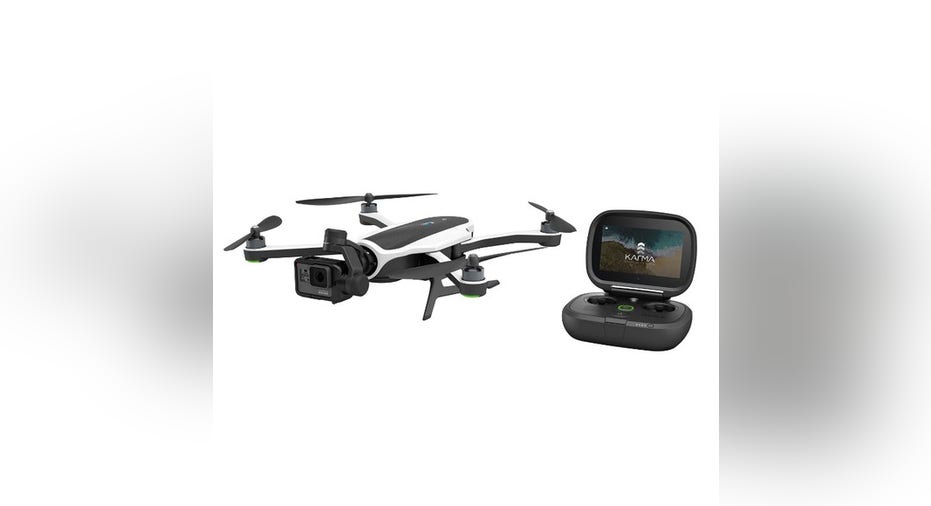 GoPro Inc (NASDAQ: GPRO) has been under a lot of pressure over the past year as camera sales have floundered and its Karma drone was delayed and then recalled. The company will generate revenue of about $1.3 billion this year and lose around $2.00 per share.
Looking forward, GoPro is reducing operating costs and attempting to improve the cameras and software customers use. But where does the Karma fit in the product line? Is it a key cog -- or a distraction? The answer may depend on what you see as the future for GoPro.
Karma drone and remote control. Image source: GoPro.
How much money GoPro has to make to stay afloat
First, I think it's important to look at GoPro's operations and what it needs just to break even. Management said operating expenses are expected to be $735 million in 2017, which is about what the company needs to make in gross profit to stay afloat.
If we assume that gross margin will settle in at 40%, this means GoPro needs to generate about $1.84 billion in revenue to break even. That's more than half a billion dollars more than expected sales this year, so something has to change with GoPro's operations.
GoPro could increase prices to increase margins, but with competitors like Garmin and Sony now offering action cameras in their sports equipment ecosystems, it's unlikely a price increase is in store.
We could also see GoPro increase unit sales, but with volumes down over the past year, it seems unlikely there's enough demand for action cameras to generate enough sales to break even. Rather than increasing camera options, we could also see an expanded product line with drones and other products, which is what management is doing today.
The other option is to further reduce operating costs, likely cutting research and development (R&D) to the bone and giving up on expanding the product line.
These are the three options for getting back to breakeven and investors need to see progress on one, or all three, before the stock will bounce back. But we should also think about what CEO Nick Woodman views as the future of GoPro.
Karma told us a lot about the future of GoPro
When GoPro launched the Karma drone, it was far from the best drone on the market. It checked all the necessary boxes drones need to check, like easy flight controls and camera integration, but it lacked collision avoidance, a "follow me" feature, and wasn't as compact as some leading competitors. But Woodman wasn't trying to make the best drone; he was trying to build the best image capture ecosystem that included a drone.
The Karma drone included the Karma Grip, a handheld image stabilizer that could be attached to the included backpack or other GoPro accessories. The product made the entire GoPro ecosystem more compelling. For a parent buying a GoPro to capture images of kids, the GoPro camera was a good option, but add a drone and an image stabilizer and you can suddenly get a new level of images in one package. For sports enthusiasts, the idea of getting a stabile image while riding a bike, skiing, or even skydiving is an improvement over competing camera options. And the drone was just an added bonus.
If you viewed Karma as a way to expand the GoPro ecosystem to increase sales, then it's worth spending the R&D money to build these new products. If you think GoPro is just a camera company, then it's probably a waste of time to build a drone and the company should cut everything but the core camera out of the lineup. But with competitors encroaching on all sides, it's hard to see why GoPro's best option isn't to expand the ecosystem or die trying.
How GoPro can make its products more compelling
If Karma is more about the ecosystem than just the drone, then the full ecosystem matters for GoPro's long-term success. The one gap in GoPro's ecosystem that's starting to be filled in is the GoPro Plus cloud service. Uploading data to your phone or the cloud has always been a challenge for GoPro, and this is at least a step in the right direction. The problem is, it isn't free.
At $4.99 a month, GoPro Plus is an expensive option, especially when you consider that it's limited to 1080p quality videos and 12 megapixel photos, and limits data storage to 35 hours of video or 62,500 photos (or a combination of the two). Why not make this cloud storage a free add-on for buying an expensive camera and upsell extra storage or uploading quality?
A great cloud option would complete the GoPro ecosystem, especially if Karma Drone and Karma Grip make it back to the market soon. And, in my opinion, it's that ecosystem that GoPro needs to get back to breakeven, not a focus on cameras alone. And that's the challenge facing the company going forward.
10 stocks we like better than GoPro When investing geniuses David and Tom Gardner have a stock tip, it can pay to listen. After all, the newsletter they have run for over a decade, Motley Fool Stock Advisor, has tripled the market.*
David and Tom just revealed what they believe are the 10 best stocks for investors to buy right now and GoPro wasn't one of them! That's right -- they think these 10 stocks are even better buys.
Click here to learn about these picks!
*Stock Advisor returns as of November 7, 2016
Travis Hoium owns shares of GoPro. The Motley Fool owns shares of and recommends GoPro. The Motley Fool has the following options: short January 2019 $12 calls on GoPro and long January 2019 $12 puts on GoPro. Try any of our Foolish newsletter services free for 30 days. We Fools may not all hold the same opinions, but we all believe that considering a diverse range of insights makes us better investors. The Motley Fool has a disclosure policy.