Does DISH, Sony, or AT&T Have the Best Live-Streaming Cable Deal?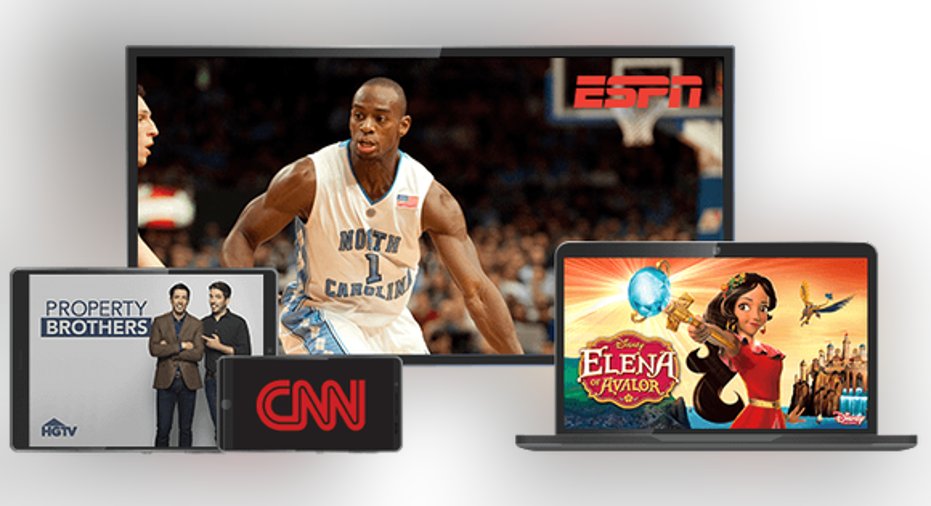 Cable without an actual cable may be the next big thing not just for cord-cutters looking to save a buck, but also for consumers looking to leave their current providers without making a major sacrifice.
DISH Network (NASDAQ: DISH) was the first player in the space with the launch of its live-streaming cable alternative a little over two years ago.Sony (NYSE: SNE) began testing its own PlayStation Vue in select markets not long after that and has since taken its cable-like streaming product national. Most recently, AT&T (NYSE: T) launched DirecTV Now, giving consumers three distinct choices (not counting the not-yet-launched options from YouTube and Hulu which are still developing).
For consumers it's a lot of choices, but unlike traditional cable where every company offers roughly the same package, these three players are somewhat different. That makes determining the best one a bit of a moving target, but with three players in the space (and two more coming) it's clearly a buyer's market.
DISH Sling has the cheapest offer. Image source: DISH.
DISH has the lowest base price
For consumers looking to cut the cord in order to save money (or those who never had a cord, but are looking for the cheapest way to have some live-streaming channels) DISH's Sling TV may be the answer. The service offers 30 channels including ESPN, CNN, TNT, and a number of other cable favorites for $20 a month as part of its "Orange" package. For $25 a month consumers could opt for "Blue" which drops ESPN but adds the FOX family of channels including the broadcast network while offering 44 total choices.
On top of the base packages Sling Subscribers can choose from a number of extra add-ons in areas like news, sports, and kids programming which cost $5 or $10 each. Sling members can also add HBO, Cinemax, Starz, or one of a variety of global programming options which conveniently all work within the same player making for a very television-like experience.
PlayStation Vue is cord-free cable
Sony's PlayStation Vue has four packages starting at $29.99 a month. The entry-level offer, "Access Slim" comes with 45 channels, including in very-limited markets some broadcast networks. Most of the stations offered are the same ones Sling TV has, with consumers paying slightly more money for them. The "Core Slim" package offers 60 channels for $34.99 (perhaps the best deal) while "Elite Slim" comes with 90 channels for $44.99, and Ultra Slim at $64.99 which has the same 90 channels plus HBO and Showtime.
Like Sling, PlayStation Vue also offers add-on packages of Spanish-language and news programs. In addition users can buy a number of premium channels on a stand-alone basis along with HBO and Showtime. The bottom tiers for PS Vue are very similar to DISH, albeit pricier, while the higher-end tiers are essentially full-on cable packages (minus the broadcast networks in most cases) at better-than-cable pricing.
Here's what DirecTV is doing
AT&T's entree into the space looks a lot like Sony's. DirecTV Now offers very similar pricing with 60 channels costing $35, including ABC and FOX, along with some top-tier cable favorites. $50 a month gets users 80-plus channels, while $60 a month comes with over 100, and $70 takes the package to over 120 stations including Starz.
Subscribers can also add Starz separately to lower-tier deals, or add HBO or Cinemax. AT&T does not offer add-on channel packages covering specialty stations the way its rivals do. In addition DirecTV Now launches with better pricing (the $35 price for the $50 package) and it seems likely that AT&T will offer future specials likely tied to bundling other services from the company.
Which one is the best?
For consumers it's easy to test each service because all offer free trials, while also letting users come and go as they please without contracts or penalties. Sling has the best service for people looking to cut expenses while Sony and AT&T offer good deals on services that come close to mirroring actual cable. Of those two, DirecTV Now gets a slight edge because it offers ABC and FOX nationally while PlayStation Vue only offers access to broadcast networks selectively.
In addition to varying channel selections, all three services have different rules when it comes to multiple streams. Sling Orange, the cheapest service, only offers a single stream, while the $25 Blue packages allows three. DirectTV Now offers two streams to all subscribers while Sony's service allows customers to stream on five registered devices at a time giving PS Vue the advantage in this area, but it's a minor edge over Blue.
When it comes to interface all three leave something to be desired. Sony's service has a DVR (with a lot of limitations) while Sling has some on-demand programming, as does DirecTV. The biggest drawback of the streaming services is that none of them offer an experience that feels like flipping around with traditional cable. Still, once you have selected a show, the viewing experience works and feels familiar.
Sony and AT&T have decent products that save consumers some money over the average comparable cable package. But for a traditional family watching on multiple televisions, the savings may not be worth the holes in what's offered along with a viewing experience that still lags traditional cable. Sling has those same limitations, but the three streams for $25 Blue package represents the best combo of content and value, giving it a small victory in an emerging space.
10 stocks we like better than DISH NetworkWhen investing geniuses David and Tom Gardner have a stock tip, it can pay to listen. After all, the newsletter they have run for over a decade, Motley Fool Stock Advisor, has tripled the market.*
David and Tom just revealed what they believe are the 10 best stocks for investors to buy right now... and DISH Network wasn't one of them! That's right -- they think these 10 stocks are even better buys.
Click here to learn about these picks!
*Stock Advisor returns as of February 6, 2017
Suzanne Frey, an executive at Alphabet, is a member of The Motley Fool's board of directors. Daniel Kline has no position in any stocks mentioned. The Motley Fool owns shares of and recommends Alphabet (A shares) and Alphabet (C shares). The Motley Fool has a disclosure policy.