Does Apple Music Have a Millennial Problem?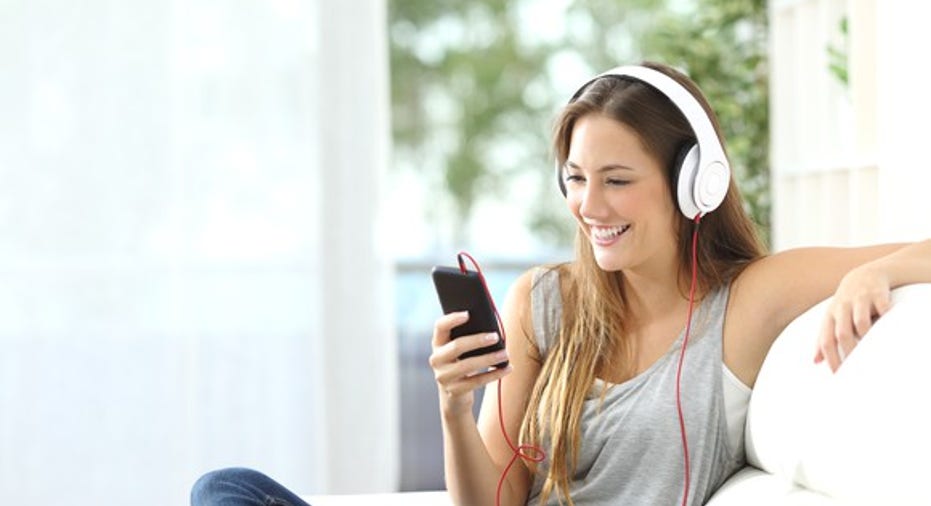 For a brief time, Apple (NASDAQ: AAPL) dominated the music market as the company's iTunes music store disrupted the traditional business of selling CDs, moving the business into the digital world.
That model actually remained the top source of revenue for the industry until 2015, when, for the first time, streaming topped it, according to the Recording Industry Association of America's (RIAA) 2015 year-end report. That trend continued and accelerated in 2016 when streaming provided over half (51.4%) off all recorded music revenue, up from 34.3% the previous year.
The explosive growth of streaming came largely at the expense of digital downloads, which dropped from 34% of the market in 2015 to 24.1% in 2016. That's bad news for Apple, which was a late player to the streaming game partly because it was so successful with iTunes and digital downloads.
Now, new research from LendEDU suggests Apple may have an even bigger problem. That's because while the company has fallen behind streaming leader Spotify by a 2-to-1 margin (roughly 50 million subscribers to more than 20 million as of March, according to 9to5Mac), the gap may be larger among millennial users.
Apple dominated digital downloads, but has struggled with streaming. Image source: Getty Images.
Why millennials matter
Millennials, people born between the early 1980s and early 2000s, are now America's largest generation. On top of that, the group trails only baby boomers and Generation X when it comes to spending power by household, according to the United States Department of Labor. Going forward, though the timeline is hard to predict, millenials should become the economically dominant generation. That makes their current actions, while not of immediate importance, a strong bellwether of things to come.
The LendEDU report showed that nearly half of all millennials (47%) get their music from Spotify. That's triple the 14% who named iTunes (which for the purpose of this report includes Apple Music and traditional downloads) as a source for music.
"Apple Music appears to be Spotify's biggest competitor in terms of social sharing, but even they are lagging behind," wrote LendEDU, which was started in 2014 andcalls itself "a marketplace for student loans and student loan refinance."
"They differ in that Spotify allows users to share a track, artist, or playlist on their personal Spotify, Twitter, or Tumblr feed, while also being able to share through Facebook, email, text message, WhatsApp, or Google Hangouts. Spotify also gives users the option to 'follow friends,' which shows what their friends are listening to on a continuous feed," wrote LendEDU.
Why is Spotify winning?
Social sharing may be a driving factor for younger users, or it may be that Apple simply has not been able to overcome Spotify's early lead. Spotify, which began in Europe, came to the U.S. in 2011 while Apple Music did not launch until June 2015.
That roughly four-year head start made Spotify the incumbent and once a person signs up with a music service, it's hard to get them to change if they are already having a good experience. The social aspect of Spotify likely enhances loyalty as well because a happy customer using the same service that their friends use has very little reason to switch.
Apple does have an edge with older customers late to the streaming party. Those people know Apple and may be swayed simply by the fact that the company already has their credit card number and the Apple music app is already installed on iPhones and iPads. But that audience may be a declining source of growth going forward as the amount of consumers who lack a streaming subscription becomes negligible.
What's next for Apple and Spotify?
Both Apple and Spotify offer the same basic product -- unlimited streaming music from a vast catalogue -- for the same price ($9.99 a month). Apple has an edge in that it can load its service onto its devices, but that's only a value when it comes to attracting customers who don't have Spotify or who, for some reason, do not like it.
For Apple to make major inroads growing outside of the undecided or non-committed category, it's going to have to offer more that Spotify does not have. The company does plan to do that with an upcoming television-style show based on late-night host James Corden's popular Carpool Karaoke segment. That series, along with a few others being planned, will be exclusive to Apple Music.
It's hard to know whether perks like that will eventually get millennial customers who are satisfied with Spotify to switch. But it's very clear that Apple has to do something if it wants to attract millennials.
10 stocks we like better than AppleWhen investing geniuses David and Tom Gardner have a stock tip, it can pay to listen. After all, the newsletter they have run for over a decade, Motley Fool Stock Advisor, has tripled the market.*
David and Tom just revealed what they believe are the 10 best stocks for investors to buy right now... and Apple wasn't one of them! That's right -- they think these 10 stocks are even better buys.
Click here to learn about these picks!
*Stock Advisor returns as of April 3, 2017
Daniel Kline owns shares of Apple. The Motley Fool owns shares of and recommends Apple. The Motley Fool has a disclosure policy.