Disney's Star Wars Franchise Could Lift These Struggling Stocks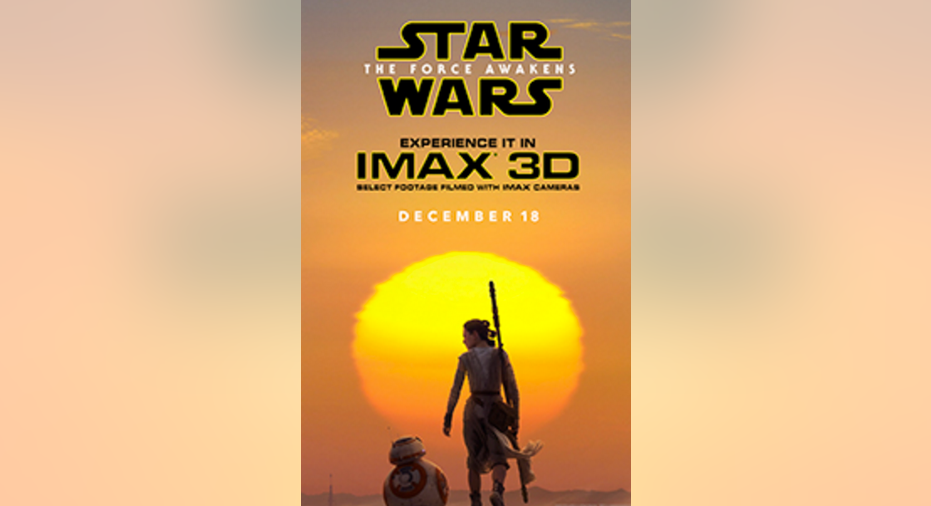 Disney is set to release the first installment of Star Wars since buying the rights to the iconic characters in 2012 with its purchase of Lucasfilm for a cool $4 billion. Disney's nationwide release of Star Wars: The Force Awakenswill hit theaters on Dec. 18, and industry insiders are expecting a record turnout for the flick. Some analysts have gone as far as to predict that Disney's new Star Wars film will be the highest grossing movie of all time.
Shares of Disney have rallied recently because of the market's excitement for its upcoming Star Wars film and subsequent Star Wars franchise. The hype has even taken attention away from Disney's broader problem of subscription losses in its ESPN business -- the company said it now has 92 million ESPN subscribers, down from 95 million in fiscal 2014. This should be a drag on the stock considering Disney's cable business accounts for as much as 45% of total operating income, but the media giant's upcoming Star Wars film has been a welcome distraction.
Disney's stock is up more than 11% in the past quarter, and currently trading north of $113 per share. Nevertheless, Disney isn't the only stock that could benefit from this Star Wars mania...
Tickets, toys, and video games... Oh my!Investors should take a closer look at some of the underdog stocks that stand to benefit from the Star Wars franchise as well. IMAX , for example, will see an influx of moviegoers this month when The Force Awakens hits its screens both nationwide and abroad. Disney expanded its relationship with IMAX ahead of the film's launch to include screenings from Lucasfilm, Pixar, and Marvel (all of which are owned by Disney) through 2017. IMAX currently boasts around 400 IMAX screens in the U.S., and an additional 400 overseas.
Image Source: IMAX.
The new Star Wars movie has already generated record advanced ticket sales in the U.S. -- producing around $50 million in sales more than a month before the film's debut -- andIMAX has reportedly raked in as much as a third of those advanced ticket sales.It makes sense that moviegoers would want to see this iconic flick on an IMAX screen. After all, this is a perfect fit for IMAX's large-format screens and advanced audio technology, as the Disney-backed Star Wars movie promises awe-inspiring special effects. Unlike other films opening around the holidays, Star Wars also comes with a loyal fan base that's been waiting more than a decade for another installment. This could cause many fans to pay to see the movie in theaters on multiple occasions.
As part of their ongoing arrangement, Disney is requiring IMAX and other multiplexes to play the film for at least a month straight-- that is two more weeks than typical arrangements between studios and movie theaters, according to the Wall Street Journal.
The Star Wars franchise is a big deal for IMAX, which is at the mercy of blockbuster hits in order to get viewers into its multiplexes. Shares of the specialty entertainment chain are down nearly 6% over the past six months. On top of this, as much as 18% of the outstanding shares are currently sold short; while that's not outrageous, it means plenty of investors are betting against the stock today.
If Star Wars: The Force Awakens is as big of a hit as many believe it will be, it would be a boon to IMAX's bottom line. The company takes a 10% to 15% cut of the gross box office sales, according to data from Morningstar. With a holiday film slate that includes the latest Hunger Games film, the most recent Bond installment, and the first Star Wars film to hit the big screen in 10 years, IMAX should have plenty of momentum heading into the New Year.
Don't under estimate the force of gaming GameStop is another stock that's in need of a sales boost from the upcoming Star Wars bonanza. Shares of the video game retailer have been hit hard lately because of weak quarterly results and double-digit declines in the company's profitability. GameStop's stock has declined nearly 21% over the past six months, and currently trades around $33 a share.
GameStop spooked investors recently when it announced weak sales for Electronic Arts' highly anticipated newStar Wars: Battlefront game. Shares of Electronic Arts fell more than 7% on the news last month. However, it is too early to tell how well these games will sell on a broader scale, particularly because the Star Wars movie hasn't even hit theaters yet.
Many analysts still expect big things from the sale of Star Wars video games. Commenting on Star Wars: Battlefront, Matt Titus, a portfolio manager at American Century Investment said the game had "some of the strongest pre-orders in the history of gaming," according to Reuters. The upcoming release of the Star Wars film, together with the immense marketing efforts surrounding the Disney franchise, should undoubtedly boost sales of these video games.
This should help lift shares of both the world's largest videogame retailer and game publisher Electronic Arts in the quarters ahead. Electronic Arts is already projecting higher sales of its Battlefront title than it previous thought: the company now expects to move 13 million copies of the game through March of next year, up from its prior guidance for sales of nine million to 10 million units.
Not just a one-movie ponyImportantly, these stocks shouldn't just get a one-time boost from Disney's Star Wars franchise, but could instead see years of seasonal gains. That's because Disney plans to release Star Wars-related films and character spin-off's annually for the next five or so years. This will give theaters, video game publishers, and gaming retailers plenty of Star Wars themed material to work with in the years to come.
The article Disney's Star Wars Franchise Could Lift These Struggling Stocks originally appeared on Fool.com.
Tamara Rutter owns shares of Walt Disney. The Motley Fool owns shares of and recommends Imax and Walt Disney. Try any of our Foolish newsletter services free for 30 days. We Fools may not all hold the same opinions, but we all believe that considering a diverse range of insights makes us better investors. The Motley Fool has a disclosure policy.
Copyright 1995 - 2015 The Motley Fool, LLC. All rights reserved. The Motley Fool has a disclosure policy.