Disney World's "Avatar Land" May Open Early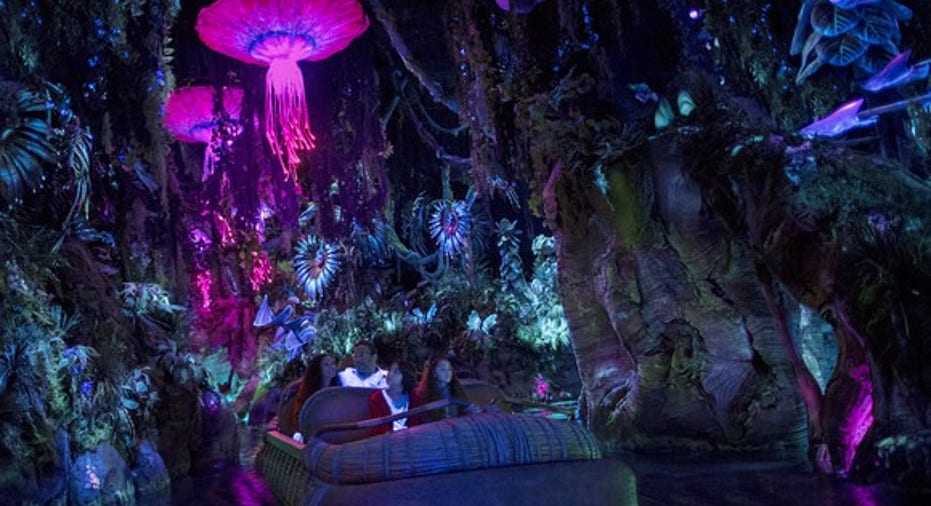 There's a whirlwind of construction activity in Central Florida asComcast's (NASDAQ: CMCSA) Universal Orlando andDisney(NYSE: DIS)gear up for their most ambitious resort expansions in years. Comcast will officially open the Volcano Bay waterpark, billed as Universal Orlando's third theme park, on May 25. Avatar -- The World of Pandora opens at Disney's Animal Kingdom two days later.
Memorial Day weekend is going to be a busy weekend in Central Florida, but some visitors may be getting a taste of the new attractions before that.There's a lot of work to do at Comcast's waterpark, and outside of media invites for coverage starting May 22 -- three days before Volcano Bay's grand opening -- there may not be much of a sneak peek for park guests or annual passholders. It's a different story at Disney World.
Most of Avatar -- The World of Pandora has been ready for some time. Crews at four ABC shows were there three weeks ago, walking through the lush recreation of James Cameron's Avatar moon, complete with checking out the new land's two rides and unique food offerings. Disney reached out to annual passholders last week to reserve time slots for exclusive previews starting on May 13, suggesting that a soft opening can happen in early May if not by some point next month.
Image source: Disney.
Getting it right this time
A smooth and timely opening is essential, and not just because Memorial Day weekend kicks off the seasonally potent summer for vacationing families. Disney and Comcast stumbled with much smaller introductions last year. Universal Orlando's Hulk roller coaster was originally set to reopen in June, but it was pushed out until later in the summer. Its Skull: Kong Island attraction also opened mid-summer to mixed reviews and bursts of downtime.
Disney World actually fared worse with its two 2016 debutantes, even though they were both able to open earlier in the summer to entertain more of the peak season's crowds. EPCOT's Soarin' Around the World update opened to complaints of warped imagery for guests not seated in the center of the flight simulator. Frozen Ever After opened in late June, suffering technical outages that would shutter the rides for hours at a time.
Neither park can blow it this time. Comcast is hoping to charge more for its waterpark than rival Disney World commands for its two larger watery destinations. Disney's Animal Kingdom is betting that Avatar -- The World of Pandora will be so popular that it's offering guests staying at an on-site resort access to the park until 1 a.m. every night from May 27 through July 4 through its Extra Magic Hours program. That's pretty ambitious for a park that would routinely close at dusk before its Rivers of Light nighttime show finally opened earlier this year.
Opening Avatar -- The World of Pandora for technical rehearsals ahead of the May 27 debut should help it work the kinks out before media attention descends onto Central Florida. There's a lot of money at stake here, and Comcast and Disney can't afford to blow it again.
10 stocks we like better than Walt DisneyWhen investing geniuses David and Tom Gardner have a stock tip, it can pay to listen. After all, the newsletter they have run for over a decade, Motley Fool Stock Advisor, has tripled the market.*
David and Tom just revealed what they believe are the 10 best stocks for investors to buy right now... and Walt Disney wasn't one of them! That's right -- they think these 10 stocks are even better buys.
Click here to learn about these picks!
*Stock Advisor returns as of February 6, 2017
Rick Munarriz owns shares of Walt Disney. The Motley Fool owns shares of and recommends Walt Disney. The Motley Fool has a disclosure policy.