Disney World's Animal Kingdom Is Still Not Ready for Prime Time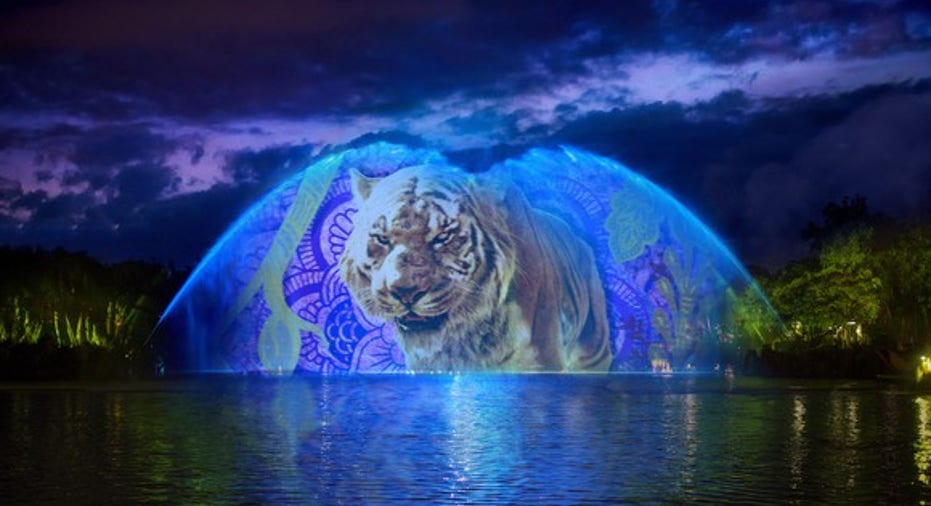 Image source: Disney.
It's been three weeks sinceWalt Disney'sAnimal Kingdom transformed itself into an all-day destination. Several new attractions opened during Memorial Day weekend, and with that the park's closing time has been bumped from 6 p.m. to 11 p.m.
Extending its hours is long overdue, and seemingly necessary after recentlyincreasing its one-day ticket prices by 17.5% -- from $97 to $114 -- for the peak summertime travel season. It's great to see Animal Kingdom finally stay open into the night like Disney World's three older parks, but it may take some time before it truly finds its groove.
I've been able to check out Animal Kingdom at night twice over the past week, but the execution hasn't been as sharp as the concept. There are plenty of good things, and just the fact that the park is open several more hours is great. The expanded operating hours are particularly welcome this time of year when the heat and humidity can be brutal in the afternoon. The festive street performances are keeping things lively in the stylishly dim-lit open spaces, but it's the signature attractions where Animal Kingdom is falling woefully short as the sun starts to set.
Night shift
The flagship show was supposed to be Rivers of Light, a nightly waterfront celebration of animals with music, lights, performers, and projections on water screens. Technical glitches nixed the originally slated April 22 opening, and persist to the point that the show may not be ready until several months from now. Disney quickly pieced together a Jungle Book-themed show as a replacement for the 5,000-seat amphitheater to debut on Memorial Day.
I caught the first of two showings ofThe Jungle Book: Alive With Magicon Thursday night. I wish I hadn't. The 24-minute show is little more than performances of songs from the film with animated projections on water screens. The long V-shape of the theater makes it hard to make out the vocalists unless you're sitting near the center of the stage. Disney offsets this by scattering drum-heavy musicians across the front of the long theater and stationing performers along the many stairways, donning ceremonial garb and lanterns when they're not breaking into a dance. The energetic performers are the saving grace of the production, but evenfire dancers twirling flaming torches on boats near the climax isn't enough to save the experience from winding up with a throng of underwhelmed guests shuffling out of the theater into poorly lit bottlenecks on the way out of the park.
Our show also had what turned into a 16-minute delay for technical snags, something that led to a bizarre scene where a quarter of the audience bolted two-thirds of the way into the show. This is Disney, and folks have attraction or dinner reservations to keep. It was also mostly young families defecting early, and it's hard to blame them for leaving with many of them having waited in the muggy open theater for more than an hour in unforgiving bleachers.
The other major disappointment was the nighttime all-terrain caravan ride through the park's wildlife preserve. Kilimanjaro Safari has been the star attraction at Animal Kingdom since the park opened 18 years ago, and the notion of sunset and nighttime safaris were filled with promises of added lighting and new nocturnal animals. It was another letdown. Visibility is poor once night coats the sky, and aside from more activity from the lion and lioness than during the traditional daytime safari, it's an inferior experience to the daytime trek.
Disney seems to know it has a problem with these two signature pieces of its arsenal to woo night owls. An online survey sent to me after visiting the park was all about these two experiences.
Image source: Disney.
It's a work in process
There's still a lot that works with Animal Kingdom at night. The illuminated Tree of Life centerpiece is dazzling, even if the majority of guests miss the animated fauna "awakenings," since they happen too infrequently.
Riding the park's Expedition Everest coaster at night is a different kind of thrill, though getting soaked on the Kali River Rapids ride at night isn't as fun when you know the sun won't dry you off.
There's also Tiffins, one of Disney's priciest theme-park restaurants that also opened at Animal Kingdom last month. I haven't been there yet, but the first wave of published reviews have been mixed. Foodies with money to burn are generally walking away impressed by the eclectic menu, but those are the same factors turning off young families with picky eaters.
The situation will continue to get better. Rivers of Light has to be an improvement over the current nighttime water show. The 12-acre Avatar-themed area opens next year with two major rides and a lavishly themed environment ofbioluminescent plants and floating mountains.
Shareholders generally should be happy with the nighttime hours. It keeps guests in the park for big-ticket dinners. It may also find folks extending their vacations by a day to see as much of the park's new features as possible.
Disney will get it right. It's just not there just yet.
The article Disney World's Animal Kingdom Is Still Not Ready for Prime Time originally appeared on Fool.com.
Rick Munarriz owns shares of Walt Disney. The Motley Fool owns shares of and recommends Walt Disney. Try any of our Foolish newsletter services free for 30 days. We Fools may not all hold the same opinions, but we all believe that considering a diverse range of insights makes us better investors. The Motley Fool has a disclosure policy.
Copyright 1995 - 2016 The Motley Fool, LLC. All rights reserved. The Motley Fool has a disclosure policy.