Disney World's $149 Nighttime Splurge Gets Cheaper for Some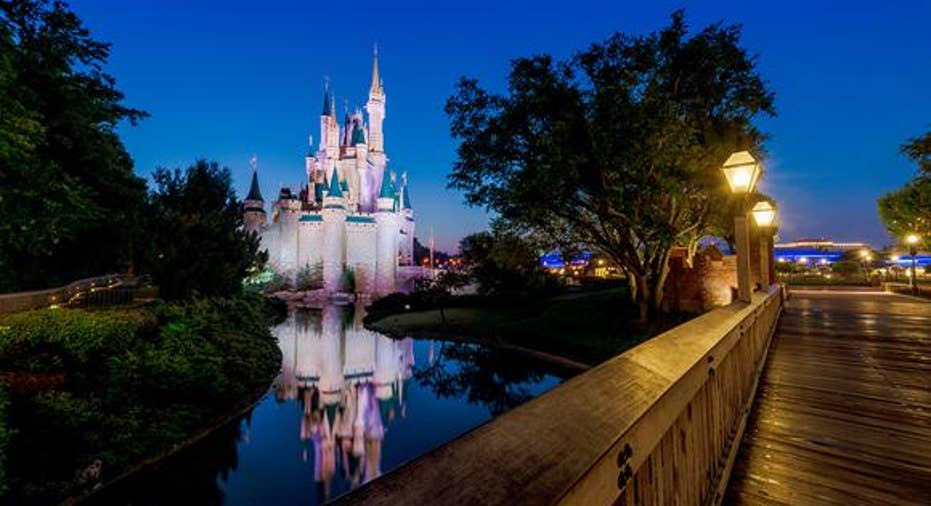 Image source: Disney.
Three weeks into Disney'scontroversial Disney After Hoursexperiment, the world's largest theme park operator is starting to cave in to demands that it cut prices for its most loyal customers. The after-hours event -- where folks pay $149 for access to many Magic Kingdom rides and attractions for three hours after the park closes to day guests -- is now available to annual pass holders for less.
Folks already paying hundreds of dollars for year-round access to Disney World's four theme parks can now purchase Disney After Hours tickets for $75 each. The offer was announced on Thursday, hours before the third of the Thursday night events. Disney After Hours will continue to run through the next three Thursdays as well as Mother's Day next weekend. It's then hard to fathom Disney bringing it back.
Giving night owls somewhat exclusive access to roughly two dozen attractions for three hours with minimal crowds sounds like a dream offering in theory. The tickets also include unlimited ice cream novelty snacks and bottled non-alcoholic beverages. However, it had to give away tickets for the first night to travel professionals and timeshare members when initial sales ran slow. Discounting the event by half for pass holders and Disney Vacation Club members is just the latest rung of desperation for an event that has probably done more harm than good.
Let's go hikingRolling out an elite experience wouldn't be raising much of a stir if Disney hadn't recently introduced some pretty dramatic price increases and other premium offerings. After double-digit percentage increases to its annual passes in October and one-day tickets in February, it's easy to see why theme park buffs were on edge. Disney World holding back prime parking lot spaces for folks willing to pay 75% more earlier this year didn't help its reputation.
Even Thursday's announcement that pass holders would be getting a nearly 50% break on Disney After Hours was met by derision. The vast majority of the Facebook comments on the pass holder page revealing the discount are calling out the media giant as greedy. If Disney World regulars are getting riled up, you probably don't want to meet Disney's enemies.
The irony here is that Disney After Hours wasn't supposed to be palatable for the masses. Disney's Magic Kingdom is the most visited theme park in the world, according to industry tracker Themed Entertainment Association. It attracted a daily average of nearly 53,000 guests in 2014. If you want a nighttime event that's limited to just a few thousand guests, of course you're going to have to price it out of reach of the park-going masses. It wouldn't work any other way.
However, Disney After Hours was always going to be a marketing challenge. It's not appealing to the folks staying at any of its roughly 30,000 hotel rooms because they have exclusive post-closing access to select parks on select nights. Pass holders go often, so paying $50 an hour -- or now $25 an hour -- isn't going to be very tempting to jaded regulars.
"If Disney can get its Disney After Hours count up to 3,000 or 5,000 guests without having to discount too heavily, it can work," I wrote after the first night didn't seem to smoke out more than 1,000 guests or so.
Well, the heavy discounting is here. An event that once seemed incremental to Disney's coffers is probably not going to wind up being profitable at all -- and that's before we get to the greed connotations that the theme park behemoth is now going to have to rinse off somehow.
The article Disney World's $149 Nighttime Splurge Gets Cheaper for Some originally appeared on Fool.com.
Rick Munarriz owns shares of Walt Disney. The Motley Fool owns shares of and recommends Walt Disney. Try any of our Foolish newsletter services free for 30 days. We Fools may not all hold the same opinions, but we all believe that considering a diverse range of insights makes us better investors. The Motley Fool has a disclosure policy.
Copyright 1995 - 2016 The Motley Fool, LLC. All rights reserved. The Motley Fool has a disclosure policy.