Disney World Can't Phone It In Again in 2016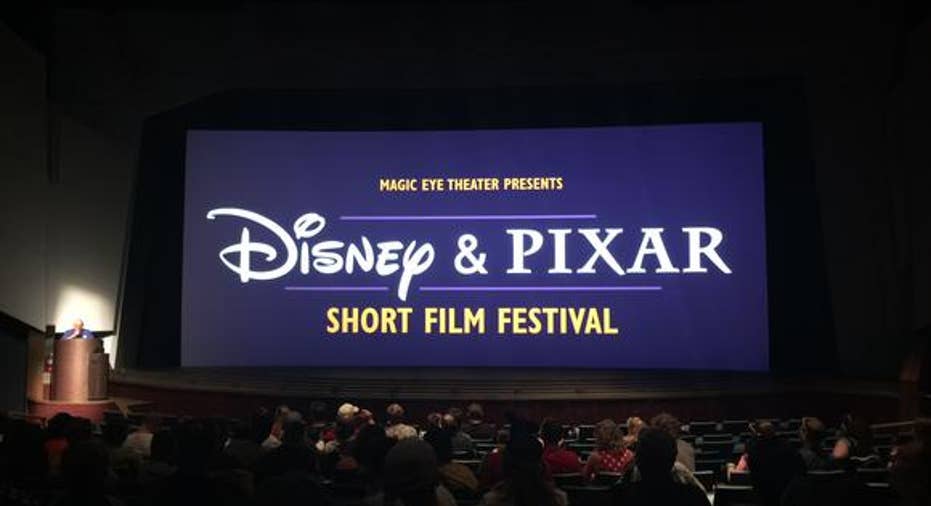 I checked out Disney's newest attraction on Wednesday night. Disney & Pixar Short Film Festival opened a few days earlier, featuring three recent animated shorts.
Disney bills it as a "4-D" attraction, a term theme parks use to describe 3-D experiences that are enhanced with special in-theater effects. The Magic Eye Theater where the new attraction is housed is no stranger to 4-D shows. It's where Magic Journeys, Captain EO, and Honey, I Shrunk the Audience have thrilled park goers with wind and water effects. In Honey, I Shrunk the Audience the seats would shake, a sneezing dog would send stream of mist into the theater, and mice being released on-screen would activate a motorized thread beneath every seat making it seem as if they were really scurrying around between your legs.
What does the Disney & Pixar Short Film Festival have to offer beyond the 3-D visuals? Outside of a few lighting effects to enhance the modern twist in Get a Horse or illuminate the moon in La Luna, it's just a 3-D show. Why is Disney promoting this as a 4-D attraction? Why isn't the audience being misted when three generations of an Italian family set sail on a bizarre ocean journey? Why aren't fans blasting when Mickey Mouse hops on a mock biplane and starts flying around? The effects are already built into the theater. There were several weeks between the end of Captain EO and the new attraction. Unless the 4-D effects were malfunctioning that night or will be added soon, why is Disney settling for a common 3-D attraction?
It's not the only time this year that Disney has settled for less than the high quality that its attractions have been historically known for in Florida. Star Wars has taken over at Disney's Hollywood Studios, Disney World's least visited park. However, even though Disney has owned Lucasfilm for three years and the release date for Star Wars: The Force Awakens has been known for some time there isn't a single new ride available. The park has settled for the low-lying fruit of short films, exhibits, meet-and-greet encounters, and a themed fireworks show.
Cutting corners may not be harming Disney now. All four of Disney World's gated attractions should clock in with record attendance in 2015. However, the competition is clearly trying harder. Attendance at Comcast's Universal Orlando resort has been growing faster than Disney World in each of the past few years, according to industry tracker Themed Entertainment Association.
The clear catalyst at Universal Orlando is The Wizarding World of Harry Potter which opened at Islands of Adventure in 2009, expanding in 2014 at the adjacent Universal Studios Florida. The two lands are attached by a richly themed train ride to and from Hogwarts. Guests can also ride a thrilling coaster through a goblin-run bank, fly through a quidditch match, or consume some of the signature treats and beverages popularized by J.K. Rowling's classic book series. Comcast's additions are full of the high-tech thrills and character-driven whimsy that used to set Disney apart, and it's coming at a time when the House of Mouse is settling for Frozen sing-a-longs and lightsaber props behind a glass display case.
Disney has spent billions over the past decade acquiring iconic characters. Its purchases of Pixar, Marvel, and now Lucasfilm have paid off, but Disney also appears to be resting on the laurels of the name recognition instead of building out E-ticket attractions. Outside of Toy Story Mania -- a popular arcade-style attraction at Disney's Hollywood Studios and Disney's California Adventure -- Disney hasn't made subsequent investments in monetizing these characters beyond shows, parades, and temporary attractions.
That's a dangerous approach for Disney. Guests eventually gravitate to quality, and right now Comcast is the master practitioner on that front. The next major Disney World to attraction will be a Frozen-themed boat ride in Epcot. It replaces a similar boat ride that will have been closed for a year and a half by the time that the new debuts in a few months. That's plenty of time to build out an amazing attraction, but what if it's more of the same that Disney has done in the past couple of years? What if this is the same media giant that's been settling for temporary loungesand dance parties as attractions for folks paying as much as more than $100 for a day at one of its parks?Will we have to wait for Avatar in 2017 or Star Wars Land several years after that to give Disney World a Potter-sized pop? The clock's ticking on Disney, and it better come ready to play.
The article Disney World Can't Phone It In Again in 2016 originally appeared on Fool.com.
Rick Munarriz owns shares of Walt Disney. The Motley Fool owns shares of and recommends Walt Disney. Try any of our Foolish newsletter services free for 30 days. We Fools may not all hold the same opinions, but we all believe that considering a diverse range of insights makes us better investors. The Motley Fool has a disclosure policy.
Copyright 1995 - 2016 The Motley Fool, LLC. All rights reserved. The Motley Fool has a disclosure policy.