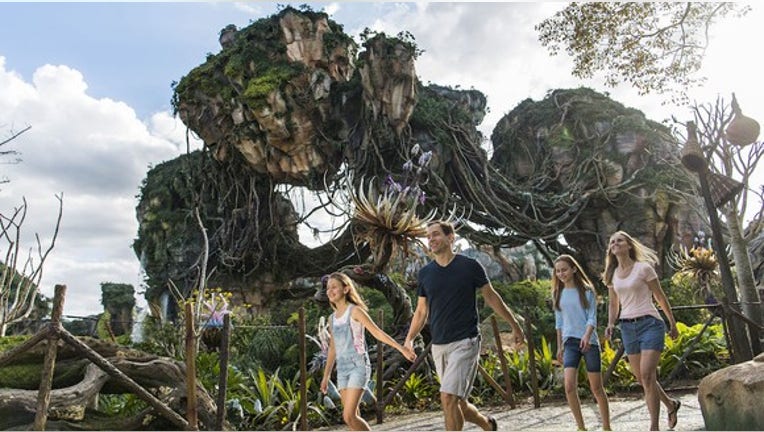 In retrospect, it probably wasn't the best idea for Disney (NYSE: DIS) andComcast(NASDAQ: CMCSA)to roll out their most ambitious theme park expansions in years during the busy Memorial Day holiday weekend. Comcast's Universal Orlando officially opened Volcano Bay on Thursday, followed two days later by Disney World's Pandora -- The World of Avatar at Disney's Animal Kingdom.
The attractions proved magnetic to theme park buffs, but there were more than a few initial hiccups -- particularly at Volcano Bay, where closed attractions limited capacity andbar-raising virtual line technologyfailed to keep lines as short as promised. Both theme park giants will eventually get it right, but the ultimate lesson here is that both additions would've gotten off to smoother starts if they had opened at a time when Central Florida wasn't already bursting at the seams with tourists.
Image source: Disney.
Making a big splash
Construction crews were scrambling to piece Volcano Bay together well into the night in the days ahead of the May 25 opening, a good sign that the water park that Comcast is billing as Universal Orlando's third theme park wouldn't be fully operational by the official opening day. Disney World's Avatar-themed expansion was better prepared for its primetime close-up -- hosting previews for passholders and media outlets in the two weeks leading up to Saturday's official opening -- but it also had capacity and crowd control issues over the weekend.
Volcano Bay thrilled most guests at its grand opening, but a few key attractions including the lazy river, kid play areas, and a couple of slides weren't ready. Most of those reluctant debutantes came online over the weekend, but some of the interactive features promised within the kid-friendly play areas and the lazy river's cavern still weren't working.
However, the biggest initial shortcoming at Volcano Bay was the inability of its TapuTapu wearable to deliver a guest-pleasing virtual line experience. Universal Orlando justified its premium pricing over the established area water parks -- including Disney's own Blizzard Beach and Typhoon Lagoon -- with a wearable-tech solution that promised to keep guests out of long lines. The chip-backed wristbands were fine, but the ability to reserve as many as two slides extended the return time on some of the more popular low-capacity slides to as long as five hours. Some guests also complained that when their return times arrived that they were stuck waiting in lines for more than just a few minutes. In short, it was a rough couple of days for the park's guest services department.
Seeing red over blue people
Disney also had its customer satisfaction issues. Folks on Saturday had to wait as long as two hours just to get into Pandora, and once inside, the peak waits for the two new rides ran as long as four hours apiece.
One can argue that it's not Disney's fault that Pandora -- The World of Avatar proved ridiculously popular. It held up on its end of the bargain. There wasn't material downtime on either attraction the way that Disney experienced last summer with EPCOT's Frozen Ever After, and the mobile ordering feature that it introduced at Pandora's Satu'li Canteen eatery worked without a hitch. However, folks were still inconvenienced by falling for the hype. It also didn't help that the long line just to get into Pandora was spent mostly under the scorching sun.
It's going to be a huge summer for Central Florida. Comcast's new water park will get its act together, and hopefully green-light the expansion to add more attractions to help make its virtual lines more reasonable. Disney will get better at handling Pandora crowds. They don't really have much of a choice. Comcast and Disney will be making a ton of money this summer, but only if park guests leave happy enough to be kind on social media.
10 stocks we like better than Walt DisneyWhen investing geniuses David and Tom Gardner have a stock tip, it can pay to listen. After all, the newsletter they have run for over a decade, Motley Fool Stock Advisor, has tripled the market.*
David and Tom just revealed what they believe are the 10 best stocks for investors to buy right now... and Walt Disney wasn't one of them! That's right -- they think these 10 stocks are even better buys.
Click here to learn about these picks!
*Stock Advisor returns as of May 1, 2017
Rick Munarriz owns shares of Walt Disney. The Motley Fool owns shares of and recommends Walt Disney. The Motley Fool has a disclosure policy.