Disney Stock Has a Lot to Prove Tomorrow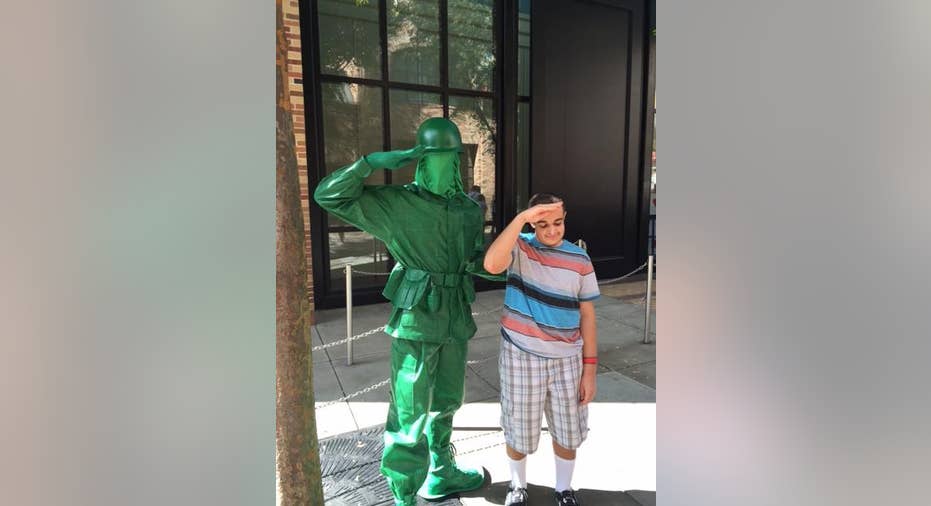 There are plenty of reasons to get excited asWalt Disneyprepares to announce financial results after Tuesday's market close. The media giant is wooing investors again, bouncing back after swooning during the latter half of last year on concerns that cord-cutting millennials were kicking ESPN and Disney's other cable properties to the curb.
Disney stock has closed north of $100 for 15 trading days in a row. That's a welcome contrast to where it was on the eve of posting quarterly results for its fiscal first quarter in February, with a streak of 19 consecutive days of closing in the double digits. It stayed that way until mid-April, when the stock broke through into the triple digits at the close for the first since early January. It hasn't looked back.
We know what analysts are expecting. Wall Street pros see revenue of $13.21 billion, climbing 6% since last year's fiscal second quarter. They see earnings rising 14% to $1.40 a share. Thatwould stretch Disney's streak of double-digit year-over-year growth in earnings per share to 11 quarters.
Investors love to see the bottom line growing faster than the top line, and the cherry on top is that Disney has consistently exceeded analyst profit targets over the past few quarters.
The 6% top-line growth the market is forecasting may seem low. Star Wars: The Force Awakens was still a force at the multiplex when the quarter began on Jan. 3. Disney dramatically raised its theme park single-day pricesin late February, and no one is reporting about mass defections in March.
Even media networks -- Disney's largest division and the one where ESPN, Disney Channel, ABC, and other endangered cable properties hang out -- is holding up pretty well. The segment saw its revenue grow by 8% in the fiscal first quarter, and that was the end of the benefit provided by the SEC Network rollout that had boosted growth in the five previous reports.
Disney also happened to grow its revenue at a hearty 14% clip during its most recent quarter, and each of its four major operating segments grew by at least 8% on the top line. That may make Tuesday's revenue target of 6% seem laughable, but Disney's February report was not the norm. Year-over-year earnings growth was in the mid- to high single digits in the six quarters before that,accordingtoS&P Global Market Intelligencedata.
History still suggests that Disney will exceed expectations in terms of revenue and earnings per share. The stock's in a better place today than it was three months ago -- armed with a long streak of triple-digit closes -- and it's going to have top estimates to justify the gains. All that bulls need now is for Disney to provide some kind of comfort and clarity to its media networks division. ESPN subscribers have been dropping since peaking at 100 million in fiscal 2010, but Disney revealed in its first-quarter call that it's starting to see some growth on that front.
Disney's hitting on most cylinders. One can only imagine what would happen if it hit on all of them.
The article Disney Stock Has a Lot to Prove Tomorrow originally appeared on Fool.com.
Rick Munarriz owns shares of Walt Disney. The Motley Fool owns shares of and recommends Walt Disney. Try any of our Foolish newsletter services free for 30 days. We Fools may not all hold the same opinions, but we all believe that considering a diverse range of insights makes us better investors. The Motley Fool has a disclosure policy.
Copyright 1995 - 2016 The Motley Fool, LLC. All rights reserved. The Motley Fool has a disclosure policy.