Disney Repeats Force Friday to Create Buzz for Its Latest "Star Wars" Blockbuster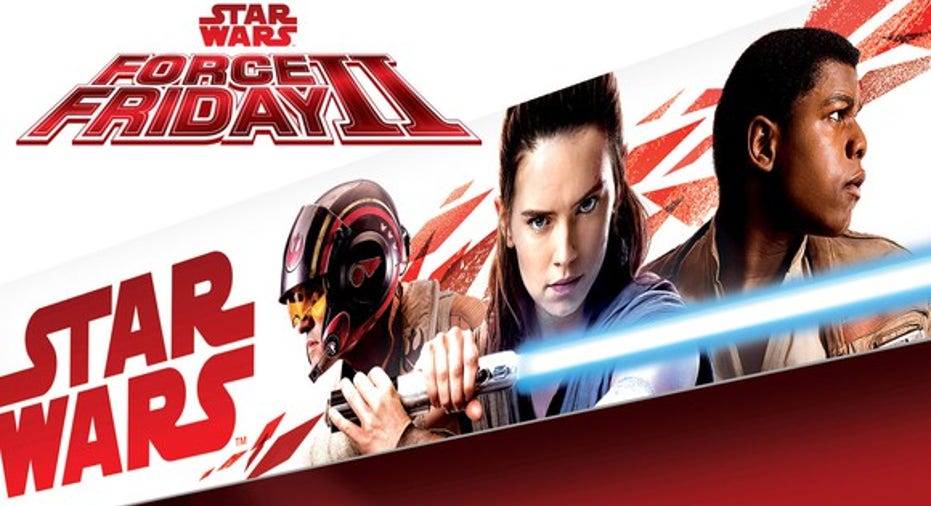 No company is better than The Walt Disney Company (NYSE: DIS) at leveraging its intellectual property (IP), while integrating and immersing its characters across the breadth of its business. The company's ability to capitalize on this in so many ways has led to the moniker "The Disney Marketing Machine." A perfect example of this occurred in the months leading up to the release of the long-awaited Star Wars: The Force Awakens and the roll-out buying event the company dubbed "Force Friday." The 2015 affair was so successful the company plans to reprise the global event for the upcoming release of Star Wars: The Last Jedi.
Will the buzz of Force Friday match the original? Image source: Disney.
A long time ago in a galaxy far, far away...
According to a Disney press release, "Toys, collectibles, books, apparel, and more will go on sale beginning at 12:01 a.m. on Friday, Sept. 1, 2017, with stores around the world opening for a weekend-long celebration of all things Star Wars." While details for the follow-up remain "top secret,"a review of the highly successful 2015 edition may provide perspective.
In the lead-up to the worldwide release of Star Wars: The Force Awakens, the inaugural Force Friday unfurled over 18 hours, in 15 cities, and 12 countries. The global live-streaming event unveiled and unboxed consumer products related to the movie, featuring personalities from Disney's Maker Studios. Millions of fans followed its progress, which was streamed on the Star Wars YouTube channel, and Twitterusers shared nearly 3 billion tweets with #ForceFriday. Retailers including Wal-Mart Stores(NYSE: WMT), Target Corporation (NYSE: TGT)and Toys"R"Us opened at midnight and held special exclusive events.
These aren't the droids you're looking for...
Disney possesses the uncanny ability of connecting with its fans in a visceral way, and not only creating content to merely mine the mythology for new content -- which it does oh so well -- it invites fans into the process, in some cases literally. The R2-D2 robots used in The Force Awakens were a product of an R2-D2 builder's fan club, which specialized in producing their own replica robots based on the Star Wars franchise. After being noticed by Lucasfilm president Kathleen Kennedy at an event in Germany, members of the group were contacted to work on The Force Awakens as a result of their expertise and experience in building the working reproductions.
Can The Last Jedi match The Force Awakens for buzz? Image source: Disney
Help me Obi-Wan Kenobi, you're my only hope
Hasbro, Inc. (NASDAQ: HAS) will continue its ongoing partnership with Disney. Samantha Lomow, senior vice president at Hasbro said:
The privately held LEGO Group will be reprising its role in the event as well. Jill Wilfert, the company's vice president of global licensing and entertainment had this to say:
In my experience there is no such thing as luck
Market research firm NPD group estimates that in the week following the initial Force Friday, $1 of every $11 spent on toys was spent on a Star Wars toy. The group also estimates that consumers spent $760 million on Star Wars toys in 2016, equaling nearly 14% ofDisney's$5.5 billion in consumer products for the year. The upcoming event may not generate the same level of enthusiasm as the first, as some of the novelty may have worn off, but it will likely still produce a bumper crop of toy sales for the brand.
Never tell me the odds
All indications are that this will be a worldwide affair in the tradition of its predecessor. With its usual flair, Disney will whip fans of the franchise into a frenzy, creating a must-see event -- for the movie, too. The Force is strong with this one -- I couldn't resist!
10 stocks we like better than Walt DisneyWhen investing geniuses David and Tom Gardner have a stock tip, it can pay to listen. After all, the newsletter they have run for over a decade, Motley Fool Stock Advisor, has tripled the market.*
David and Tom just revealed what they believe are the 10 best stocks for investors to buy right now... and Walt Disney wasn't one of them! That's right -- they think these 10 stocks are even better buys.
Click here to learn about these picks!
*Stock Advisor returns as of February 6, 2017
Danny Vena owns shares of Hasbro and Walt Disney. Danny Vena has the following options: long January 2018 $80 calls on Walt Disney, short April 2017 $105 calls on Walt Disney, short March 2017 $70 calls on Wal-Mart Stores, long January 2018 $57.5 calls on Wal-Mart Stores, long January 2018 $55 calls on Wal-Mart Stores, and short March 2017 $72.5 calls on Wal-Mart Stores. The Motley Fool owns shares of and recommends Hasbro, Twitter, and Walt Disney. The Motley Fool has a disclosure policy.