Disney Isn't Buying Netflix or Snapchat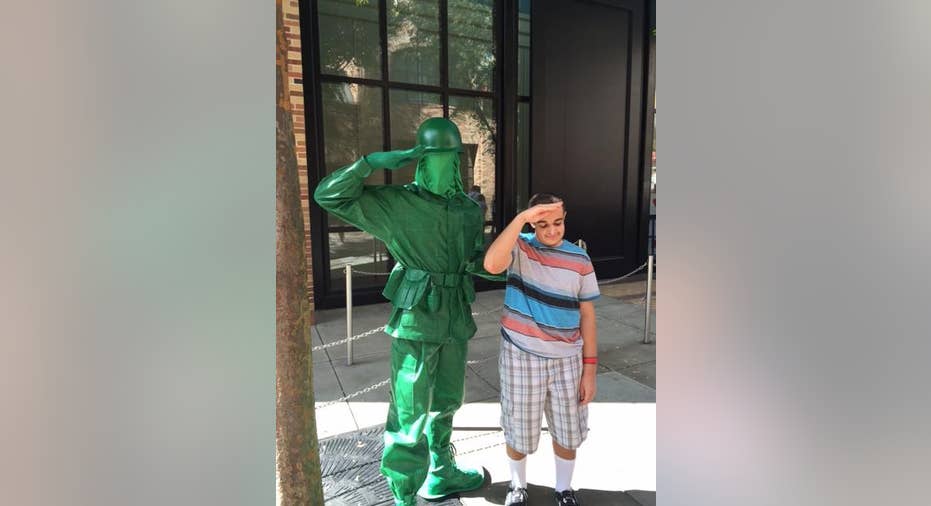 Cupid is flinging arrows at Walt Disney. BTIG media analyst Rich Greenfield posted a head-turning blog entry on Friday. He feels that the media giant is in a pickle after overspending on content for ESPN, and the cloudy succession strategy following this week's abrupt departure of its COO isn't making things any clearer.
Greenfield feels that an acquihire could be in order to help Disney find a new successor for CEO Bob Iger when he steps down in two years, but also with a strong business model to shake things up at the House of Mouse.
The only two assets that come to mind to Greenfield are Netflix and Snapchat. They won't come cheap. Snapchat has rebuffed buyout advances earlier in its growth cycle, and it would take at least $50 billion to land the leading image-messaging platform. Netflix would be an even bigger tab.
Netflix commands an enterprise of value of $44.8 billion, but there's no reason for the market darling to sell unless it was offered a ridiculous premium. It was the S&P 500's best performer last year -- as it was in 2013 -- so any potential buyout will have to happen on its terms.
"We doubt Netflix is selling for less than $100 billion," Greenfield writes, and that seems about right.
Disney hasn't been afraid to cut big checks for game-changing acquisitions, but Pixar, Marvel, and Lucasfilm only cost billions. Snapping up Netflix for $100 billion would explode Disney's earnings multiple, and it may not sit well with Disney's historically conservative value-oriented investors.
Toy storyForget Snapchat. As popular as the image-based social messaging hub has become, it has proved tricky to monetize and equally as unwieldy in trying to police. It would be more hassle than it's worth, and it would blow up Disney's stock valuation. Gaining street cred in mobile and content distribution is a tempting strategy, but Snapchat would be a hard sell as a purchase for the investing community.
Netflix is far more intriguing. It's profitable. It's growing. It's the undisputed global leader in streaming premium video, and Netflix's own forecast calls for it to have topped 80 million subscribers worldwide last month.
Netflix would give Disney a springboard to broadcast all of its content at a time when the future of traditional cable and satellite television is murky at best. The two companies also work well, as Disney's Marvel teaming up with Netflix for Daredevil and Jessica Jones have been winning moves.
More importantly, it places Netflix CEO Reed Hastings on Disney's fast track to replace Iger in two years. It's hard to find anyone who just gets where digital entertainment is going like Hastings, making Netflix the ultimate "acquihire" steal for Disney.
But it's not going to happen, and not just because Netflix isn't interested in a sale anymore. Disney's buying Netflix would be the equivalent of having a single network snap up Hulu. It would create a conflict of interest, making it harder for Netflix to line up non-Disney content. Rivals would have to respect Netflix's global breadth, but it wouldn't be in their best interest to license their catalogs to a fierce competitor. That would weaken Netflix's competitive position.
The move would also push Disney into content distribution instead of focusing on content creation, which has worked out so well in the past. Disney is going to struggle selling ESPN directly to consumers after the cable television model implodes. It's not as if Netflix would fare any better pushing live sports when that would blur the value proposition of its original and still wildly successful model.
Disney is great. Netflix is great. Snapchat is sort of great. None of them belong together.
The article Disney Isn't Buying Netflix or Snapchat originally appeared on Fool.com.
Rick Munarriz owns shares of Netflix and Walt Disney. The Motley Fool owns shares of and recommends Netflix and Walt Disney. Try any of our Foolish newsletter services free for 30 days. We Fools may not all hold the same opinions, but we all believe that considering a diverse range of insights makes us better investors. The Motley Fool has a disclosure policy.
Copyright 1995 - 2016 The Motley Fool, LLC. All rights reserved. The Motley Fool has a disclosure policy.